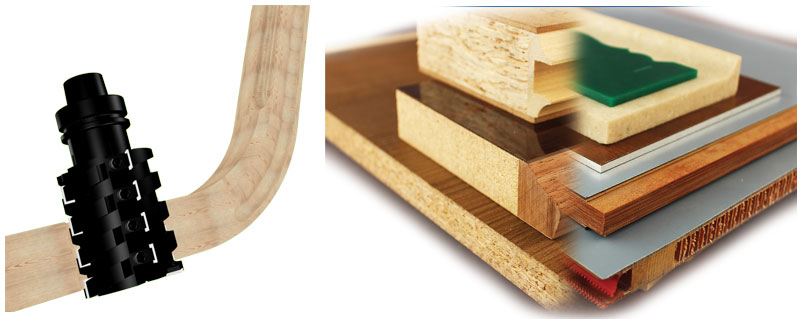 Image 1 & 2
As we begin a new year of adventures in manufacturing, it is always fun to look back at the last 10 to 15 years and appreciate the changes in the wood industry, and more specifically tooling design and manufacturing. We do acknowledge that tooling innovations progress slowly, relative to other industries, but substantial product developments have been made to help optimize machine performance. There are a variety of factors which have dictated innovation in the cutting tool sector over the last decade.
Machinery
5 axis routers

Machinery advancements and price pressures have made 5 axis machines a realistic option for many companies in the wood industry. Since the 1990's, there has been a steady decline in price point of 5 axis technology, and a substantial increase in 5 axis requirements in wood processing. Tooling requirements for 
5 axis machines are much more technical, and special attention must be paid to design, weight and balance. As more companies purchased 5 axis technology, the demand for larger tooling has increased in many applications. Initial 5 axis machines utilized smaller diameter tooling for applications such as carving and drilling, but as solid wood component manufacturers began to make investments in 5 axis machines, the requirement for deeper profiling and high feed rates increased.
Image 1 illustrates a large hogging tool routing out solid wood components at high feed rates. The application requires tooling to be extremely rigid and balanced. Tool manufacturers must now have advanced balancing equipment to ensure tooling runs safely and accurately on all modern machinery.
Nested routers 

The emergence of nested routers in the late 1900's changed the way custom manufacturers approached manufacturing. The necessity for cutting on table saws and other small panel saws was drastically diminished, which resulted in a decline in carbide tipped saw blade sales, but a substantial increase in solid carbide router tool volume. The continued growth of nested router technology made solid carbide spiral router bits a very important consumable. Initial nested solutions were adopted mainly by small to midsized cabinet and component manufacturers, however, advancements in router speed and efficiency forced many large cabinet makers to invest in nesting technology to be competitive as the market demand for custom products has increased. Router tooling was a critical part of the growth curved for nested machines. In order to meet production requirements of larger manufacturers, feed rates had to be increased. New tool geometries and design changes allowed router tools to produce premium cut quality at higher rates. In more recent years tool coatings and premium carbide raw materials have dramatically increased tool longevity resulting in production cost savings and further improve performance of tool and machine.
Systems

Manufacturing cells, robotics, material handing have all improved production flow dramatically over the past two decades. Although tooling is a small part of the process, it is a critical component which can help optimize workflow, or be detrimental to the entire process, if not designed and implemented properly. The principles of lean manufacturing work to eliminate waste and there is substantial waste created by poor tool performance which leads to down time, reduction in machine performance and defective products. The introduction of robotics into wood manufacturing processes has obviously been done to achieve maximum efficiency without manual labour. However, the implementation of robotics does put added pressure on other parts of the process to consistently perform with minimal downtime. Tooling solutions can have a huge impact on a robot performing routing applications. If a robot is programed to produce for an eight-hour shift, the router tool must also last eight hours consistently to provide maximum efficiency.
Software

Software Integration it critical to machine function, but can also have an impact on tooling. As software has evolved into preprogramed packages for specific products, tooling has become an important part of the equation. For example, MDF door software can be purchased with a set of tools already pre-programmed and eliminates the tedious and time-consuming process of creating individual custom door profiles. Not to mention the cost of designing and purchasing custom tools to produce relatively common door profiles.
Materials

Image 2 shows the broad range of material which are now challenging machine and tool makers to find ways to cut effectively and efficiently. Many of these new materials create an advantage for product durability and quality, but can be a disadvantage from a tooling perspective. Hybrid sandwich material now dominates the panel market and force tooling to be better. Abrasive phenol and stainless-steel skins are now common in commercial and residential markets, which further complicates the machining process. As the North American wood industry continues to integrate new materials, tooling innovation will be forced to evolve and adapt.
Foreign markets

Overall, the affects of off-shore tooling products have not been dramatic considering the implications in other industries. The volume of standardized tooling in the wood industry is very small compared to the metal working markets, where cutting tools have become very standardized and are consumed in massive quantities. Due to the custom nature of wood cutting tools and the service requirements to support tooling sales, many foreign manufacturers have been reluctant to enter the market. Automation has lead to efficiency improvements which have allowed North American tool makers to complete against low labour costs in offshore markets.
Saw blade categories are likely the only sectors which have felt price pressures form competitively priced foreign inventory. The position of Canadian currency has added more input costs, but fortunately many tooling companies are well diversified in US and Canadian markets so the balance makes it bearable.
A growing trend to buy North American is obviously being taken seriously by many companies, which has had a positive affect on North American made cutting tools. Market segments such as hardwood flooring and furniture have experienced a resurgence in North America, and these companies are always inclined to support North American manufacturers whenever possible.
Tooling design

The last 15 years of cutting tool innovation has virtually eliminated the need for brazed carbide tooling. Solid carbide Insert tooling and diamond tooling alternatives have become more cost effective and provide a level of performance that cannot be achieved with brazed carbide tooling.
Solid carbide inserts have evolved to become more accurate and user-friendly compared to initial designs and creates profile flexibility, which eliminates the need for carbide brazed to a tool body.
Diamond tooling innovation completely revolutionised machining processes by improving cut quality and machine efficiency, even as price points have decreased.
Two decades ago, diamond tools were only being used on MDF and some composite materials, in specific applications. Diamond tools have always provided longevity, but originally the raw material grades were very limited, and tool geometry could not produce surface finish to compete with carbide tools. Today, diamond tooling solutions can be used on virtually any material in the industry, with the exception of dirty particle board cores. New diamond grades and tool geometry produced on modern machinery, will provide more consistent cut quality than carbide, and creates dramatic cost savings when considering all machine and labour factors.
In recent years, high-shear tooling solutions have raised the bar even further to allow machine operators to increase feed rates up to 150 % while producing a premium surface finish. High-shear tool geometry will not doubt continue to add value and reduce tooling cost going forward.
Conclusion

The future of cutting tools will continue to evolve in conjunction 
with all these factors and many others. As the wood industry continues to adopt new technology such as 3D printing, tooling solutions will have to find their place in new manufacturing processes. New machinery and material development will continue to challenge tool designers to find new ways to machine effectively and efficiently.