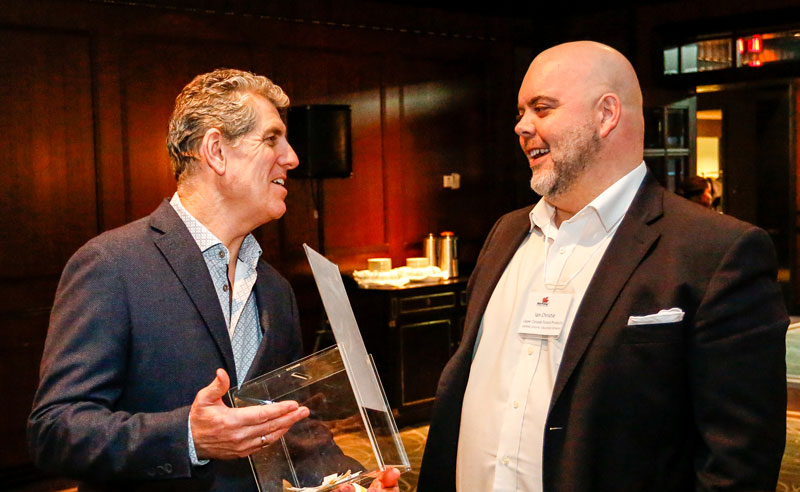 The Presidents - AWMAC Ontario's new president, Ian Christie, right, speaks with outgoing president Peter Gallagher.
Members of the Ontario Chapter of the Architectural Woodwork Manufacturers Association of Canada recently held their Annual General Meeting and Awards of Excellence at the Oakdale Golf and Country Club in Toronto.
The Feb. 22 event celebrating the excellence of Ontario's architectural woodworking community, was very well attended and a great success.
Following an afternoon spent dealing with the day-to-day business of the chapter, board members joined friends and guests for a cocktail party, refreshments and an opportunity to mingle with friends and colleagues and other industry professionals.
After two years at the helm of the chapter, Peter Gallagher of Convoy Custom Interiors handed over the presidency to Ian Christie of Upper Canada Forest Products.
Then it was on to the awards portion of the evening recognizing the excellence in the Ontario architectural woodwork industry in several categories (commercial, retail, residential, institutional, etc.).
The evening was a great way to showcase examples of the outstanding workmanship produced my AWMAC members as well as a change to meet the people behind these projects.
Awards were presented to member companies who have demonstrated superior performance in the manufacture and installation of architectural woodwork in the following categories:
Ø Commercial Project ($0 - $100,000)
Ø Commercial Project ($100,001 to $250,000)
Ø Commercial Project ($250,001 and up)
Ø Projects manufactured, installed and receiving a Guarantee Inspection Service Certificate, no monetary limit
Ø LEED Project, no monetary limit
Ø Export Project
Ø Residential Project
Ø Retail Project
Ø Institutional Project (hospital, school)

For all the winners, please see the PDF below.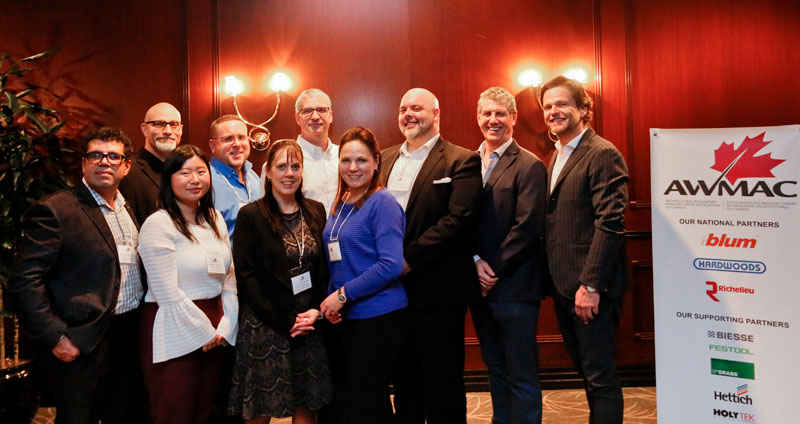 AWMAC Ontario's Board of Directors for 2018
In additon to selecting a new president, AWMAC Ontario also selected its new board of directors.
From left are (back): Onorio Centofanti, education director; Nick Anastas, GIS director; Troy Fagan, director at large; Jeff Clermont, national director, Ian Christie, president, Peter Gallagher, secretary treasurer and past president, Bert Kleiser, vice-president. (front): Karyna Cheng, GIS director alternate; Laurie Suikki, association manager; Dawn Modestino, membership director.
Download PDF