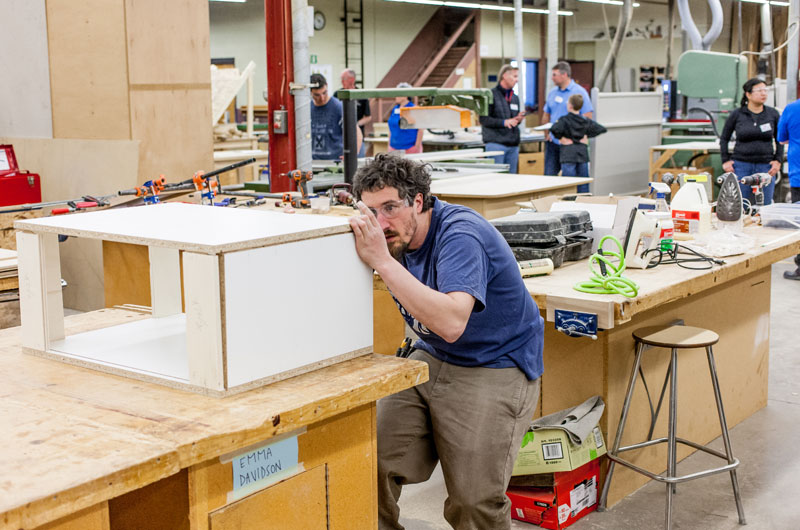 Photos: Woodworking
Nine participants competed in AWMAC Ontario's 2018 apprenticeship contest at Georgian College.
Caleb Perry, a recent Conestoga College graduate who now works at J Sinke Wood Interiors of Fenwick, Ont. has once again topped AMWAC Ontario's apprenticeship contest.
Second place went to Josh Petrie, Georgian College and Jennifer Norman, Conestoga College (she previously studied at Georgian College), came in third.
The Architectural Woodwork Manufacturers Association of Canada's Ontario Chapter held its 2018 Apprenticeship Contest at Georgian College in Barrie, Ont. March 24. There were a total of nine participants ready to compete and show off their skills.
The event began at 7 a.m. with the contestant's set-up, followed by orientation and safety instructions and the actual competition got underway at 8 a.m.
There were several breaks and the end time was 6 p.m.
Following judging by industry experts, the winner was announced at 7 p.m.
The contest is an opportunity for contestants to show off their woodworking skills and compete with their peers for cash prizes and get their name known in the industry.
The winning project from the Ontario event will automatically be sent to AWMAC's National Convention where it will be judged for a national award.
The contest is open to apprentices and or recent graduates.
Each competitor received drawings, specifications and instructions for their project 7 days in advance of the contest.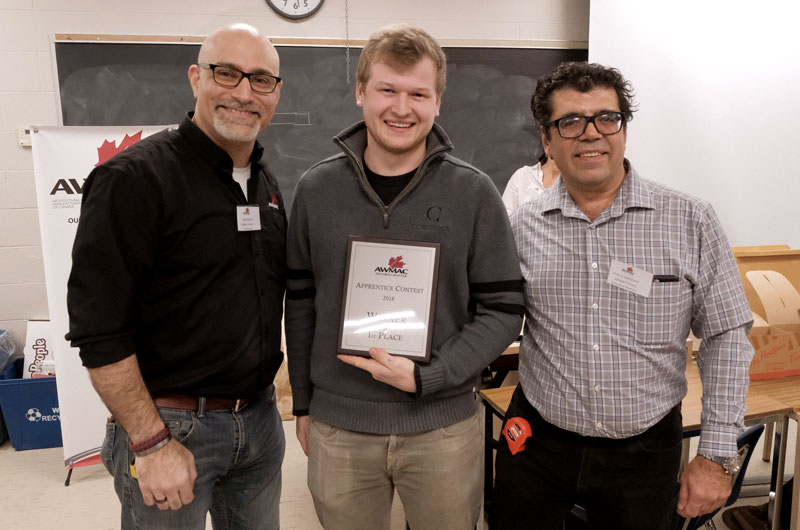 Photo: Nick Anastas
AWMAC Ontario's GIS Director Nick Anastas and AWMAC Ontario's Education Director Onorio Centofanti present contest winner Caleb Perry with his award.