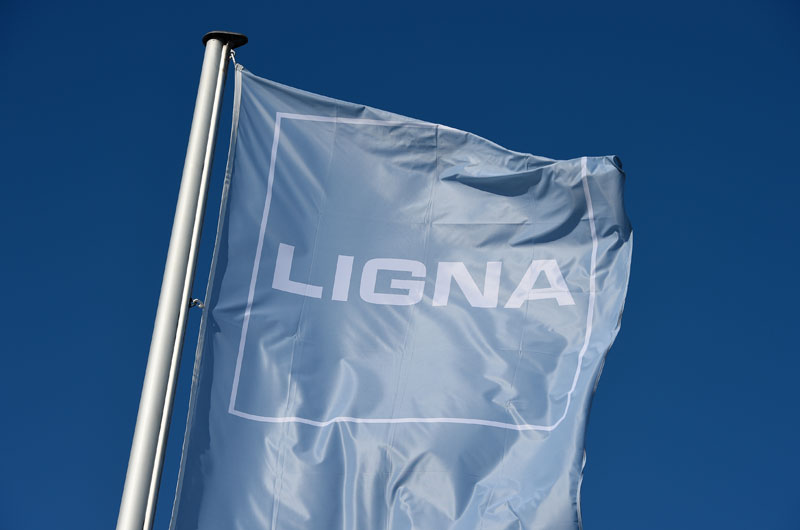 Photos: Woodworking
LIGNA organizers announce main topics for 2019 show.

The organizers of LIGNA, the world's leading trade fair for machinery, plant and tools for the woodworking and timber processing industry, have announced the main topics to be highlighted at the next show, which runs from May 27-31, 2019: Integrated Woodworking – Customized Solutions, Smart Surface Technologies and Wood Industry Summit.
Integrated Woodworking – Customized Solutions
Digitization, integration and automation. These three major trends and the efficiencies they bring to the wood industry and woodworking trades will remain high on the agenda at LIGNA under the banner of Integrated Woodworking – Customized Solutions.
In 2019, the show's exhibitors will focus on new industry applications for smart technologies, new developments and customized solutions for intelligent production across all areas of the wood value chain.
Their exhibitions and displays will span a broad array of themes, including augmented reality, virtual reality, digitization, customer-specific tailoring and safety, not to mention the growing pressure on manufacturers to deliver precision, flexibility and fast throughput.
Together, the exhibitors will showcase the many opportunities of batch-size-one production – the ultimate in integration and customization. The Integrated Woodworking – Customized Solutions theme will speak to all visitors as it is relevance for primary and secondary production, and everything in between. Exhibitors will be demonstrating solutions of all sizes for users of all scales. That's everything from complex, integrated plants for industrial users, to entry-level systems for SMEs and mid-size workshops, to individual solutions for specialists.
"Only here at LIGNA will visitors be able to witness wood-industry machinery and applications live in action," said Christian Pfeiffer, Deutsche Messe's Global Director for LIGNA and Woodworking Events.
RFID technology is an important part of this theme area and will once again find its home at the RFID Factory showcase, where exhibitors will present the latest solutions for the furniture industry and logistics.
Smart Surface Technologies
Surface technology has been steadily expanding its presence at LIGNA, and in 2017 it was featured for the first time as a display category of its own. The surface technology sector is enjoying strong growth on the back of mounting customer demand for product individualization, and in 2017 this trend resulted in significantly enlarged displays in the surface technology section of the show. That convinced organizers to further highlight and expand this topic at LIGNA 2019, focusing in particular on adhesives, liquid coatings, lacquers and digital printing. Last year's show featured several providers of digital printing solutions, including regulars like Barberan, Cefla, Hymmen and Wemhöner and first-timer exhibitors like Efi. In 2019, the digital printing lineup will also include 3D printing technologies.
Wood Industry Summit
Topics and issues of importance to the international forestry and wood industry will again be explored in depth at the Wood Industry Summit, with 2019s theme of Access to Resources and Technology. The themes covered by the Wood Industry Summit also include digitization in forestry, data protection and data integrity, forest firefighting, forestry infrastructure, road networks and logistics. The Wood Industry Summit at LIGNA 2017 was a resounding success, featuring numerous international exhibitors, as well as delegations from 12 nations.
In addition to the aforementioned three main themes, LIGNA's organizers are working closely with their partners, the German Woodworking Machinery Manufacturers' Association, exhibitors and co-promoters to develop additional in-show events that deal with current issues and challenges. The skilled woodworking trades are one focus of this work – which is why the LIGNA Training Workshops that premiered in 2017 will be further enhanced for the 2019 season.
Held during the show, these workshops are where technology experts provide user training for joiners, cabinetmakers, carpenters, mobile assemblers and installers and other skilled industry professionals. The workshop program for LIGNA 2019 will address a number of new areas, including CAD and software for the skilled trades.
"It's still early in the game, but one thing is for sure: Next year's LIGNA will be particularly strong on innovative, high-tech solutions for woodworking," Pfeiffer said.
LIGNA 2017 was in top form as the world's leading trade show for machinery, plant and tools for the woodworking and timber processing industry and attracted a highly international crowd, featured a wealth of innovations, and provided comprehensive market coverage. The show featured more than 1,500 exhibitors from 50 countries and occupied some 130,000 square meters (1,399,300 sq. ft.) of net display space.
Deutsche Messe is one of the world's leading exhibition companies, with more than1,200 employees and a network of 58 sales partners and representation in about 100 countries.