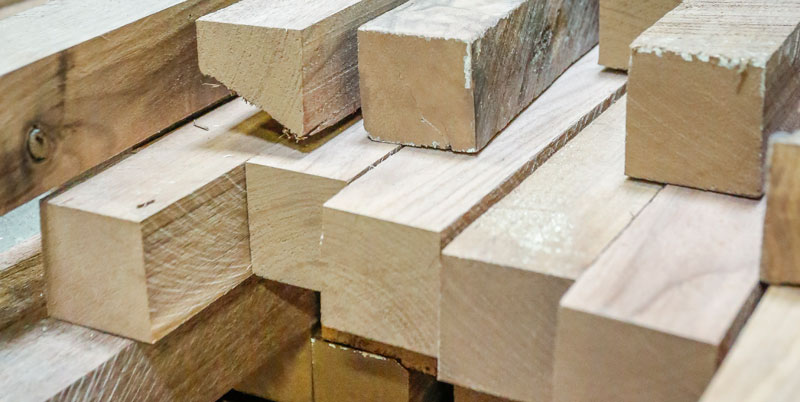 Engineered wood products are dominating the kitchen and furniture market and panel and laminate manufacturers have gotten so good at imitating the look and feel of wood that even "some wood professionals are having to look twice," says Sepp Gmeiner of Lignum Consulting.
"It doesn't matter if you call it engineered, artificial or faux wood, but it is everywhere," Gmeiner says.
But that does not mean the market for solid wood is in trouble or disappearing.
It's just changing and manufacturers are adapting.
Customer's still want it, just not like it used to be.
They want live edge or reclaimed wood or something that is unmistakably "earthy."
"People want wood that moves, that looks alive," says Dennis McGlynn of Creative Woods Unlimited and president of the Bluewater Wood Association.
"They want something different and unique, something special, show pieces that bring nature back into the home."
Statistically, the market for solid wood — both forestry and the secondary market — is experiencing global growth from three to six percent, says Wes Love, president of Taurus Craco Machinery of Brampton, Ont.
In some regions that market is stronger than in others, and Love says a lot of that popularity and growth has to do with environmental concerns and sustainability of the product.
In addition, there has been a real increase in the use and planned use of SPF lumber and Cross Laminated Timber (CLT) in the construction industry.
"People are looking for more sustainable products, the environment matters and 'green' products are in demand. And there is also increased demand for solid wood in flooring, wooden windows, cladding and exterior siding, including lightweight panels with solid wood exterior," says Love.
Wooden windows are clearly a premium product. One particular challenge in our harsh climate has been maintenance, but thanks to more advanced finishes and/or cladding, as well as their use in more architectural products with high visibility, they are becoming more popular in North America. And as always, trends usually trickle down and that will eventually lead to a move into the mainstream.
In Europe, the market for wooden windows is already big and now that market is poised to grow here as well.
Another area of growth is in outdoor products.
Here as well, modern finishes are making all the difference and have helped popularizing new, made-from-wood outdoor products that can withstand the elements and there are more manufacturers specializing in those products exclusively.
"Aesthetically, people want the look and feel of wood," Love says and added he is seeing more requests from customers looking to manufacture value-added wood products.
"Customers are asking us about texturing and wire brushing to really bring out the textures in their products and set them apart from the rest."