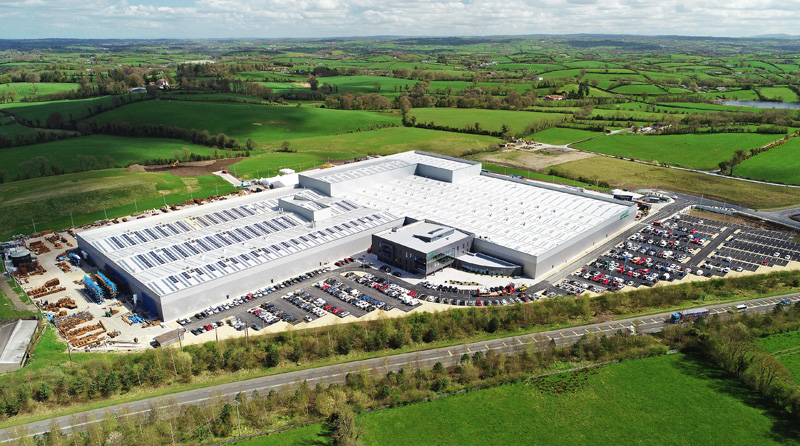 Photo: Contributed
The new 500,000 sq. ft. purpose–built factory is set on a 100-acre site with room for future expansion.

Politicians, dignitaries, industry professionals and journalists from around the world attended the grand opening of Combilift's new, state-of-the-art, 500,000 sq. ft. global headquarter and manufacturing facility in Monaghan, Ireland.
Forklift manufacturer and material handling solutions provider Combilift is also celebrating its 20th anniversary this year, and the company also just announced that it will be significantly expanding its workforce with the creation of 200 new jobs in the next three years.
Built at a cost of $77 million, the investment in the new 46,500 sq. m. (500,000 sq. ft) facility will allow Combilift to realize its ambitious growth plans.
Established in 1988 by Martin McVicar, managing director and Robert in Moffett, technical director, Combilift manufactures a wide range of multi directional forklifts and other material handling equipment.
In the first year of operation it produced 18 units, 17 of which were exported.
Combilift currently exports 98% of its products through its 250-strong international dealer network and the company has more than doubled in the last five years and now has 40,000 units in operation in over 85 countries.
The current workforce stands at 550 people and the new employment opportunities will be for skilled technicians, design engineers, logistics and supply chain specialists and those with mechanical and electrical mechatronics skills.
Speaking at the opening ceremony, the Irish Prime Minister An Taoiseach Leo Varadkar TD said: "Combilift is an incredible home-grown Monaghan success story. When the company was founded 20 years ago, it had three employees, a brilliant concept, and the ambition to make it a reality. Combilift is playing a significant role in Monaghan's success, and I would like to congratulate Robert Moffett and Martin McVicar and everyone at Combilift on their achievements to date and wish them every success for the future."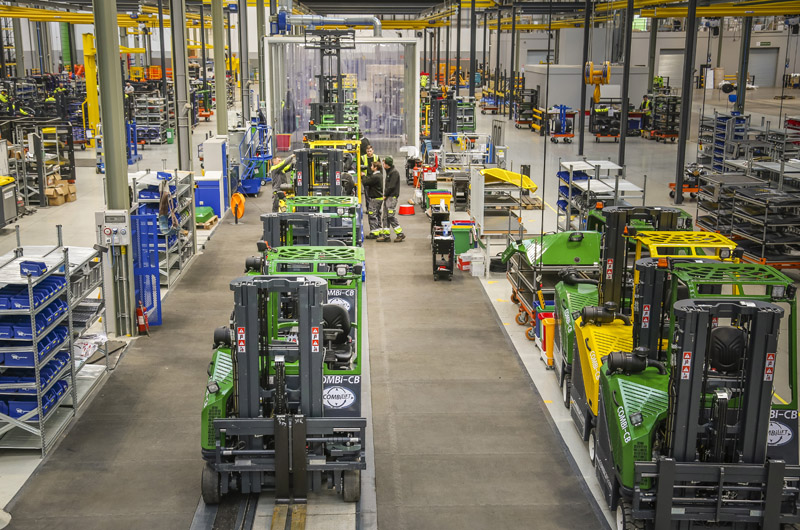 Mass customization
McVicar attributes the company's impressive growth and its status as an acknowledged world leader in the material-handling sector to mass customization.
"Combilift has set the benchmark for the mass production of customized innovative products. Mass customization is the new frontier for both the customer and the manufacturer as customers are increasingly expecting products to be tailored to their requirements. We listen to and take feedback on board from our customers and dealers to identify solutions that best match their individual specific needs."
The company invests 7% of its annual turnover in research and development to enhance its customization capability and to maximise ROI for its customers. "The flexibility in our new facility means that we can continue to accommodate any request for a customised material handling solution. We also see ourselves as much more than a forklift manufacturer and are transforming the transport and logistics sector with our innovative, space-spacing products and our services."
North America is Combilift's fastest growing market with thousands of units in operation in the U.S and Canada and that number is expected to grow by 30 per cent in 2018 and 2019.
Growth of Combilift
Combilift's product portfolio has expanded way beyond its first multidirectional model according to McVicar: "Combilift has always focused on a number of niche market segments and has a proven track record of launching one or two new products annually. In the first 10 years we focussed on the long load material handling sector with the multidirectional range which revolutionised the handling of long materials, allowing customers to handle long products in less space more safely."
Between 2008 and 2018 Combilift diversified its product ranged by developing a number of innovative space saving warehouse and heavy load handling products; the Aisle Master articulated truck and the Straddle Carrier (Combi-SC) respectively.
New Factory
The new 46,500 sq. m purpose–built factory is set on a 100-acre site with room for future expansion when required. With 11 acres of roof space, it is one of the largest manufacturing operations under one single roof in the Republic of Ireland.
Incorporating the latest manufacturing processes with a focus on sustainability, the new factory will enable Combilift to double its output in a single shift across all production lines. Four 90-metre moving assembly lines produce a finished truck every 15 minutes. There are 60 welding bays, two plasma cutting machines, three paint lines which use sustainable water-based paints and three automatic shot blasters to cater for different sized products. More than 20% of roof space is covered in skylights, enabling staff to work in natural daylight without the assistance of artificial lighting.
More than 50 truckloads of finished products are dispatched from the factory each week, and spare parts are shipped across the world to the dealer network.