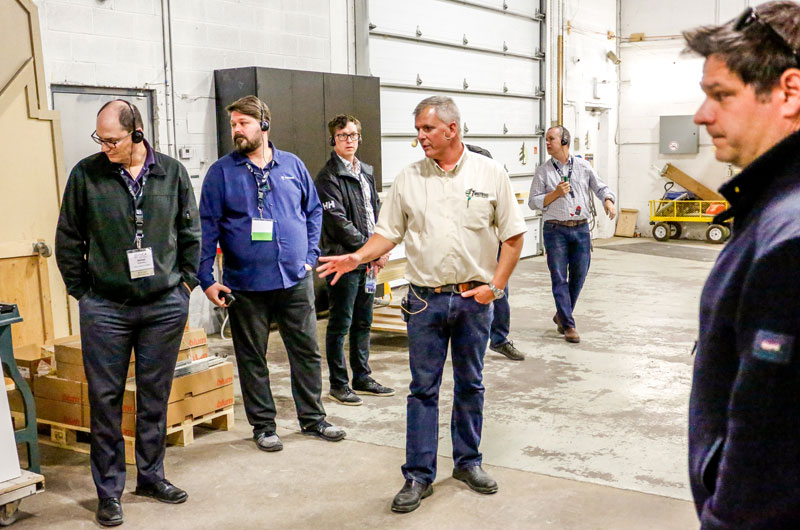 Photos: Woodworking
"Participants felt we had very good content, strong programming and many great networking opportunities."

The Canadian Kitchen Cabinet Association just wrapped up a very successful 50th Anniversary National Forum in Niagara Falls, Ontario.
"I am very pleased with our event," said Sandra Wood, executive director.
"I haven't heard from everyone yet, but the initial feedback I received was that participants felt we had very good content, strong programming and many great networking opportunities."
She added that the networking opportunities, meetings with other industry partners and suppliers and discussions in a relaxed setting are what makes these association events so special.
"We don't sell widgets, we sell opportunities to connect."
And since this was the 50th anniversary meeting it had a feel of something special and Wood said she is looking forward to some of the future initiatives the association is exploring right now.
"I really believe that we are hitting our stride as an association. We have been growing for the past few years and I am very optimistic for the future."
From several great shop tours, a tour of Wayne Gretzky Winery and Distillery, a reception and the President's Dinner, the Forum also offered many interesting seminars covering everything from work/ life balance, ways to keep your business fun and profitable to digital marketing, pricing, digital transformation (Industry 4.0) and business relationships and much, much more.
The event was held May 10-13, with more than 120 participants, at the Hilton Niagara Falls and got underway Thursday following the CKCA Board of Directors' meeting.
An opening buffet lunch and welcome kicked things off followed by the keynote session where Lynne Jacob of MLJ Coaching International talked about 'Staying ahead of the curve for the next 50 years.'
This was followed by a discussion about digital transformation for kitchen cabinet manufacturing with Mark Crocker, executive director MTechHub and Peter Mate, Planit Canada, Pete Fournier, Triangle Kitchens and Joerg Brauns, 2020.
Participants then toured Gretzky Winery and Distillery in Niagara-on-the-Lake to experience wines, whiskies and other local culinary delights.
In the evening, everyone met for a celebratory dinner at the Queen Victoria Place Restaurant with its spectacular views of Niagara Falls. Blum Canada's Kevin Tratt and Mark Deltin of Frendel Kitchens Ltd. spoke about their stories and the business relationship they forged over the years and how they endured and helped both businesses succeed. Incidentally, Blum is celebrating its 40th anniversary and Frendel Kitchens its 50th.
On Friday, Richard Lord, president and CEO of Richelieu Hardware, spoke to participants about how the company, which is also celebrating its 50th anniversary, grew from a small operation into the leading North American distributor, importer and manufacturer of specialty hardware and other products for the industry. Jim Deslaurier, Deslaurier Custom Cabinets and chair of the Wood Manufacturing Council and Richard
Lipman, WMC president, delivered a presentation about the many HR tools WMC has developed for the industry.
Also, Neil Persaud, a digital strategist with Candybox Marketing, spoke about the importance of social media and the critical first seven seconds a company has to get people's attention before they move on.
Participants then began the tours starting at ML Campbell's training and application facility in Fort Erie. ML Campbell is a manufacturer with more than 100 years of servicing the wood finish industry.
At this tour, members took part in a question and answer session about finishing, learned about emerging wood coatings and heard about colour trends.
The second plant tour was of Timberwood Kitchens in Port Colborne, where owner Tim Vanden Ende opened his doors to welcome CKCA members to his production facility where they have been manufacturing beautiful, top-quality cabinetry since 1990.
Oakridge Woodworking in Fenwick was the third stop on a busy tour day. Ed Roorda started the company in the 70s. Today, Roorda and Jamie Birrell and their team of more than 30 employees, manufacture quality cabinetry with precisely milled, CNC material secured with tight-fitting blind-dado joints and fastened with nails and screws, never staples.
Before a free evening to relax after a busy tour day, members stopped for a group photo at the Comfort Maple, widely believed to be the oldest and finest sugar maple tree in Canada. At around 500 years old, it was designated a heritage tree in 2000.
On Saturday, during the annual general meeting, the new board of directors was introduced. Michael Slobodian of Decor Cabinet Company is taking over as president from Caroline Castrucci, of Laurysen Kitchens. She will continue to serve on the board as past president. Heidi Boudreault of Denca will continue as vice president.
Next was a seminar called 'Solving the pricing puzzle,' led by Gerald Van Woudenberg of Van Arbour Design and Will Sampson, editor of FDMC magazine.
This was followed by presentations about best practices and policies regarding medical- and soon legalized marijuana use and other issues about drug testing by Chris Wilkinson of DriverCheck.
Brad Cairns of Best Damn Doors talked about Lean manufacturing and the benefits of adopting the process and its principles. In a very energetic presentation, Cairns said the size of the business doesn't matter when it comes to the importance of implementing Lean.
Martin Cloake, CEO and cofounder, of Raven Telemetry delivered a talk on smart manufacturing – taking the pain out of data overload, followed by the 'What's New' supplier presentations. The Manufacturers' Roundtable discussion was an opportunity for manufacturing members to get together behind closed doors for an informal discussion designed to talk about some of the issues they face in their businesses and get input from other members. The free-flowing discussion where anyone can ask questions of other members was well received.
In the evening there was a Supplier Showcase and cocktail reception and the President's Dinner and dance marked the official end of the three-day event.