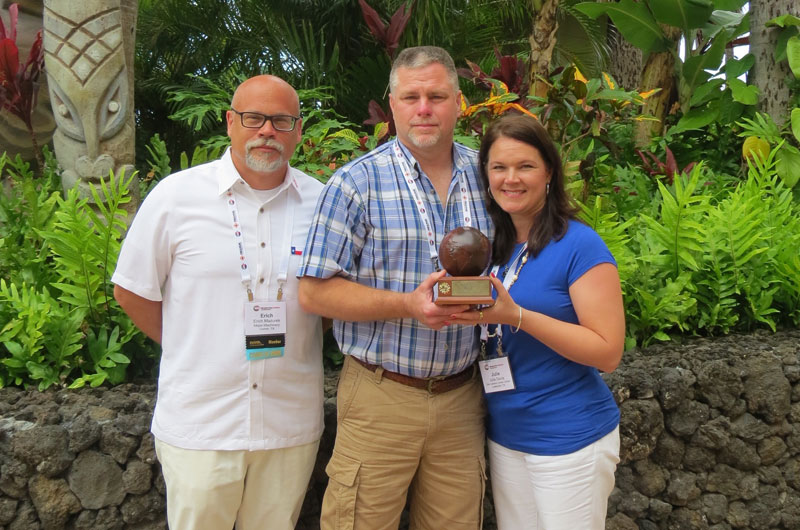 Photo: Woodworking
Educator of the Year winner Joe Davis, centre, and wife Julie with Erich Mazurek, left, of Maze Machinery, Texas who nominated Davis for the award.

The annual Woodworking Industry Conference (WIC) was held at the Hyatt Regency Maui Resort and Spa in Lahaina, Hawaii May 1-4.
Organized by the WMIA (Woodworking Machinery Industry Association) and WMMA (Woodworking Machinery Industry Association), the event serves as an educational and networking platform for the industry. It's an opportunity for industry suppliers to discuss the issues affecting their businesses and to identify opportunities in domestic and international markets. A number of Canadian companies were in attendance to meet with peers and potential distributors.
The WMIA organizes the Wooden Globe awards to celebrate excellence in manufacturing technology innovation and education. Each year one winner is selected.
Top honours for Manufacturing Excellence through Technology went to Dura Supreme, a large cabinet manufacturer in Minnesota that invested heavily in automation and new technology to improve its business performance.
The Innovator of the Year Wooden Globe went to Lazy Lee USA from Cedar City, Utah. They were recognized for a RTA storage unit that can be shipped flat for easy onsite assembly by two people without glue or tools using Lockdowel fasteners.
Trained and educated labour is as hard to find in the U.S. as it is here in Canada so it is no surprise that the 3rd Wooden Globe is dedicated to the Educator of the Year.
This years' winner is Joe Davis, a passionate high school woodworking teacher from Lewisville, TX. He has educated more than 1,200 students in traditional and modern manufacturing techniques.