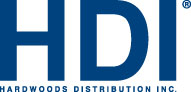 Hardwoods Distribution Inc. (HDI) has, through its subsidiary Rugby Architectural Building Products, purchased the distribution assets known as Hardwoods of Atlanta, LLC, Hardwoods of Georgia, and Hardwoods of Alabama. HDI did not acquire the lumber manufacturing operations of Atlanta Hardwood Corporation.
HDI has, as of June 12, consolidated the Georgia operations into its existing Rugby Atlanta and Suwanee distribution facilities.
Customer inquiries via phone and email now channel to the Rugby facilities. The Alabama distribution facility is now operating under the Rugby brand.
"The consolidation of distribution facilities in Georgia, and the addition of a new branch facility in Alabama, provides additional size and scale in these attractive markets," said Rob Brown, HDI's president and CEO.
"The transaction represents an appealing strategic fit of complimentary product lines and suppliers, with minimal customer overlap. We have been successful with our acquisition strategy having now completed seven acquisitions in the last seven years, adding over $550 million of annual sales over that time period, and we will continue to pursue transactions that complement our internal growth strategies."
HDI is a leading North American wholesale distributor of architectural grade building products to the residential and commercial construction sectors.