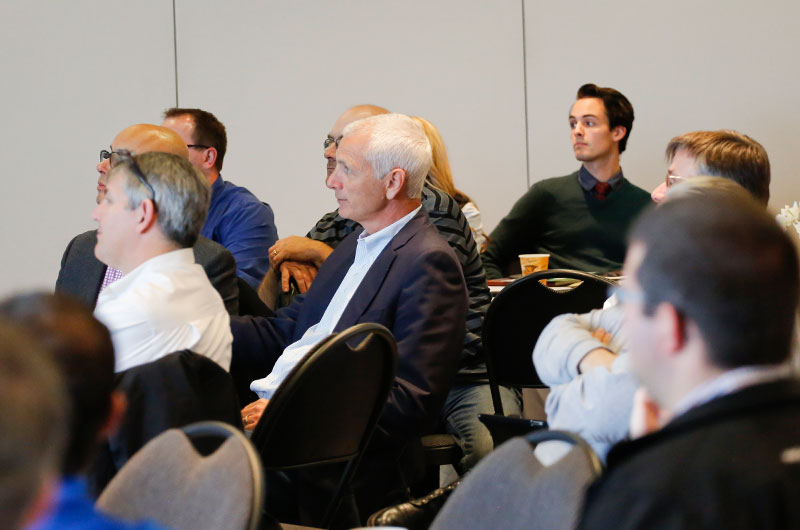 Photo: Woodworking
At a recent meeting of the Bluewater Wood Alliance.
BWA members still have millions of reasons to smile, but the multi-million dollars in federal funding to boost their business has been delayed by at least a couple of months.
The federal government had announced the winners of its $950 million federal funding competition for 'superclusters' a few months ago and the Bluewater Wood Alliance is a member of one of the five winning bidders.
However, because of the number of details that still have to be worked out, details such as signed agreements stipulating who gets what and when, the actual distribution of monies has been delayed at least until late August or early September, according to BWA's Executive Director Mike Baker.
"I understand they are working out the details right now and they want to sign all five winning superclusters at the same time and have them agree to the same terms," Baker said.
"Nobody has their contribution agreement in place yet, so we don't know how the money will flow and when, but I hope it will be later this summer or early fall at the latest."
As part of the Ontario-based bid designed to drive collaboration between the manufacturing and technology sectors, BWA members are expected to be able to access millions of dollars in funding once the deal is finalized.
BWA is a member of the cluster made up of a group of companies that includes such heavy hitters as ArcelorMittal Dofasco (Canada's leading steel producer), Morgan Solar, University of Toronto, General Dynamics Land Systems, Ericsson, and Celestica to name just a few, who are working together and prepared a joint bid to access available government funding.
Details will still have to be worked out, but the Alliance's members could be eligible for $30 million over five years at 50 per cent funding ($15 million).
The Canada-wide competition saw more than 50 applicants and more than 1,000 business participate.