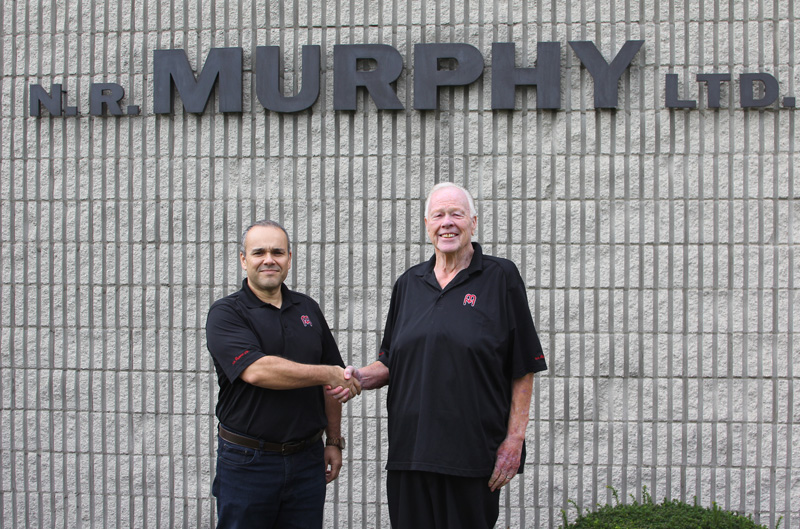 Photo: Contributed
After 75 years in Business, Norman R. Murphy, right, couldn't be happier to "pass the torch" to his son-in-law Helder Armas, left, who will continue the family-owned firm's commitment to quality.


After three-quarters of a century in the business of providing top industrial air-quality solutions across North America, N.R. Murphy Limited has passed the torch to new owners.
The Cambridge-based company – which manufactures dust collectors, fans, and similar equipment for workplaces in many sectors – is pleased to announce that former sales manager Helder Armas has taken over the reins as president. Armas is also now a co-owner with his wife, Lori Armas, the daughter of Norman R. Murphy, the company's previous owner and its namesake.
"It is an honour to take over a business that has a highly esteemed reputation for dedicated customer service and uncompromising quality," Armas said. "This is a legacy that I plan to carry on."
"I couldn't be happier keeping my 75-year-old business in the family," said Norman Murphy. N.R. Murphy has always been a family-owned company.
The company expects a smooth transition into the new ownership, as it continues to use the same management team, systems, and facility.
A long history of uncompromised quality
This transition comes as N.R. Murphy observes a special anniversary – marking 75 years of building some of the top dust collectors in the North American market. The company has installed well over 14,000 dust-collection systems throughout the country. Technology may change, but the Murphy family has always remained consistent in its strong dedication to one goal: quality.
This quality story started back to 1943, when William Murphy managed, and later purchased Preston Price Air Conditioning, a company who also shared Murphy's high-quality standards. In 1948, he renamed the company Murphy Sheet Metal and switched the focus to supplying and installing dust-collection equipment.
As the firm continued to grow and expand its customer base, Robert Murphy took it over in 1956, and his son, Norman R. Murphy, became vice president when the company moved to its present location at 430 Franklin Boulevard in Cambridge six years later.
In 1966, Norm Murphy bought the company from his father, and it became N.R. Murphy Limited. This transition began a successful 52-year era during which the company focused primarily on producing dust collectors.
In 1972, N. R. Murphy Limited partnered with Rodgers Machinery, an American company, and formed Murphy-Rodgers Inc. in Los Angeles, CA. Murphy-Rodgers Inc. manufactured products based on N.R. Murphy's designs and concepts for the U.S. Market, and N.R. Murphy Ltd. manufactured dust-collection products for the Canadian and export markets. The partnership lasted until the closure of Murphy-Rodgers Inc. in 2010, yet N.R. Murphy has kept its American customer base.
With Helder and Lori Armas succeeding Norman Murphy, the company has entered the latest of many transitions over its 75-year history. But N.R. Murphy's equipment has continued to stand the test of time.
The firm's long-time commitment to top quality is evident in the fact that its biggest competitor is its own used equipment.
"Everyone says they build quality into their products," Norman Murphy has said. "But when your name goes on every single unit you build, you make sure quality is never compromised. It's my reputation that's at stake." With Helder and Lori Armas in charge, N.R. Murphy's solid reputation is set to continue for another 75 years.