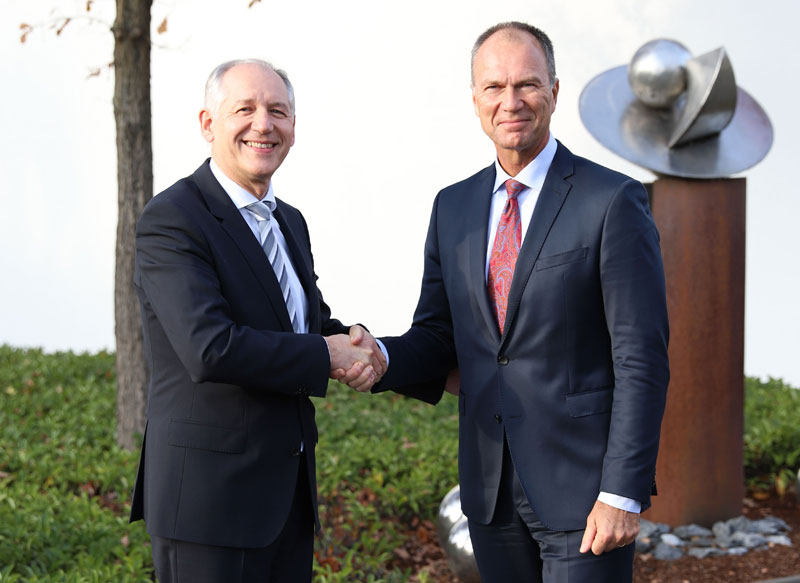 Photo: VDMA
Wolfgang Pöschl welcomes Pekka Paasivaara
.
The German Woodworking Machinery Trade Association's executive board has elected Pekka Paasivaara, chairman of the HOMAG Group AG in Schopfloch, as its chairman at its board meeting Nov. 27 2018.
"We have exciting tasks ahead. Digitalisation and automation require close cooperation across company borders. I am looking forward to driving these topics on the board and with the companies within the association," Paasivaara said following his election.
His predecessor, Wolfgang Pöschl, has resigned from the executive board of WEINIG AG in Tauberbischofsheim, effective as of Dec. 31.
"German woodworking machinery is in an excellent state thanks to a long term upswing. We are in the best position to remain market and technological leader," Pöschl said during the meeting.
Dr. Bernhard Dirr, managing director of the trade association, praised Pöschl's service and dedication during his 6 ½ years of leading the association.
"The entire sector owes him a debt of gratitude for being a strong supporter and architect of the successful thematic reorientation of the world's leading trade fair LIGNA," said Dirr.
VDMA board members are: Pekka Paasivaara, HOMAG Group AG, Schopfloch (Chairman); Dr. Dieter Siempelkamp / Siempelkamp, Krefeld (Honourary Chairman); Dr. Stefan Brand / Vollmer, Biberach; Frank Diez / Leuco, Horb; Markus Hüllmann / G. Kraft Maschinenbau, Rietberg; Jürgen Köppel / Leitz, Oberkochen; Matthias Krauss / Mafell, Oberndorf; Klaus-Jürgen Lange / Anthon, Flensburg; Dr. Stefan Möhringer / Möhringer, Wiesentheid; Olaf Rohrbeck / Robert Bürkle, Freudenstadt; and Peter Schaeidt / Baljer & Zembrod, Altshausen.