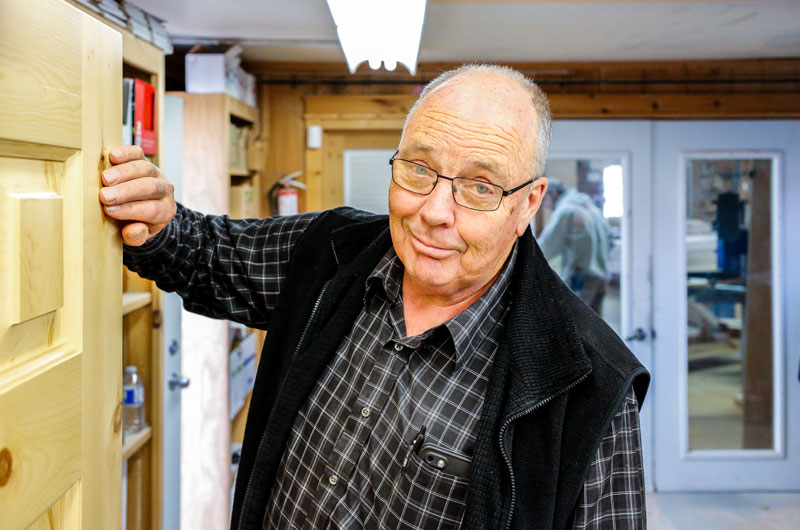 Photos: Woodworking & MCC
John Schenk.
Here is the story of a father and son team that goes to extraordinary lengths to fulfill their customers wishes.
How extraordinary?
Well, how about using a helicopter and building an ice road to access an island property in winter, and then buying their own crane because that's what they needed to complete a project.
The word 'can't' is not in their vocabulary. Actually, it's not even allowed in the shop, and as a result of that dedication to problem-solve for their clients and a reputation for top-quality work, Muskoka Custom Carpentry has established an enviable reputation and a long list of happy customers.
John Schenk and his son Rob are Muskoka Custom Carpentry just north of Orillia, about 1 ½ hours north of Toronto
Muskoka Custom Carpentry Ltd. (MCC) has been serving the Muskoka area with its unique approach since 1999. From their first project on Lake Joseph to current projects on Lake Rosseau, they have built Muskoka cottages and boathouses on Lake Muskoka, Lake of Bays and even Bigwin Island.
They offer everything from custom furniture to turnkey projects with in-house design and built in their very unique custom millwork shop.
They will build you your dream home or renovate the one you already love.
Nobody planned this
However, how they got there was anything but predictable.
John Schenk had been working in retail for 27 years along with his brother Karl.
Karl's TV, with stores in Orillia, Midland and Barrie was almost an institution in those parts selling high-end televisions, stereos and electronics.
"I was in that business with my brother for 27 years," but retail was changing and with shrinking margins, John knew it was time for something else and he decided to sell out.
"The business was really changing, with really small margins and big box stores selling stuff cheap, I had to look for something else," says John.
So he bought a small chicken farm just north of Orillia.
Yes, a chicken farm even though he didn't know anything about chickens.
"I never held a chicken in my life, but it was a profitable business so I decided to get into that," says Schenk laughing.
"I did that for 10 years, it was a good business, but I also had a lot of free time on my hands so I built a little, 600 sq. ft. shop and I started to make furniture. I taught myself how to do it and I was building and selling outdoor furniture out of cedar."
"So that went pretty good and I had fun doing it. I also had a guy on the highway here that sold it for me.
"People going to their cottages in Muskoka stopped in and bought the furniture. "While I was doing that, Rob was working for a construction company "up north," in Muskoka, building houses, boathouses and docks. He had studied construction technology at Mohawk College."
Rob eventually left that job to set out on his own. With a $40,000 loan from the Royal Bank, he bought himself a truck and some tools and started his own company.
It wasn't easy, but he persisted and business kept coming his way, until, one day, he needed a kitchen for a log home renovation.
Since he didn't know how to do build a kitchen, Rob asked his father to help him.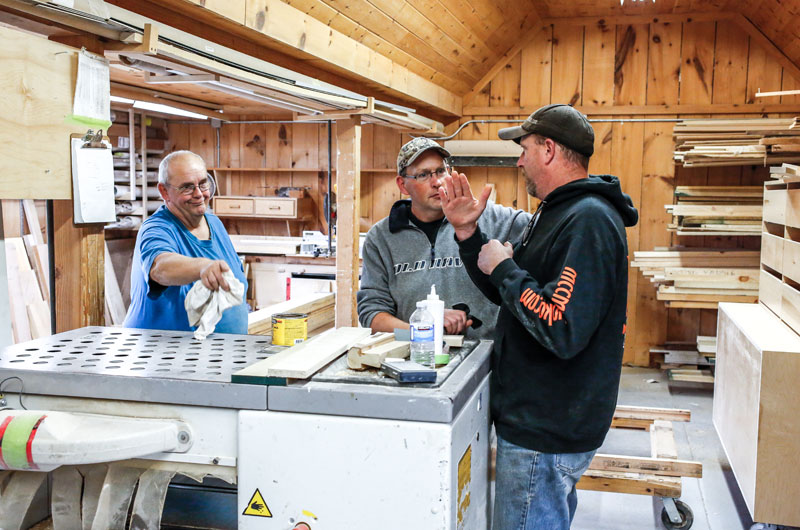 John Schenk, right, discusses a project.


"But I didn't know how to build a kitchen either," John says with a smile, "so we had to figure it out."
They designed and built that kitchen from scratch, using only solid wood and "old" ways and by that we mean face frame cabinets. It got built and delivered to a happy customer, but perhaps most importantly, that kitchen kind of marked the beginning of their joint business.
Schenk says he and his son are big readers, magazines and books and everything he knows about woodworking he learned through reading and through trial and error.
And perhaps as a result of that, "our cabinets and kitchens are completely different from anyone else," Schenk says.
"They are five-sided, they have door stops inside, they are face frame and we still build 90 per cent of our cabinetry that way.
Once they decided to get into it more seriously, John sold the chickens. Even though it was a good business, he was going to have to invest about a $150,000 into new cages and decided against it.
"It didn't make sense to invest that kind of money at the time and get nothing for it, so I sold my quota and we turned the old barns into our new workshop.
Muskoka Custom Carpentry shop began as a small Muskoka cabinet shop to supply Muskoka kitchens and vanities for summer home projects, but they kept on growing and the projects got larger and more diverse and so did our shop.
Muskoka Custom Carpentry continued to grow, they kept hiring new people and added machinery and now they are framing houses, building boathouses and custom doors, trim and furnishings as well as custom flooring, furniture, kitchens and complete renovations.
Initially they also built new homes, but over the years their business has changed to the point that they do more work for other homebuilders rather than build the homes themselves.
"We sort of got out of that," Schenk says, "instead we are focusing more on outfitting and restorations. We still do large projects, but we prefer to let someone else deal with all the permits and whatever else is required to build a new home and we come in 
and do the rest. We'll do all the trim work and special stuff.
"We have also restored a couple of old, traditional Muskoka cottages and built some of the most fantastic boathouses."
One of them, an original 1910 Muskoka classic, boasted a giant lakeside covered porch, which was the main feature that convinced the owner to buy it.
Many would have torn down this Muskoka landmark, but its new owner saw the potential of that the cottage's old bones. The renovation updated all of the home's systems starting with geothermal heat to full home automation. The dark Muskoka interior was updated with a massive timber frame. A structure installed via a new hole cut into the roof for a large skylight. MCC shop also custom made all the cabinets, millwork, flooring and custom doors in the home.
There really are no limits to what they can and will do.
The customers come to them with ideas and then they sit down together and plan it all out. From design to complete drawings.
"We really encourage our customers to come here," Rob says. "And then we do all the work together, it's a very custom approach."
And given that their market is mostly in Muskoka, they're dealing with multi-million dollar homes and cottages.
"When we started out, a million-dollar cottage was a big deal," Rob says, "now it's 12 to 14 million dollars.
Everything is done on SketchUp and then it goes to the shop, which is full of table saws, six shapers and all kinds of other machines they need to complete their projects.
"We don't have any CNCs because they wouldn't be any good to us and they take up a lot of room," John says. "What we do is very custom."
Custom indeed. Walking through the shop you see work areas, one worker one work area complete with table saw, shaper, moulder and whatever else they need for their project.
"If we get a new project, we assign it to someone, they get a binder with all the drawings and specifications they need and then they set out and build it. They are responsible for it from start to finish," says John. "that's how we do it and it works for us. It's someone's 'baby,' and they take ownership of it and are responsible for it and take great pride in their work."
And everything they need and use is built in the shop.
"We build everything from scratch, we make everything ourselves right here in the shop, even the drawer inserts. Everything is custom built and everything fits to a T," says John.
"We don't buy stuff and then make it fit, we build it for your home.
We go in and measure everything and then we build it to fit perfectly, all the trim work, cabinets, doors, you name it. Nothing is bought and fit, it's all made by us.
Our clients have one supplier that does all the work and it all fits perfectly. It's not the cheapest way to build things, but it is the best.
"We use a lot of unusual stuff, vertical grain, fir, all kinds of stuff you couldn't buy so we make it custom, solid wood, mortise and tenon."
They use prefinished ply, all tongue and grooved together, not screwed together.
"The reason we do that is because our cabinet doors are all inset so everything stays nice and square. Everything fits perfectly."
They only use solid wood and solid core plywood. Schenk says they consider themselves woodworkers, they don't build boxes.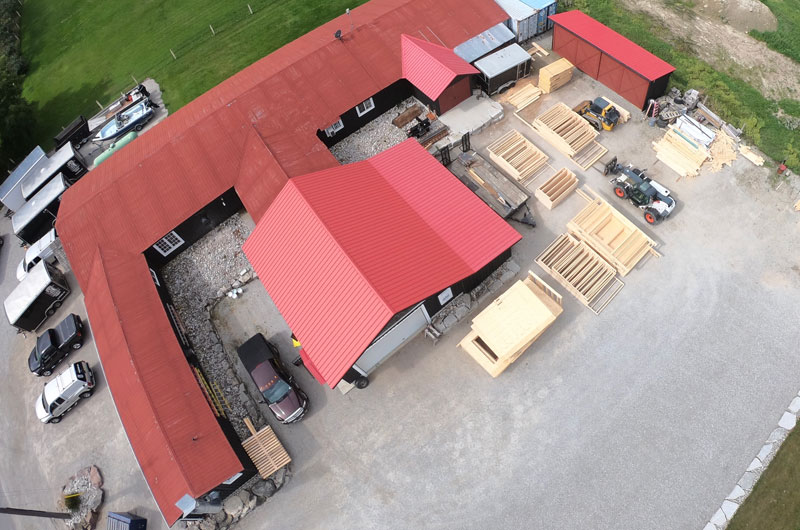 Not your average shop.


'Can't' is not in 
their vocabulary
And all the work they get comes from word of mouth.
"We don't advertise, we never have, it's 100 per cent word of mouth," Schenk says.
"We get a lot of referrals and when they come in you already know they come from a happy customer, otherwise they wouldn't have recommended us."
One of the many reasons they are successful is because the aforementioned 'can't' is not in their vocabulary. For example, a few years ago they did a massive landscaping project (even though landscaping is not really something they do) for one customer who had previously been turned down by three other landscaping companies.
"This was not a 'normal' project," Rob says.
"It involved massive stones and a waterfall and the other companies either couldn't or wouldn't do it because it was too complicated and they probably couldn't make any money on it."
However, MCC tackled it, completed it — they even had to buy another special machine to do it — and made money.
Another happy customer and more great word of mouth.
That project also saw them build a huge island for the kitchen. The twist was that the entire island had to be taken to an auto body shop for painting because the customer wanted the same finish on it than he had on his car.
Altogether, that project took a couple of years to complete and it is the perfect example of problem solving for a customer, says Rob.
"You look at the size of the stones and that's one reason why none of the other companies wanted to tackle it. It was difficult and it took a lot of work and planning to get it done. But we did it, we hired stone masons for a year and a half to get it done, whatever it took."
Another example was in the boathouse. It was pretty much complete, the roof was on and the customer decided he wanted lights on some of the beams, but he didn't want to see the wires.
Yes it can be done. They bought some special bits from Germany to prevent wandering and carefully drilled six-foot holes into the beams to feed the wires through. It took two guys four hours per hole, but no problem, the customer is always right.
And this was also the project for which they bought a crane that can lift thousands of pounds, but also fits through a 34-inch door opening. It has since been used on other jobs as well, but how many companies would have done that?
Then there was the barn in the Guelph area. A customer purchased a farm and asked MCC to dismantle it, beams and all, to use that wood on the inside of his Muskoka cottage.
"So we took it all down, brought it to our shop and we build all his cabinets, floors and interior doors using the reclaimed wood," Schenk says.
Schenk continues to work even though he could have easily retired by now. But he is just having too much fun.
"It's a riot, why do you think I am still working?"