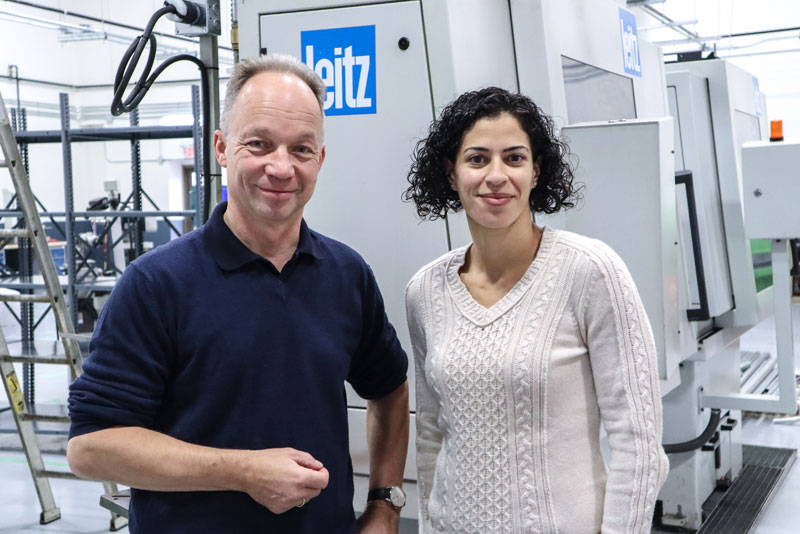 Photo: Woodworking
Leitz CEO Jürgen Köppel and Lesley Morris, Leitz Canada's new managing director, at the company's new Canadian headquarters in Vaughan, Ont.

Leitz Canada has moved its Canadian headquarters to Vaughan, Ont. just north of Toronto.
Leitz is well aware of the strategic importance of the Canadian market and the move of the Canadian headquarters to Vaughan, Ont. was only logical.
The sales and service center has increased from 35,000 to about 80,000 sq. ft and coinciding with the move, the company has also made significant investments in new, state-of-the-art machine technology.
"With more than 40 machines at the Vaughan facility, Leitz is ready to offer Canadian customers the service for which we are known worldwide as a premium supplier," said Leitz CEO Jürgen Köppel.
It made sense for the company to find a new location in order to be able to offer the best support to its customers. New Canadian Managing Director Lesley Morris said that customer proximity and optimal support are very important aspects of the company's new growth strategy in Canada and they are ready to deliver Leitz' promise of "Solutions in new Dimensions," to Canadian customers.
Leitz Tooling Systems LP is located at 435 Four Valley Drive Unit 1-2, in Vaughan, Ont. They can be reached at 905-760- 0375 or 1-800-764-9663.