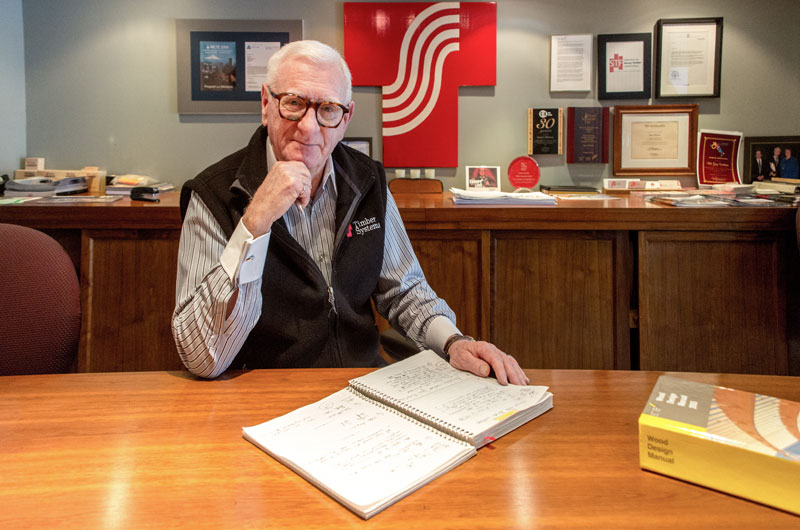 Photo: Woodworking
Gary Williams helped write the book on heavy timber construction in Canada.
Gary Williams knows wood.
In fact Williams helped write the book on the subject, namely the Canadian Wood Design Manual, and his company, Timber Systems Limited, has changed the landscape of heavy timber construction in Canada through relentless innovation and a commitment to excellence and value.
Timber construction is his passion, and Williams knows how to effectively introduce the beauty of wood to any building.
Whether a project is pushing the envelope of contemporary design, or reaches into more traditional styles, Timber Systems has helped designers and architects use wood to turn a project into a masterpiece.
Williams hails from Australia and first came to Canada in 1966 for what was supposed to be a two-year stint with a Montreal-based company that hired him for his expertise in steel design and construction. He completed his civil engineering training at the Gordon Institute of Technology in Australia.
It was in Montreal that he was first exposed to the wood world, purely by accident, as part of a project that saw him work on a new Air Canada hangar at Dorval airport. It was actually the first jumbo hangar in Canada.
Another company was brought in to do a peer-review of the design and they happened to operate a glulam brokering business on the side.
While in Montreal, Williams also met his wife, decided to stay in Canada and after a couple of years he was contacted by the company that first exposed him to all things wood and got a job offer.
"I mentioned that I really had no experience in timber design, and the reply was quite wonderful in that they said that that doesn't make me particularly unique in the industry," Williams said with a chuckle and added he loves telling that story because it was absolutely true and quite accurate because the challenge in the structural timbers world in Canada as opposed to Europe had been the lack of university training.
"In my four years of engineering, we only spent about two weeks on wood design," Williams said.
"The mass timber frame world in Europe is very well established, and in the 70s they were already building very large structures using mass timber. In Canada at the time, wood design was still very limited, a school, a church and perhaps a community centre or an arena here and there."
But there wasn't a robust design standard here and Williams said this led to a lack of confidence in timber design by engineers so it really became very important for the Canadian Wood Council to prepare proper design guides. That work began in the early 70s with the first edition of the Laminated Timber Design Manual.
In 1972, Williams was asked to come to Toronto to open a sales office for the Quebec company that hired him and that proved to be very good timing as people were finally starting to look more at wood as an option.
"At that point I also recognized what was lacking in the wood world, things such as vertical integration that has existed in the steel world for a long time. So I imagined a company that would integrate the various wood materials into buildings using the best product for a particular application rather than being driven by the demands of feeding a particular factory floor with one product."
"I started Timber Systems in 1980 and established supply arrangements with various manufacturers and mills which allowed wholesale pricing to be brought into the mix.
Williams said another significant change occurred in the early 80s when the wood I-joist started to take hold and he was leading the industry in integrating these products into larger buildings utilizing glulam and other timber products as the basic frame. It allowed the wood industry to have a light, secondary framing product comparable to the open web steel joists.
"The churches and schools were being designed in wood so I was quoting tenders that integrated as many existing and newer wooden components into the package as I could."
In time he also managed to establish relationships with contractors and designers who recognized his skills and he began applying wood products to a larger number of projects.
"I don't want to say it caught on quickly, because it was a slow process, but we had measured success and people saw we were doing good things, even in larger buildings, with elegant and creative designs. We also saw successes overseas."
Timber Systems has been exporting timber structures to resort markets for years.
There was a limited market 
for wood construction
There really was a limited market for wood design and construction when Williams started promoting wood as an alternative, which means he had to develop it. He knew that what was needed was a standard, a manual, something that said here it is, this is how we can design and build proper wood buildings that meet at all the necessary codes and are safe, efficient and sustainable.
And don't for a second doubt Williams' dedication to the task at hand. There is a reason some have called him the 'old man of the Canadian wood industry.' He served as:
• Past chair, Technical Committee, Canadian Wood Design Standard CSA-O86.01 (Engineering Design in Wood), and a Committee member since 1985.
• Past member, Canadian Standards Association Strategic Steering Committee for the Forest Products Sector
• Past member, Canadian Standards Association Technical Committee for Solid and Engineered Wood Products
• Past member, Canada National Research Council Standing Committee on Structural Design
• Past chair, Board of Directors, Wood Manufacturing Council (Canada Sector Council) to name just a few.
• He is also well known as a speaker at wood association events and conferences, and has presented a keynote address at three separate World Conferences on Timber Engineering, the most recent in Vienna in 2016.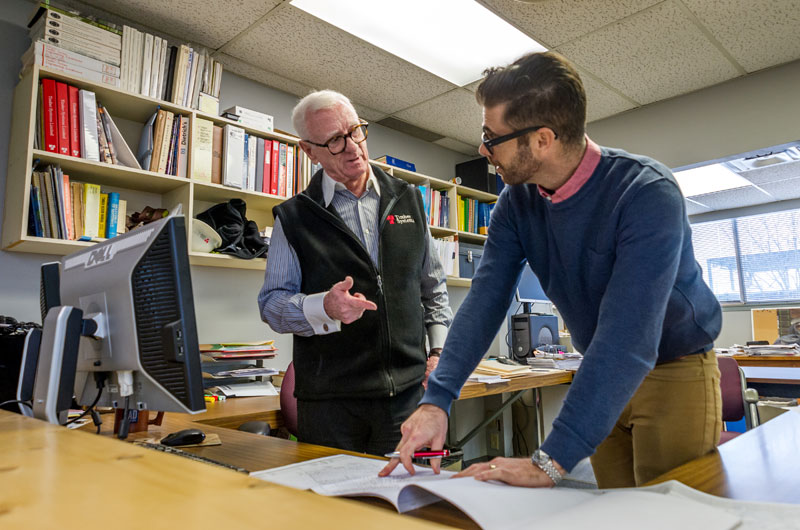 Photo: Woodworking
Gary Williams and his son Christopher Williams, VP engineering, discuss a project.
CSA 086 is referenced in the National Building Code of Canada (NBCC)
Williams is also a principal author of the Canadian Wood Design Manual, a 900-page design guide and university text that has become the industry standard design tool.
It was first published in 1990 and is now in its 8th edition.
Also, he is a founding member of the design development team for the Canadian Wood Council's "Woodworks" wood design software program.
In 1990, the Wood Council contracted the development of the Wood Design Manual and of course Williams worked on that with Quaile Engineering of Newmarket, Ontario.
Next – and Williams was a founding member – came the establishment of the design development team for the Canadian Wood Council's Woodworks wood design software program. And that has become a tool for architects and engineers to move through the various stages of wood design and get a sense of how big a beam should be and what the various connections would look like to give them an idea of what their design would require.
After leading the introduction of guidelines for the design of Cross Laminated Timber (CLT) into the CSA 086 Wood Design Standard in 2016, Williams continues to this day spreading the word about this new, innovative way of making wood buildings better.
All this work also made him aware of developments and other opportunities that perhaps weren't immediately apparent to general engineering and architect and thus began a series of efforts to stimulate architects and engineers to look at wood construction as part of their designs.
In a word, Williams knew what it would take to establish wood as a legitimate alternative in construction and design of buildings and was willing and able to put in the work and expertise to make that happen. As a result, while he helped drive the popularity and legitimacy of wood, he also ended up writing his own ticket for his company.
Opening the doors for wood design and construction in Canada
Following a couple of decades work to create standards, manuals and highlighting the need for universities to make room and incorporate timber design in their courses, Williams' company has established a reputation for its expertise and is often the go-to contact for anyone looking to build and design with wood.
Timber Systems Limited began its 40th year of operations in January this year as one of Canada's most important suppliers of prefabricated structural timber components in both domestic and export markets.
They have developed expertise in providing timber structures in the non-residential sector, where steel and concrete construction have long been the traditional materials.
Projects range from large institutional work such as hospitals (including Credit Valley Cancer Centre, Mississauga; North Bay Regional Health Centre, North Bay; public buildings (recreation centres, swimming pools, skating arenas and libraries); hotels (Casino Rama, Rama; Deerhurst Inn, Huntsville; as well as many buildings of worship.
B.C. appears to use a lot more wood and timber construction and Williams agrees that the use of exposed wood is certainly very popular there, in part, "because there is an inherent sense that that is the way to build because trees grow here."
But wood construction is in fact making significant inroads all across the country and significantly so in the Toronto area, to the point that Williams is looking at how Timber Systems can best handle the many requests for mass timber construction feasibility studies and contracts.
So many options
Nail laminated timber has been done for hundreds of years, but now that it is being panelized and delivered to site it has found a new popularity. CLT, DLT and glulam are very popular as well and all of these products combined have allowed the timber industry to compete with the precast concrete world and transformed what can be done in wood.
But it's not as simple as designing a building and then trying to see if it is better built in steel or wood.
Williams says that designers and architects have to incorporate their choice of materials early in the process in order to determine the best way of building using a particular method.
He said you can build just about any building using either material, but it may not be the best or most efficient way of doing it. The trick is knowing where you should and could use wood and where you shouldn't.
In other words, a building has to be designed from the start to optimize the use of a particular material. And that's where Timber Systems comes in.
"What the wood industry can now offer is a complete solution, so we are in great shape," he said.
The speed with which a timber building can be installed is very much a marketing plus. Speed of construction and light weight – we are talking about materials weighing about one fifth of concrete, so foundations are much less expensive - allow a wood building to be constructed quickly and on a site that has very poor soil conditions that would otherwise require extra foundation work.
Williams said the challenge - because he still considers this early days - remains "demonstrating the manner in which this actually works in practice and giving designers and contractors some sense of the potential savings in onsite time and cheaper foundations."
"And we can install a truckload of material in a day and you 
have just one trade working the project, which is another benefit of wood construction."
Williams said fire ratings and seismic or earthquake codes have all been addressed and building longevity is also not something anyone is talking about anymore.
"A wood building will last essentially forever as long as it's properly designed with respect to moisture control. There is no life term associated with a wood building.
And as a result of all the work and studies that have been done over the years, wood construction has found a lot of favour with mid-rise buildings, from six to eight to 10 storeys, Williams said.
In the first couple of weeks of January alone, Timber Systems had inquiries for half a dozen mid-rise buildings in Toronto. Many of the large developers are all over wood construction now and that means Williams in extremely busy doing feasibility studies to determine if it makes sense for these particular projects.
It's quite challenging right now to find the time to assess each project and determine if it is a good fit for wood or not, he said. And how much time should the company spend providing what essentially amounts to a massive free estimate without having a guaranteed contract at the end?
"So we are trying to strike a balance, and charge a little bit for our work, but at this point we are still having to be very aggressive because if we don't, it will be a steel building, or concrete."
All this means Williams is incredibly busy, but it's what he's always wanted, what he's worked so hard for all these years.
"Yes it's a challenge, but I am very happy with the number of people interested in building this way. And without naming names, there are a lot more coming down the pipe, all the big developers want in on this now, it's very exciting."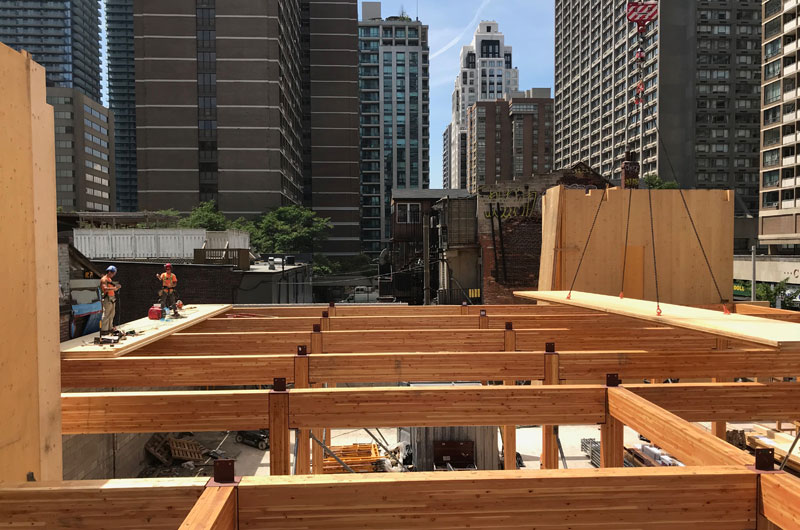 Photo: Timber Systems Limited
Shoppers Drug Mart building in Toronto.
Talk to the expert
Obviously, Williams is right at the top of that list of experts and he said Timber Systems is using expertise and experience, "and our engineering and technical people are very good at it," to assess the right material application for a particular building.
"And perhaps just as important, we are also in a position to say that this is not the right fit for wood.
"The business model I have is to trade on technical excellence and create a contribution and that allows us to engage trusted suppliers who have their own systems in place. Integrating creative and efficient design with a quality product installation chain has been the key to our success.
One very nice thing he heard from one architect not that long ago was that "it seems we're the only ones not using wood and perhaps we should."
"That's exactly what I love to hear, that people are looking at wood, that people see the natural beauty, the practicality of it and that they want to use it in their designs.
So after the decades of "evangelistic work if you will," Timber Systems – and in fact the entire industry – has finally arrived where Williams always hoped it would.
Now they are involved in early conceptual work on a number of projects, Williams had back-to-back meetings with major developers in Toronto in the week of our interview and he says there are major projects with wood underway at Humber College. They are completing budgetary work for the University of Toronto 12-storey tower, and they recently completed their portion of a four-level flagship Shoppers Drug Mart building at the corner of Charles and Yonge streets in downtown Toronto.
Thought to be the first contemporary mass-timber project in the city's downtown, it uses glulam post-and-beam framing combined with CLT floors and roof panels and has garnered a lot of attention in the building industry. Once completed the building will house retail and office space.
"It's a great time for us," Williams said. "Projects that were never going to be considered in wood are now very much up for discussion.
Mass timber construction is a thing now, dozens of projects in Toronto alone and Williams says even though it's taking an extraordinary effort and commitment on the company's part, he wouldn't have it any other way.
"It's what we've been working for for so long and now that we've finally come to this point, it's a dream come true really.
"It has been very encouraging to see this being a community effort by so many people to grow the industry and we now have all the tools in place for any Canadian architect and designer to efficiently design wood buildings.
Timber Systems works from its 11,000 square foot shop and office in Markham and also operates a design office in Vernon, B.C.