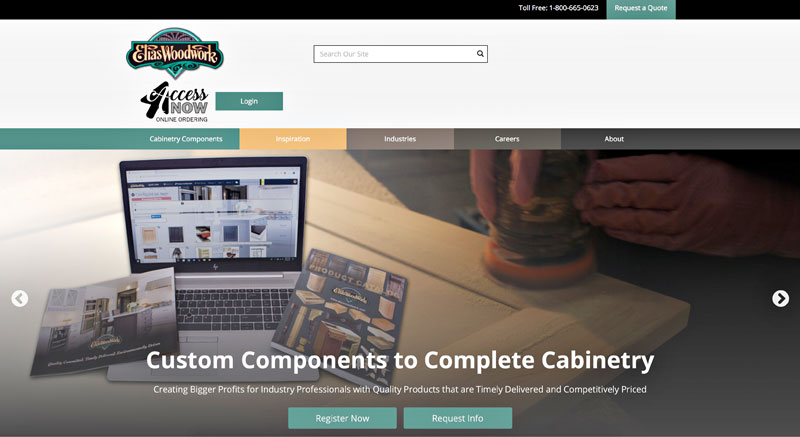 Elias Woodwork has launched a new website.

Elias Woodwork has launched the newly redesigned website www.eliaswoodwork.com
The completely revamped website features a streamlined and simplified design, improved functionality and enriched content areas to help industry professionals find the products and options available that will meet the needs of their cabinetry or millwork projects.
With improved design, content navigation and product selection, the new website will improve and increase user engagement with new search and filter features that give users the ability to quickly identify the product options they are looking for.
Whether looking for technical information or product photos to help get inspired for the next project, the new site is designed to drive users to their objective.
"We are excited about our new website with a fresh, modern look and new features that make it easy for visitors to find what they are looking for," said Jeremy Funk, sales & marketing manager.
"Our goal was to create a funnel driven website that caters to a wide range of professionals across several industries. The new site is also a key component in our marketing strategies and aligns our digital platform more closely with our future goals and branding. As we strive to improve every aspect of our on and offline presence, significant projects like this not only demonstrate pride in our company, but shows our commitment of excellence for our customers, partners and friends," he said.
Since 1983, Elias Woodwork has been manufacturing cabinetry and millwork components. Over the years the company has become known for its vast product selection, high quality finishes and competitive prices.
As a lean manufacturer, Elias Woodwork can cater to a wide range of industries across North America and internationally. From tenon, miter and slab cabinet doors, drawer boxes, moldings, refacing material, custom AOS Elite (Assemble On Site) cabinet boxes and decorative accessories, they can manufacture nearly any wood product for a new, remodeled or refaced kitchen, bath or millwork project.