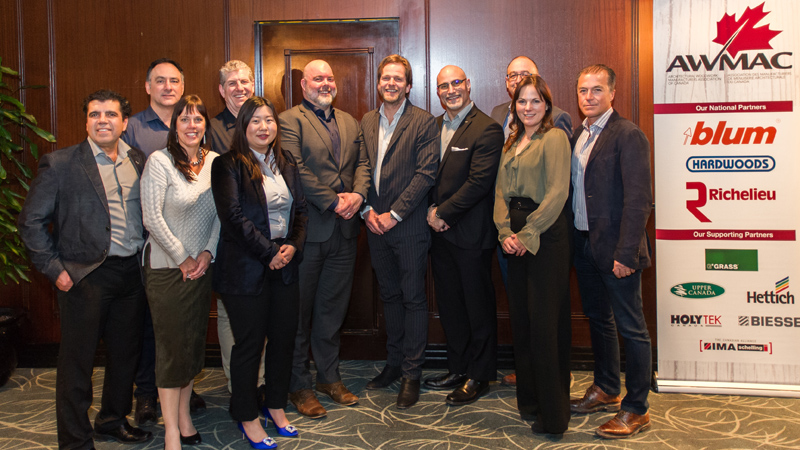 Photo: Woodworking
Members of AWMAC Ontario's new board of directors are, from left: Onorio Centofanti, RGA Woodworking; Carlo DeFrancesco, Green Valley Woodworking; Laurie Suikki, AWMAC Ontario; Peter Gallagher, Convoy Custom Interiors; Karyna Cheng, M&K Contracting; President Ian Christie, Upper Canada Forest Products; VP Bert Kleiser, Woodworking Canada; Nick Anastas, Archmill House; Phillip Roy, Formica; Dawn Modestino, Mercury Wood Products; and Mike Sanchez, All Wood Fine Interiors. Absent: Sam Meyer, Emily Creek Woodworking.


On Thursday, Feb. 28, the Architectural Woodwork Manufacturers Association of Canada's Ontario Chapter held its annual general meeting and celebrated its Annual Architectural Woodwork Awards Ceremony and Dinner at the Oakdale Golf & Country Club, Toronto.
Awards were given to member companies that have demonstrated superior performance in the manufacture and installation of architectural woodwork.
In addition this year - and for the first time - AWMAC Ontario presented its Directors Award 2019, in recognition and honour of outstanding service to the association. The award was presented to Robert Antonel of Second Generation Furnishings.
And the winners are: