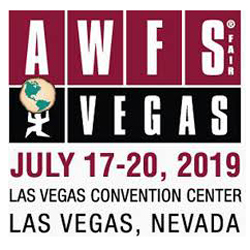 The Association of Woodworking & Furnishings Suppliers (AWFS) is seeking entries from its 2019 exhibitors for the AWFS Fair "Visionary" New Product Awards and Showcase that will be featured at the biennial AWFS Fair in Las Vegas, July 17-20, 2019.
This year's product categories will once again include: Industry 4.0; Machinery Over $50,000; Machinery Under $50,000; Power Tools; Hardware; Components; Tooling; Software; Raw Materials; and Plastics Machinery/Supplies.
All entries must be received by May 24, and all products must be submitted through the designated Visionary New Product website at https://visionaryaward.artcall.org/.
As in 2017, an Industry 4.0 Showcase will also be featured and both the Visionary and Industry 4.0 Showcases will take center stage in the grand lobby of the Convention Center outside of the main entrance to the exhibit hall.
Exhibitors wishing to enter their products in the 4.0 Showcase may apply via the same website https://visionaryaward.artcall.org. Exhibitors are encouraged to consult this website and the AWFS Fair marketing manual for complete rules and instructions.
AWFS brings together the entire home and commercial furnishings industry, including manufacturers and distributors of machinery, hardware, lumber, construction materials and other suppliers to the furniture, cabinet manufacturers and custom woodworkers.