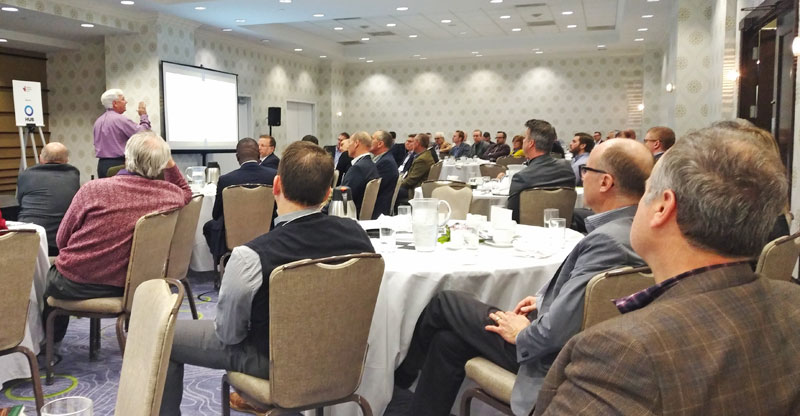 Photo: Richard Lipman
Canadian Hardwood Bureau meets in Montreal.

More than 90 hardwood industry professionals attended the 2019 winter meeting of the Canadian Hardwood Bureau (CHB), in Montreal.
This year, National Hardwood Lumber Association's Yield Advisor Tony Parks was one of the guest speakers. Parks outlined the yield program, which examines such production processes as profitability and process improvement – trim gain, edging gain and productivity, for example, to identify areas for increased efficiencies.
The program was of real interest to CHB delegates and the presentation generated a number of questions. The presentation is available on their website.
The meeting program also featured a presentation by Jeff Durst of Hull Forest Products who is president of the new North American Forest Foundation (NAFF), which is the next evolution of the Hardwood Forest Foundation. Durst outlined the thinking and strategies behind this evolution and presented NAFF's new mission: "To support the Forest Products Industry through education, promotion and advocacy of science-based facts about sustainable forestry, revealing the truth about trees, the world's most diverse, abundant, renewable natural resource".
After the meeting, the CHB presented NAFF with its 2018-19 and 2019-20 donations, as part of its ongoing support for the important work they do on behalf of the wood industry.
The breakfast speaker on the final day was Pierre Cleroux, vice-president, research and chief economist of BDC.
His presentation covered three main areas; the world economic outlook, Canada's economic outlook and three major questions, around interest rates in 2019, when will the labour shortage come to an end and when will the next recession hit?
He answered a great many questions from people about everything from climate change, to foreign markets and tariff issues. His presentation is also on the website.
Ample networking time was provided attendees, and the annual industry hockey game was held in Brossard. The next CHB meeting will be held Oct. 4, in New Orleans at the NHLA Convention. Special thanks to sponsors, HUB International and UC Coatings.