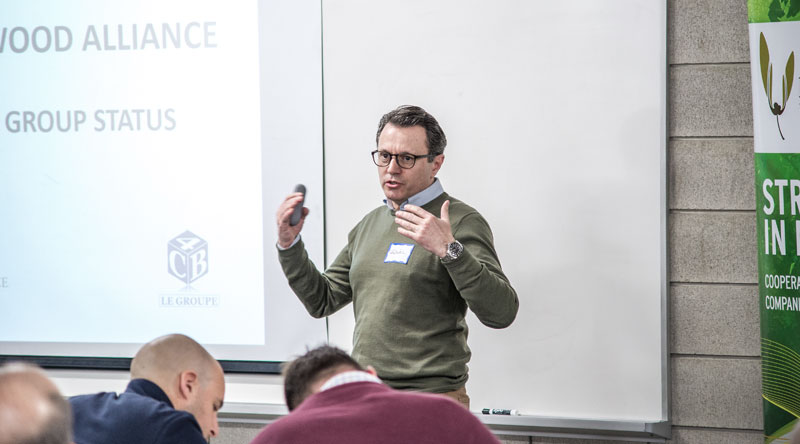 Photos: Woodworking
Frédéric Perrin, VP of 4CB Le Groupe.
The Bluewater Wood Alliance hosted its Spring Networking Event at Humber College in Toronto March 28.
Following on update on recent and planned BWA events by Mike Baker, BWA's executive director, the meeting proceeded with a presentation about the BWA Buying Group, the BWA Benefit Plan, Ministry of Labour representatives and digital marketing. The Minister of Labour, the Hon. Laurie Scott also attended.
In addition, there were a couple of networking breaks and following the meeting, anyone interested take part in a tour of Humber College's Woodworking program.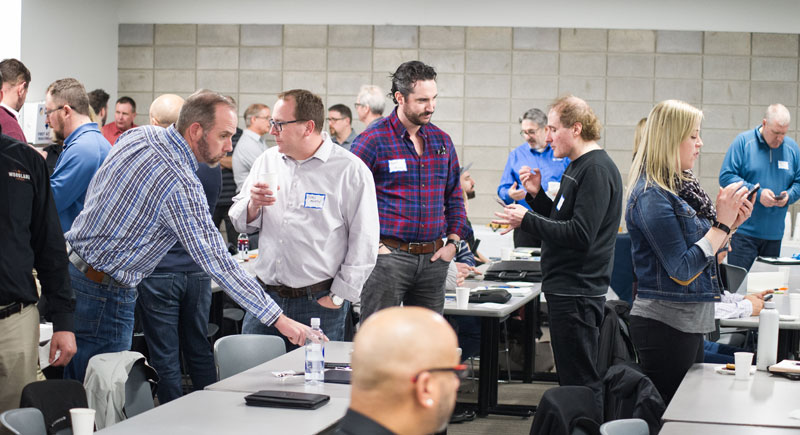 BWA Buying Group
Frédéric Perrin, VP of 4CB Le Groupe, was on hand to update members on the progress of forming a buying group for BWA members.
Perrin encouraged member companies to contact BWA and share their purchase volumes in order to allow them to develop accurate data and savings projections.
With the initial focus on wood-sector date, other items such as office supplies, software and services can be added later, but he stressed the importance of sharing date – which will be treated confidentially and protected by an NDA agreement – so thy can develop an accurate picture of the alliance's buying power.
"It is important that we receive more data from member companies," said Perrin.
"We need that information to assess the buying power of BWA, so please, if you haven't done so, share the data with us. It doesn't mean you are committing to anything and the information is kept confidential.
Baker also urged members to share their date.
Potential savings for members, once and if a buying group is established could range between five and 10 per cent.
Right now buying volume is at about $26 million, but Baker said once all companies have submitted their information he estimates it could reach $100 million.
Next up was JP Coronado who represents the BWA Benefit Plan. Coronado updated members on the benefit plan and cited several examples where participating companies have realized significant savings – up to 20 per cent – by joining. The plan is available to all BWA members.
Ron Landry, a provincial coordinator for the Industrial Health and Safety program with the Ministry of Labour, spoke about some of the most common infractions, lost time injury rates and options companies have when they dealing with the ministry. Most importantly, however, he provided BWA members a wide range of information, tools and guides as well as training that is available and designed to assist companies with navigating the rules and regulations.
Rob Halverson from Quinn Global provided examples of how various types of glue products and application methods can affect employees and efficiency of transfer of the product.
Wrapping up the meeting was Chris Herbert of Mi6 Agency, who talked about digital marketing and a company's online presence.
Herbert showed participants how their website and digital marketing rate in online searches, what customers see and pointed out the kind of information that can be gathered about a company through a simple internet search.
Using a couple of example searches, Herbert demonstrated what searches turned up and how companies can improve their web presence to rank higher in searches and attract the kind of customer they want.
The next BWA networking event will be held June 20, in Walkerton, Ont. BWA will also tour Toyota's Cambridge plant May 30 and June 6, and a number of training events are scheduled for late in April and mid-May.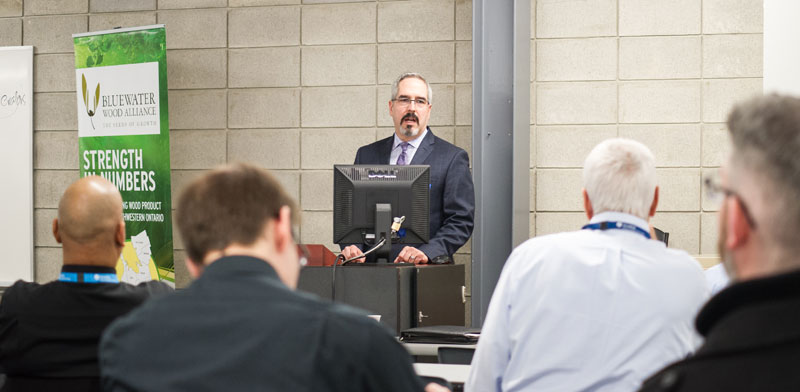 Ron Landry, coordinator for the Industrial Health and Safety program with the Ministry of Labour.