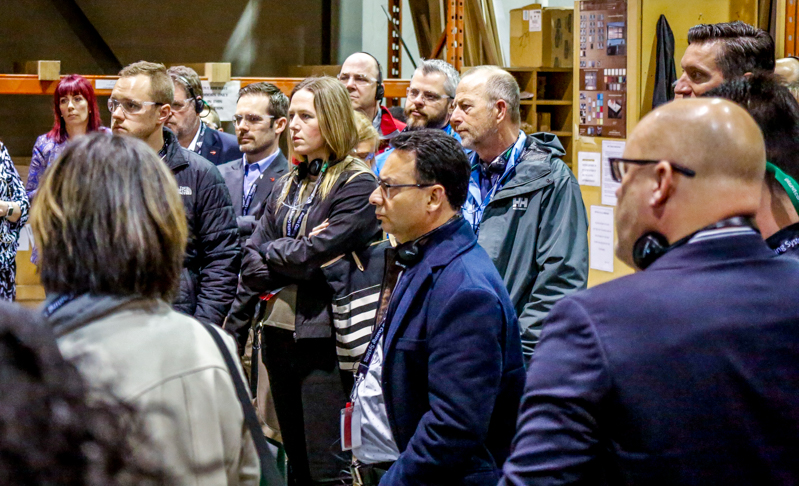 Photos: Woodworking
CKCA members during one of several plant tours featured during the National Forum.

The Canadian Kitchen Cabinet Association has just wrapped up a successful National Forum in Calgary, Alba.
The National Forum was held April 25-27, at the Sheraton Suites Eau Claire in downtown Calgary and offered a comprehensive program featuring plant tours, keynote sessions, seminars, supplier presentations, a manufacturers roundtable, the President's Dinner and plenty of time for networking and socializing.
On Thursday, participants visited Multiwood, a company that specializes in the production of cabinet and passage doors made of both solid wood and MDF. Multiwood also offers a complimentary selection of dovetail drawers, mouldings, corbels, wine racks, kitchen components and hardware. In addition, they will provide services such as CNC machining and wood processing such as engraving, edgebanding, planing, ripping, sanding, moulding and laminating. Multiword's mission is to provide high quality products at competitive prices with on-time deliveries, while striving to provide a safe and friendly work environment.
Following the tour, attendees returned to the hotel for opening remarks from CKCA President Mike Slobodian.
Those were followed by the keynote delivered by Michael Poynton, manager business centre, with the Business Development Bank of Canada. Poynton talked about business resilience, the importance of strategic planning for a business and the challenges manufacturers face from labour shortages and offshore competition.
Following supplier presentations, it was off to Denca Cabinets for another plant tour. Denca's 40,000 sq. ft manufacturing facility is fully equipped to manufacture custom veneer cabinetry and millwork. A family-owned business, Denca Cabinets is a full-service, one-stop custom shop offering everything from kitchens from their large catalogue to elaborate, high-end, custom kitchens, complete with the latest finishes, as well as a wide selection of appliances.
Tour participants also had a chance to enjoy an open house at the Merit Kitchen showroom located across the street.
Merit Kitchens Cabinetry was founded in 1971 to provided Western Canada with high-quality kitchen cabinets. Since then the company has grown into a world-class supplier of beautiful cabinetry, representing superior quality and extraordinary value. Merit's cabinetry can be found in homes throughout Canada, the United States, and parts of Asia.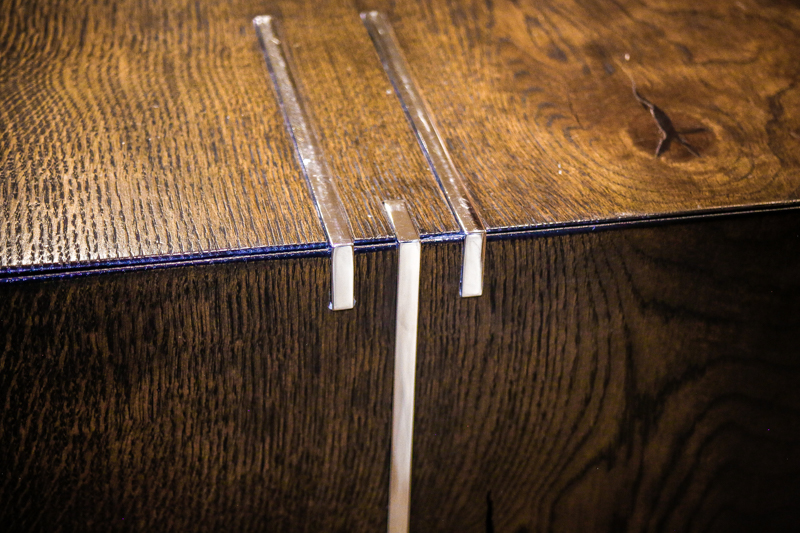 Unique design at Denka Cabinets.
Fun at The Rec Room
For the evening event, buses took participants to The Rec Room, which offers nearly 50,000 sq. ft. of eats, games and entertainment.
Friday kicked off with breakfast followed by CKCA's Annual General Meeting and continued with a plant tour at Schenk Architectural Imports Ltd. The company is a leader in contemporary styling and design and manufactures a wide product range for anyone from small shops, renovators and even large manufacturers.
In the afternoon, participants had a chance to tour DIRTT Environmental Solutions, a company that delivers interior construction projects to clients worldwide. Since the company launched in 2005, it has delivered more than $1 billion worth in interior solutions. They are a leader in custom, manufactured construction.
The day ended with the President's Dinner and a presentation from CKCA partner Habitat for Humanity.
Saturday saw additional supplier presentations as well as presentations from Gerald Gipman of Accelerated Consulting Group and Jon Callegher, PhD, of Job Talks.
Gipman spoke about the importance of documenting processes in your business and ensuring that everyone, from new to seasoned employees, is aware of what they should be doing. Callegher, who is the executive director of Job Talks, spoke about labour issues as part of his presentation on his groundbreaking research into the skilled trades.
Chris Leonard of the Kaizen Institute of Canada and Amrita Bhogal of Sunrise Kitchens who implemented Kaizen in Sunrise's manufacturing facility, delivered the final presentation.
Following the official adjournment, manufacturing members were invited to another session of the Manufacturers Roundtable to share and discuss business ideas and challenges and learn from one another.




CKCA President Mike Slobodian speaks to assembled members.