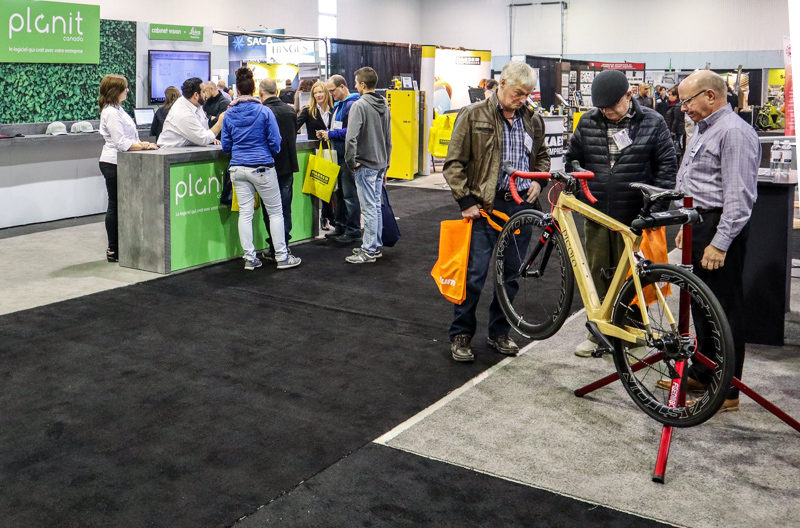 Photos: Woodworking
Canada Woodworking East will return to Quebec for its fourth edition Oct. 22-23, 2020.
Drawing on its continued growth and successes - including a move to its new home in Saint-Hyacinthe for its last edition - Canada Woodworking East is proud to return to Quebec for its fourth edition Oct. 22-23, 2020.
Back at the BMO Centre at Espace Saint-Hyacinthe, Canada Woodworking East will again welcome thousands of secondary woodworking industry professionals, including cabinet manufacturers, residential and commercial furniture manufacturers, architectural woodworkers, millworkers and custom wood product manufacturers. It is the only bilingual event of its kind in the region.
"We are proud to launch our 2020 edition with the support of Quebec's major machinery and hardware suppliers that have worked hand in hand with Canada Woodworking EAST to create Quebec's larges woodworking show," said Mike Neeb, show manager.
"We met several customers, not to mention the new leads," said Claude Caron, vice president of marketing with Caron Industries.
"The fact that the show is back in Saint-Hyacinthe is great and practical for us. Our booth location was perfect; the staff was eager to help, and accommodations were close by."
And Frédérick Legault, technical service director with CNC Technica also praised the show saying it was great and there were more visitors than the company expected.
Canada Woodworking East will include a cutting-edge seminar series, which has seen success in previous years. Expert speakers will cover a variety of current issues in the woodworking industry, to help attendees build their knowledge and skill set. Seminars will be held onsite throughout the show free of charge to all visitors and exhibitors.
In addition, there will be an evening social event, following the first day of the show, to celebrate the secondary woodworking industry. This is a new addition for the 2020 edition of the trade show.
As Canada's furniture-producing powerhouse, Quebec is the ideal location to host Canada Woodworking East, show organizers say. This major industry event attracts members of the secondary woodworking industry from across Quebec and Eastern Canada.
The show offers an ideal opportunity for the industry to connect with manufacturers and distributors of machinery, hardware and accessories.