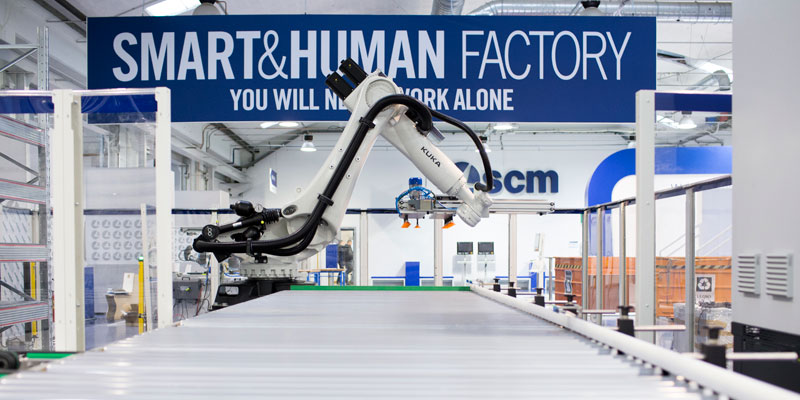 Photo: SCM
SCM to unveil "Smart&Human Factory."
SCM will showcase a cutting-edge production model with highly flexible and modular automation and man-robot interaction systems.
SCM, a leader in the field of secondary woodworking technologies, is gearing up for the next edition of Ligna May 27-31, in Hannover, Germany having achieved a double-digit growth rate in the last two years, which propelled the group over the 700 million euro turnover target at the end of 2018, with a technological range of products increasingly in line with Industry 4.0 requirements.
After launching its "Lean Cell 4.0" for highly automated industrial production two years ago, at the same Hannover event, SCM now goes further with its breakthrough concept of Smart Manufacturing.
From its over 43,000 sq. ft. booth in Hall 13, the Italian company will present its "Smart&Human Factory": a cutting-edge production model based on digital and automation systems and allowing for advanced man-machine interaction and 360-degree control over the entire production flow. A model based on highly innovative, flexible, modular and easily reconfigurable systems, designed to respond in an increasingly effective and fast way to the challenges of mass customization. A new "smart and human" factory - also making progress in terms of work flow: thanks to the integration of robotics, low-added value and repetitive human tasks are now minimized.
"Ligna 2019 will be one of the key international events for SCM - traditionally a historic and reliable partner for the entire woodworking industry", said the SCM Division Director, Luigi De Vito. We will showcase top-level technological innovation, designed to support more and more companies in their business and help them meet new Industry 4.0 requirements. The current, new production trends, which will be the focus of the next edition of Ligna, are expected to widen the gap between more and less intensively automated companies.
"By offering a new model of interaction between machines and industrial and collaborative robotics, ground-level logistic handling and software, SCM will have as its mission to help partner companies work toward achievable, successful and smart goals."