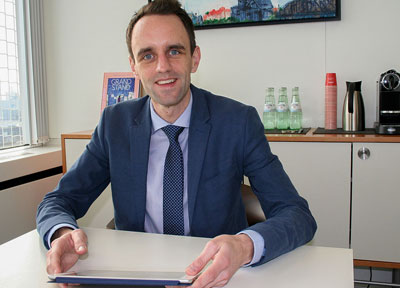 Photo: Koelnmesse
Matthias Pollmann, interzum's VP trade fair management.


What sets interzum apart from the other industry events and what makes it such an important show?
"The future starts here" – this is a promise that interzum has kept every year for 60 years. As the world's largest trade fair for interior construction and furniture production, it provides a unique overview of the latest technologies and materials. The innovations by the global suppliers to the furniture industry on display in Cologne will shape interior design tomorrow. Since its beginnings, interzum has grown to become the most important industry event in the world.

Can you give us your Top 10 reasons why people should attend interzum?
As the world's largest trade fair in the sector, interzum is a must-see event for everyone aiming for success in the market for furniture production and interiors. That's because interzum offers a comprehensive overview of new technologies and designs, encompassing an extremely broad scope of products as only a leading international trade fair can.

How many exhibitors do you expect at the show?
Once again, 1,700 exhibitors from 56 countries, 14 per cent of which are first-time registrations, will present their innovations in Cologne. interzum will thus be more international than ever. Besides European neighbours, these will also include representatives from the Asian growth markets like Vietnam, Malaysia and, of course, China. North and South America, Australia and New Zealand will also be strongly represented at the 2019 edition of interzum. With this high number of exhibitors, the event's broad international reach on the exhibitor and the visitor side as well as its diverse spectrum of themes, interzum 2019 is poised to be a global hotspot more so than ever before and very much the place to be.

What's new at interzum 2019? Could you talk about the different Piazzas?
To ensure that the exchange intensifies further and that the focus at the same time remains on the future, we have thematically expanded the events for interzum this year and designed them to be more communicative." The piazzas, theme-oriented special events, have been supplemented with an aspect. At the new Digitalization Piazza, one can in 2019 discover what benefits the fourth industrial revolution has in store, and how the future expectations of consumers with regard to interiors can be met with the help of digitalization. Physical products with digital components will be presented, as will new business models and solutions in which digitalization influences design, production, sales, logistics or recycling. The Digitalization Piazza is a contemporary complement to the other two piazzas, which revolve around the surface trends ("Trends in Surfaces & Wood Design") and "Mobile Spaces".

What will visitors notice at this year's show? How does it compare to previous shows?
Just as practice and benefit-oriented are the two other innovations for the interzum anniversary: the "Tiny Homes" special area is dedicated to the trend toward compact living: living space is growing scarcer in our metropolises – interzum presents especially creative ideas and solutions for living in limited space. Digital printing is the focus of another special area. Here visitors will find out how they can utilise the latest developments in digital printing to 
more effectively address customer wishes for individuality.

What are your main objectives for this year's show?
Since its beginnings, interzum has grown to become the most important industry event in the world. This growth is a mark of our success and what drives us at the same time. It's why we do our utmost 
and why we're convinced that the upcoming trade fair will once again 
be a unique event. interzum has always paid particular attention to responding to social and global trends that are influencing the furniture and interior design industry. At the upcoming event we will again shed light on relevant 
issues for the industry in exciting, emotionally appealing presentations and offer both exhibitors and visitors content with added value. The visitor experience increasingly defines how interzum will be perceived in the future. As visitors' shortage of time is intensifying, the demands placed on trade fairs as providers of orientation and transparency will increase. At the same time, we have to attach great importance to the emotionalisation of key industry issues. But this emotionalisation must in turn offer added value. We are therefore devoting a new special event area to digitalization in order to highlight its impact on the supplier industry as well as on furniture manufacturers and interior designers.

How would Canadian visitors benefit from 
visiting interzum?
Canadian visitors see all the latest highlights in Cologne. World premieres, product innovations and pioneering concepts: interzum is the showcase for the entire sector's new developments. By engaging intensely with future issues and offering our visitors solutions to questions that may not arise until a future date, we create a consistent brand experience or, as we like to call it, the interzum feeling.

interzum has always attracted a lot of international visitors, what are your expectations for 2019?
We are currently expecting around 70,000 visitors. More than 79 % of the visitors and exhibitors come from outside Germany. That makes interzum the sector's most international trade fair.
interzum 2019 offers opportunities to get in touch with market and opinion leaders. Could you tell us how?
On the service side this year there are also many new pleasant comforts: meetings can take place in a quiet atmosphere in the VIP Business Lounge, guided visitor tours take visitors in a hurry directly to the highlights, and the Speaker's Corner for short presentations, as well as the lecture forum, where experts speak on various themes, provide ample opportunity to acquire information and exchange ideas. This is supported by the first visible results of the investment project Koelnmesse 3.0, which will position the trade fair on the Rhine at the summit of international trade fair organisers – to this end, new locations for encounters will also be created to intensify the exchange between visitors. On the occasion of its anniversary, interzum this year not only offers a variety of theme worlds, it also invites visitors to explore trends and developments, in keeping with our motto of "The future starts.