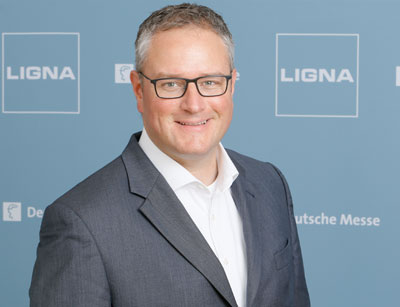 Photo: Deutsche Messe
Christian Pfeiffer is the global director for LIGNA & Woodworking shows for Deutsche Messe.
LIGNA 2019 is just weeks away now, but there is still plenty of time to plan a trip to Hannover. Please tell us why woodworking professionals should consider that investment of time and money and what differentiates LIGNA from all the other shows?
LIGNA has a lot to offer the international woodworking and wood processing industry. It is held every two years and is a key marketplace that regularly attracts around 100,000 attendees from around the world.
In terms of exhibitors, all the global market leaders are there, leveraging LIGNA to put their innovations in front of a global audience. This year's show runs from May 27-31, and we're expecting 1,500 exhibitors from 50 nations, who will be running showcases in 10 exhibition halls and on our open-air site. The top themes this year include digitization, automation, intelligent data use, cloud-based IoT platforms, smart surface technologies and new growth markets.
LIGNA is where wood industry trends are set and shaped. It is where the future of the furniture industry and the wood-based trades is literally on show in the form of live demonstrations of entire production plants. You won't find that at any other show, and that's what makes LIGNA so fascinating.

What makes LIGNA the industry's "must-see" event?
LIGNA is the world's leading trade fair for machinery, plant and tools for the woodworking and timber processing industries. It spans about 1.4 million square feet of display space – so it presents all the key innovations in one convenient location. LIGNA is the world's most international wood industry show, so, as an attendee, you get a bird's eye view of everything – every innovation, every process step for primary and secondary wood processing. Only at LIGNA can you physically see and compare all the key technology options for your capital investment decisions. There is simply no better place to get an overview and research your investment decisions.

How is LIGNA 2019 shaping up compared to the previous season? Do you expect a similar-sized show as in 2017?
For the upcoming LIGNA we will have a fully booked venue. In terms of exhibitor numbers, we are on par with 2017, but we're seeing a marked increase in the size of exhibitor showcases. This year's show will feature a highly international lineup of companies showcasing a comprehensive range of applications, technologies and solutions for 
the entire woodworking and timber processing industry.

What are the main objectives for LIGNA in 2019? Can you talk about the main themes for this year's LIGNA — "Integrated Woodworking – Customized Solutions", "Smart Surface Technologies" and "Access to Resources & Technology" — 
and why they were chosen?
Let's start with the first of these three 
focus themes: "Integrated Woodworking – 
Customized Solutions." We chose this particular theme because digitally integrated Industry 4.0 solutions
continue to be the main talking points for the wood industry. It signifies that exhibitors will be demonstrating solutions of all sizes for users of all scales. That's everything from complex, integrated plants for industrial users, to entry-level systems for SMEs and mid-size workshops, to individual solutions for specialists. Digitized production is already a working reality in many industrial-scale companies. At LIGNA 2019, companies of every size will 
find solutions that fit their specific business models.
The focus theme "Smart Surface Technologies" signals that LIGNA 2019 will feature an array of smart processing solutions for stunning surfaces. It will feature comprehensive coverage of the latest surface finishing trends and technologies, including haptic, matt and glossy surfaces, digital printing and decorative gravure printing solutions, 
print inspection systems, spray coating systems and robotics applications.
The third focus theme, "Access to Resources", is aimed mainly at the primary wood industry and is in fact the motto for this year's Wood Industry Summit. The summit is a key dialog and presentation platform dedicated to themes of vital importance for the international forestry and primary wood industry. They are: digitization in forestry, data protection and data integrity, forest firefighting, forestry infrastructure, road networks and logistics.

Can you tell us about some other highlights visitors can expect?
Alongside exhibitions in the traditional sense, LIGNA comprises numerous in-show events dedicated to special-interest topics. For instance, the LIGNA.Forum in Hall 11 is a platform where visitors can gather knowledge and information in the theme areas of "Processing of Plastics and Composites", "Smart Surface Treatment" and "Integrated Woodworking – Customized Solutions", as well as attend lectures
and presentations by science and research institutions.
Then there's Scientific Research and Education, a long-standing, popular showcase where trade schools, polytechnics, technical colleges and universities present their latest R&D findings and projects and provide information on their education and training programs.
But of course, the vast majority of highlights can be found at exhibitors' stands because LIGNA is the platform most companies choose to launch their latest innovations.

Many Canadian customers are still in the very 
early stages of getting into Industry 4.0. Can LIGNA help them and 
offer guidance?
Yes, it certainly can, because at LIGNA, attendees get to see the absolute state of the art, they can witness real Industry 4.0 solutions in action, and they can find answers to the questions everyone's asking about the development status and maturity of these new technologies. Another big plus for attendees is the Guided Tour program. Each tour takes its attendees to the stands of participating exhibitors who have been specially selected for their relevance to the tour theme. This gives attendees a well-structured, information-dense and balanced overview of the areas that are of interest to them. It also means attendees avoid queues and are able to make contact with the right people right away.
We offer Guided Tours on the following three themes: "Integrated Woodworking – Customized Solutions", "Smart Surface Technology" und "Sawmill Technology – Innovations and Trends". Registrations for the tours open in March at www.ligna.de.

Can you tell us a bit more about LIGNA Training?
The LIGNA Training Workshops for joiners, cabinetmakers, carpenters and mobile assemblers and installers premiered at LIGNA 2017 and were such a success that we're running them again this year. The workshops are all about learning by doing. Selected LIGNA exhibitors will provide practical information and training on key topics and developments in the skilled trades, plus participants will be able to try out the exhibitors' latest products. The focus of the individual courses is primarily on mobile and stationary machines and innovative production and processing methods. The courses will be held in the pavilion adjoining Hall 11 and are free of charge to participants.

There are strengths and weaknesses in certain markets around the world; do you believe that will have an impact on LIGNA in 2019?
Trade fairs always mirror the wider economy. Currently the wood industry is in good shape, and the order books are full, but obviously there have been lean times, too. And yet, through it all, wood industry companies stick with trade fairs because trade fairs provide a wealth of information, fresh ideas and spark new trends.
LIGNA is the world's leading showcase for wood-industry machinery, plant, tools and equipment – the place where companies unveil their latest innovations for the first time. And, as its organizer, we are doing everything we can to keep it that way. We also intend to keep LIGNA's competitive edge 
as the wood industry show with the best and most relevant thematic lineup. And for that, we need to "keep our ear to the ground" and work closely with the German Woodworking Machinery Manufacturers' Association and other key industry partners and players, including our exhibitors, attendees and other multipliers.