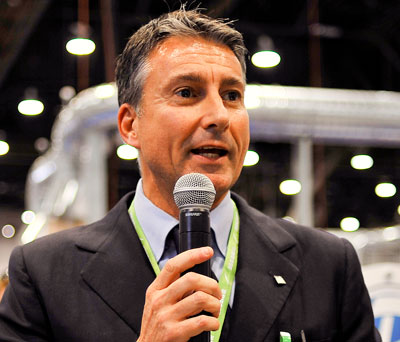 Photo: Woodworking
Federico BroccoliWhat makes LIGNA such an important show for Biesse?
When it comes to machinery, facilities and tools for processing wood, LIGNA is the leading trade fair. For Biesse, it's the ultimate stage to demonstrate the advantages provided by robotics and the benefits new technology delivers. LIGNA is a landmark event and a point of reference for the international wood industry, in which we invest heavily, and the perfect opportunity for customers to experience 65,000 sq. ft. of Biesse's innovation, highlighting robotics and digitalization in technology: in short, at LIGNA you can see the future of Industry 4.0.
Digital production is one of the buzzwords at this year's LIGNA. Is that important for Biesse as well, and what else can we expect from Biesse at this year's show?
At LIGNA Biesse confirms and further strengthens the bond between man and robot, not only by presenting a greater number of solutions that utilize robots, but also by demonstrating how people can benefit from them, validating their work and making production more efficient. The use of robotic systems in factories guarantees maximum production efficiency and helps to simplify processes.
Our objective is to always achieve customer satisfaction and loyalty. Thanks to the new technology and services we offer, we are able to provide a solid and functional bond between "human & robot," elevating the environment to deliver the maximum benefits to the people, who remain the center of our business strategy."
We know that Biesse will unveil many exciting new technologies and services at LIGNA. Can you give us an idea of the kinds of trends you are seeing and will you address them with new product offerings?
The Biesse stand at LIGNA will present three process solutions that have been automated from the raw material to the finished product. Several integrated lines and robotic cells will also be present, offering exceptional levels of customization and flexibility to meet the market's fundamental requirements for contemporary production.
In order to constantly make the factory more efficient, Biesse pairs robotics and digitalization with the development of new software. We've also continued the innovative journey that started with SOPHIA, the IoT service platform, expanding its functionality to embrace predictability which will greatly improve the customized interaction with the customer when it comes to the machine and will significantly reduce the time required for assistance.
The tools we offer to our customers also include services envisioned as an opportunity for close collaboration with the company, its professionalism and its skills. That's how ONE SERVICE came to be, aiming to reorganize Biesse Service and outlining procedures to create consistency throughout the world, to work more effectively and efficiently.
What are you hearing from your customers as to what they expect/want from Biesse and how are you addressing those requests?
Customers are looking for concrete and tangible technologies that can increase their competitive value and stand out in the market: we offer exactly that, and the visitors to LIGNA will be able to experience the cutting-edge technological innovation that characterizes Biesse. Customers will be able to test the tools and to see how SOPHIA can revolutionize and simplify everyday work.
Biesse accompanies the customer through every phase of day-to-day work, starting with the dissemination of the automated digital factory in the world of manufacturing and providing the necessary tools for efficient production. Moreover, LIGNA is part of FUTURE ON TOUR, a schedule of celebratory events where we will celebrate 50 years of Biesse Group with our customers around the world. Fifty years after it was founded, Biesse is prepared to face another 50 with its eyes on the future and its mind on the customer: with this perspective, investments in innovation, automation and services for the customer are also set to continue.