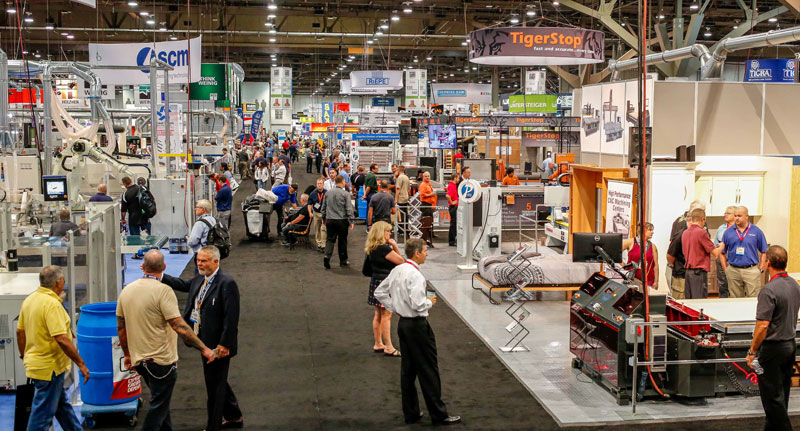 Photos: Woodworking
AWFS will feagture more exhibitors and more ways for business to improve, learn and survive.
AWFS Fair — July 17-20, in Las Vegas, Nevada — is 2019's largest North American woodworking event and organizers are predicting a bigger and better show, more visitors and more opportunities to see the latest cutting-edge solutions to help you make your business more competitive and more profitable.
AWFS Executive Vice President Angelo Gangone said it is their mission "to make sure they are addressing the needs of the entire woodworking community," and they are doing that by offering a broad range of exhibitors that cater to small and medium-sized shops as well as to the largest production facilities.
AWFS will feature more exhibitors and more ways for business to improve, learn and survive and it will feature an extensive selection of the latest technology in machinery, products, hardware and supplies and services.
Machinery will range from robotics, CNC's and advanced material handling solutions to the latest in hardware, flooring, finishing equipment and software and much, much more.
AWFS will bring the entire global industry together for an in-depth review of the new developments and advances that are driving the market.
Visitors will benefit from high-quality educational programming (the College of Woodworking Knowledge), a huge, expanded show floor that features top suppliers and resources, and a variety of opportunities to network, learn and acquire the relevant information and strategies to help them grow along with their industry.
New this year will be Rapid Fire Presentations — located on the show floor — for a variety of short, single-focus topics, as industry experts showcase the latest must-see technologies, hardware and software products critical to today's consumer.
The event will feature several 15-minute presentations showing what's new with some of the hottest companies in woodworking. Stop by to learn and network with the experts.
Front and centre, just outside the main entrance, will be the popular Visionary New Products and Industry 4.0 showcases, which will feature the latest innovative products and cutting-edge manufacturing technologies. Anything from artificial intelligence and VR to 
the Internet of Things.
EDUCATION PROGRAM
And don't miss the extensive education program offered at AWFS.
AWFS Fair's College of Woodworking Knowledge 
(CWWK) seminar program includes 50 seminars in six tracks: Business Management; Culture & Workforce; Cabinet, Millwork & Furniture; Techniques & Applications; Software & Technology, and the Teacher Track, for woodworking educators.
The seminars will run Wednesday through Friday. Check out our website for a new "one day seminar package" pricing option.
Eight SMART sessions will be offered in exhibitor booths prior to the show opening in the morning. Seven FREE seminars will be offered on workforce development and other topics of importance.
SMART! Seminars – short for "Special Machinery and Relevant Technology," are also certain to attract a lot of attention. These technical demonstrations will take place in the mornings before the show opens. From the newest concepts in nesting, edgebanding and sanding, to Industry 4.0 implementation, the SMART! sessions provide an up-close opportunity to learn from the technical experts at the show.
Also new this year are "WED" Talks. These Wood Education Talks will be held by industry experts, influencers, and wood industry community members 
on the topics they are passionate about…including social media, marketing, technology, skilled 
trades development, the future of 
our industry and more.
Another popular feature at AWFS is the Fresh Wood Student Woodworking Competition where the best and the brightest woodworking students will display their entries. This marks the 10th biennial competition, which is open to high school and post-secondary students in accredited woodworking or related programs.
This year's special theme category is "Sports and Games."
Projects in this category must be at least 50% wood or wood composite and need to relate to either a sport or a game.
The other five other entry categories that make up the Fresh Wood competition are: Case Goods, Seating, Tables, Design for Production, and an Open category, in which projects can be made of any material. Entries will be rated by a panel of judges that represent different aspects of the industry.
The Fresh Wood display will be located in the Supply Hall. It will be adjacent to Turning to the Future, a competition by the American Association of Wood Turners, which will also showcase turned student work.