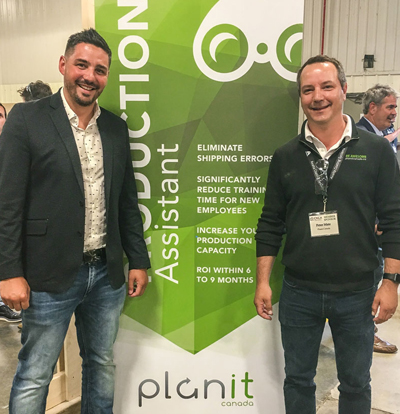 Photo: Contributed
Jonathan Saucier of WEB-CAB and Peter Mate of Planit Canada.

Planit Canada Inc. and WEB-CAB have announced their new partnership and the availability of the Manufacturing Execution System (MES) - which offers Production Assistant and Planning Assistant by WEB-CAB - throughout Canada.
"For us, this alliance with WEB-CAB and the addition of the Production Assistant is a natural extension of our current product line," said Peter Mate, president of Planit Canada Inc.
"The Manufacturing Execution System (MES) addresses many of the manufacturing challenges we've seen our clients struggle with over the years – from managing production and shipping, all the way to training staff.
"And the quick, 5-day implementation is the cherry on top that we can't stop smiling about."
Production Assistant is already a success in Quebec and Ontario and is expanding its presence across Canada.
The cabinet manufacturers benefitting from WEB-CAB solutions in Quebec and Ontario already number in the hundreds.
Among them is Woody's Premium Cabinetry, a manufacturer in London, Ont. specializing in custom cabinets, closets and vanities that has been using Production Assistant by WEB-CAB for one year.
"Our days of turning down jobs because our production can't handle them are over," said Dan Fentie, owner of Woody's Premium Cabinetry.
"By cutting down on lost time in assembly, sorting, searching for damaged parts, and by avoiding shipping errors, we saw a return on our investment within just a few months and it has also helped us enormously with training new staff, because we can include instructions that guide them through processes directly in their stations."
"WEB-CAB is expanding and significantly increasing its presence in Canada," says Jonathan Saucier, product specialist at WEB-CAB.
"We wanted to partner with a strong and recognized distribution network in the Canadian market, and Planit Canada proved to be the right player, with its extensive woodworking expertise and team of established professionals across the country."
Forming the middle part of a pyramid that has CAD/CAM software at the base and ERP at the top, Production Assistant and Planning Assistant are modules developed to optimize the management of cabinet manufacturing facilities, without necessitating a large time-investment for implementation nor a massive shift in methodology.