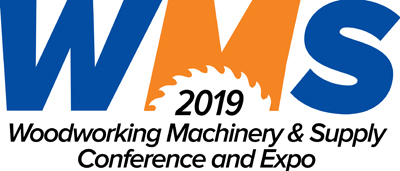 Registration is now open for the Woodworking Machinery & Supply Conference and Expo (WMS 2019) to
be held Oct. 31 to Nov. 2 at the International Centre in Mississauga, Ont.
WMS is Canada's largest biennial trade show and conference devoted to woodworking industry
professionals. According to show management, WMS 2019 promises to be considerably larger than 2017.
"We expect a very strong event," said Tim Fixmer, president and CEO of CCI Canada, which owns and operates the event.
"At the moment our exhibit sales are trending 20% ahead of 2017. The health of the overall industry is certainly contributing to the increased excitement for WMS 2019."
WMS 2017 drew approximately 4,500 attendees from nine provinces and two territories. WMS attendees range the gamut of manufacturing sectors from furniture, cabinets, and architectural woodwork to closets, millwork, flooring, and solid wood and composite panel products. Professionals from all sizes of firms attend, from the 1-5 man cabinet shop to 1,000 plus-employee sized operation.
The three-day event features a total of four keynote presentations, two days of classroom education, and new this year, WMS Live. WMS Live will run continuously on the show floor and will offer presentations from a number of exhibitors and institutions.
"WMS Live will allow our attendees to take in some useful information on the fly," said Harry Urban, WMS show manager.
"WMS Live is complementary, but we expect a number of high quality presentations." Already slated for WMS Live is a two-hour presentation by the Blue Water Wood Alliance at 1:30 p.m. on Friday, Nov. 1.
Morning keynotes
Amongst other new features at WMS this year are the opening keynotes, scheduled for 9 a.m. on Oct. 31, and Nov. 1, prior to the opening of the exhibit floor at 10 a.m.
TV star and professional contractor, Mike Holmes Jr., will be the opening keynote on Oct. 31. Mike Holmes Jr. is a professional contractor, television host, public speaker, educator, and Healthy Home advocate who received the education of a lifetime by working with his father, celebrity contractor, Mike Holmes.
FDMC's Editor Will Sampson will kick off WMS on Nov. 1, with his keynote "Solving the Pricing Puzzle." Sampson's will provide valuable insight into his FDMC annual pricing survey.
Luncheon keynotes
Luke Elias, president of Muskoka Cabinet Company Inc. will be the featured keynote at Noon on Oct. 31. His presentation, "Muskoka's journey to automation," will focus on Muskoka's advanced panel processing cells, utilizing robotics, RFID, ERP and an automated guided vehicle, for machining, sorting, labelling, transporting and tracking parts. These innovations have resulted in Muskoka having output three times the industry average.
Daniel Drapeau, CEO, Miralis, Inc. is the luncheon keynote at Noon on Nov. 1. Drapeau's presentation is titled, "A Leap of Faith: How Bold Decisions Can Make All the Difference." Miralis is a well-established kitchen cabinet manufacturer based in Quebec along the shores of the majestic St-Lawrence River. This dynamic company has evolved from a wood door and component carpentry shop to a high-tech manufacturing facility producing permanent furniture for living spaces. This changeover started 10 years ago when Daniel Drapeau bought Miralis and decided to turn the business model around.