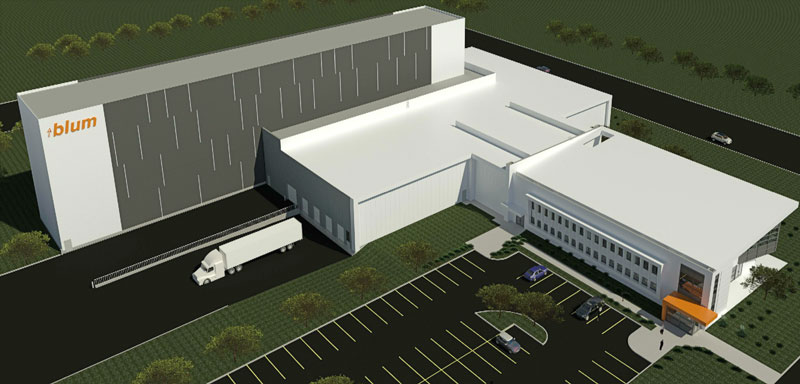 Photo: Blum Canada
Blum Canada's future home expected to be ready for fall 2020.

Blum Canada has outgrown its head office in Mississauga, Ontario and instead of another expansion, this time the company is building a brand-new facility.
Construction is well under way on the new, 61,000 sq. ft. building, which will house offices, a visitor-friendly showroom and a 6,300 pallet, automated warehouse.
Blum Canada's General Manager Kevin Tratt said that thanks to continuing growth and constantly evolving products as well as Blum's commitment to quality products and service, the decision was made to move to a new location and build a new building incorporating the latest technology.
"We have to prepare for the future and since our success has been built on quality products and service, we've designed this new building with those needs in mind.
"We'll have a much larger showroom to better showcase our product solutions and meet our customers' needs, including demonstrations and to teach installations of our latest products," he said.
"And our new, automated warehouse will enable us to more efficiently deliver products to customers across the country."
This is a significant financial investment for Blum, one that will increase its current space by about one third to 61,000 square feet, and on a property that provides an additional two acres for future expansion.
The warehouse space will expand significantly thanks to the 24 metre-tall, automated pallet warehouse, which will provide some 41,000 sq. ft of space.
Offices and showroom will occupy 10,000 sq. ft. each.
The new facility will also incorporate numerous environmentally friendly building materials and techniques and charging stations for electric vehicles will also be incorporated.
The new building, which is just 10 minutes away from Blum's current location, is expected to be completed in late fall next year (2020), but as far as Blum's customers are concerned, Tratt said they will not notice anything while the work is being done.
"As far as our customer service is concerned, construction will not affect our regular operations."
The new building represents a significant, multi-million dollar investment in the Canadian market and shows our commitment to this market, said Tratt. "And it is designed to allow us to stay competitive in the future and strengthen our market position."
Blum manufactures hinges, drawer systems, and other related fittings for the kitchen cabinet and furniture industry and employs 43 people across Canada.