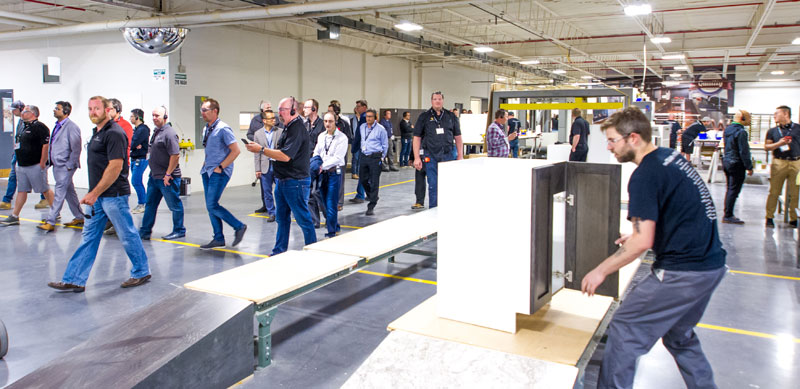 Photos: Woodworking
CKCA's Ontario Regional Event drew more than 110 attendees.

CKCA welcomed more than 110 members to it recent Ontario Regional Event in London/Chatham.
This was a great turnout for two days of programming that included plants tours of GCW Kitchens, Woody's Manufacturing, Truly Green (Greenhouses) and Windmill Cabinet Shop.
The plant tours were excellent, with two shops adopting lean manufacturing processes.
In addition, attendees saw the excellent showrooms at GCW Kitchens and Windmill Cabinet Shop.
Truly Green Farms covers 65 acres in glass and while turning sunlight into food is very different from what kitchen cabinet manufacturers do, everyone enjoyed learning about the systems it takes to produce food we all take for granted – tomatoes!
Presentations from Andrew Wall, Sandler Training about industry benchmarking asked CKCA members if they wanted a national benchmarking study on the industry, to which the majority gave a resounding yes.
Brad Cairns from Best Damn Doors gave a lively presentation with Jon Bultje and Will Holsappel from Windmill Cabinet Shop and Dan Fentie from Woody's Manufacturing.
They spoke about lean and how you implement it and what that journey is like.
These insights gave members a realistic view of what it takes, as well as the benefits, of changing the cultures in your company and adopting lean manufacturing processes.
Find out more it in the next edition of Woodworking.