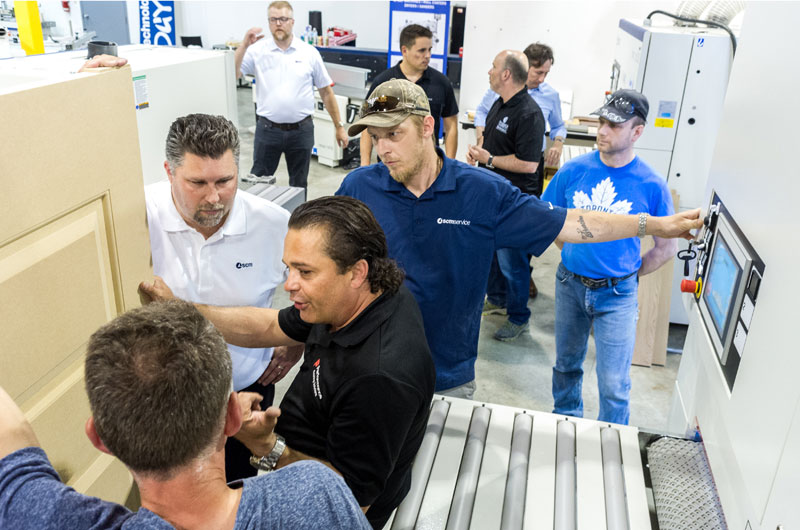 Photos: Woodworking
SCM Canada Open House events offered hands-on experiences.
SCM Canada held two special Open House and sanding-focused seminars for customers in the Toronto, Ontario and Pointe-Claire, Quebec areas designed to equip attendees with valuable insights and best practices to achieve a consistent quality finish.
"It's always a challenge to get people to come out to your events in the summer months," said Richard Bluteau, president of SCM Group Canada.
"But we are very happy with the events. We had about 25 customers visit us in Mississauga and nearly 20 in Quebec.
Most of our customers in the Toronto area stayed for the day and we went through the whole process with them,
"We sanded some pieces, primed them and then sanded them again to really show the different ways they can achieve different finishes.
"It really it come down to working with your customers, doing some in-depth work and testing with them to help them get the right finish."
Lunch and refreshments were provided and there was a chance to hear from top industry experts who were there to address questions and show the equipment in action.
Live demonstrations featured the DMC SD 70 with belt oscillation controlled by an electronic photocell, which guarantees maximum uniformity in belt oscillation.
Also featured was a brushing roller unit equipped with an innovative system for the twist inclination adjustment and the side oscillating movement of the brushing roller, which guarantees uniform sanding quality on all parts of the panel.
And an oscillating disc unit using side-oscillating movement and a double row counter-rotating discs structure showcased how to effectively round the sharp edges and reach those inaccessible areas on profiled panels.
Bluteau said additional workshops and seminars would be planned around WMS this fall.