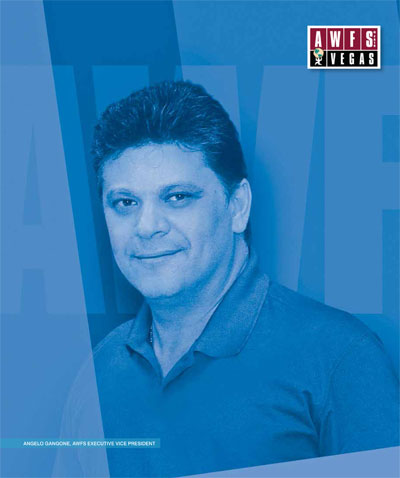 This year's biggest North American event for our industry is just a few weeks away. Can you tell us what's new at AWFS for 2019?
Once again, there will be a major focus on new products. At this year's Fair, the Visionary New Products and Industry 4.0 showcases will be located front and center outside of the main entrance of Central hall in the Las Vegas Convention Center's Grand Lobby. As in 2017, technology and how it can benefit any shop, regardless of its size, will be a major theme of our event.
In addition to many of the features that we introduced at previous shows, this year we will introduce Fine Woodworking Live in booth 9784, where expert instructors will be sharing some of their knowledge, history and techniques with attendees that are passionate about woodworking.
We will also be introducing Rapid Fire Presentations, which will be located on the show floor and feature a series of short, single-focused topics, as industry experts highlight the latest technology, hardware and software products.
This year, we are also introducing 
WED Talks (Wood Education) Talks. These will be held by industry experts, influencers and woodworking community members discussing topics such as social media, marketing, technology, skilled trades development and the future of the industry.
So as you can see, we do our very best to bring the resources and content that appeals to the universe of woodworking companies and the individuals that comprise those organizations as well as to entrepreneurs and enthusiasts alike.
How do exhibitor numbers compare to the 2017 event? And have you spoken with exhibitors. What are their hopes and expectations?
This year, we are actually going to see a 7 to 8 per cent increase in our overall exhibit space as many of our returning exhibitors purchased larger booths for 2019. Unfortunately, that has left less available booth space on the rest of the show floor. So even though we will have northward of 600 exhibitors, it will be less (in terms of the actual number of exhibitors) than our previous show in 2017, as we will be maximizing the available exhibit space in the Las Vegas Convention Center's Central hall. The good news is, this will not be an issue in 2021 as we move into the West and North halls and continue the Fair's expansion.
As far as expectations go, our exhibitors
have always been very optimistic as they prepare for our event, (with the exception of those years that we experienced during and shortly after the recession). Many of them have been very active in inviting their customers to attend the show via the use of the various marketing tools that AWFS has provided. This makes for great synergy between our association and our exhibitors.
How are early registrations compared to the previous event, and how do you think this year's event will compare to the last show?
Although it is still very early, pre-registration is tracking 7 per cent ahead of where it was two years ago. This may not seem like a huge jump, however, in 2017 we were actually tracking significantly ahead from the previous show in 2015. Therefore, the comparisons are a bit tougher this time around. On the other hand, our hotel room blocks, which many show managers believe are a much more accurate predictor of attendance, are tracking ahead by 21 per cent. In the end, we expect our attendance to be anywhere within that range. Again, this far out it is anyone's guess, but we are certainly encouraged by what we have seen so far.
What will visitors notice at this year's show? Can you talk about some highlights of this year's event and how they will benefit visitors?

With an event that is the size and scope of our Fair, as show organizers, it is our mission to make sure we are addressing the needs of the entire woodworking community. We are able to do this by offering exhibitors that cater to small and medium-sized shops as well as to the largest production facilities in our industry. In addition, our seminars are broken down based by shop size. So as an answer to your question, I would really encourage anyone that may be interested in finding out more about our show to have a look at our comprehensive AWFS Fair brochure, which may be found on our website at http://awfsfair.org/attendee-information/
show-features/
This is a great resource for all things AWFS Fair, including seminar schedules and descriptions, as well as show features.
Could you talk about how Canadian visitors might benefit from visiting AWFS?

The fact that we have consistently promoted our event as North America's largest woodworking show (for our show year), really says it all. Our Canadian visitors are very much a part of that statement and there will be no other event in 2019 where they will be able to see the amount of products and manufacturers under one roof over a four-day period.
There are a lot of woodworking professionals with small and medium shops who are just getting started with Industry 4.0. Are there ways in which AWFS can help them?
We encourage attendees to check out some of our seminars focused on Industry 4.0 topics. These include the two SMART sessions offered by SCM: "Why Digital Technologies are the Big Idea for the Wood Industry" on capturing and maximizing data and "Robotic Applications for Wood Product Manufacturers" and Biesse's SMART session "Labor Shortage Got You Down? Automation is the Solution!". Finally, in the classroom session titled "New Technology for Woodworking Businesses," a panel of owners discuss how they have implemented cutting edge technologies and how it has positively impacted their businesses.
What are your main objectives and expectations for this year's show? And can you talk about some of the main themes visitors will notice at the show?

In our education program, Workforce Development and Corporate Culture are main themes that will be explored. As many in our industry are facing challenges attracting, retaining, and training employees, we are providing ways in which companies can gain a competitive advantage in this area. Participants will learn from professional speakers, business owners and leaders on how they addressed this pressing issue.
What sets AWFS apart from 
other industry events?

I have always believed that the educational component of our show has set us apart. Our association is greatly dedicated toward the support and encouragement of young people and we highlight that through our freshwood student competition. In addition, we have really made a point of focusing on the importance of career technical education, and have advocated on behalf of our industry on both the state and federal level. Many of the seminars that we feature are based around the idea that shops can find ways to become more productive, which is especially important when you are dealing with a shortage of available skilled workers. In the meantime, our Fair and association will continue our initiative of strengthening our industry by working closely with teachers and woodworking training programs throughout the country.
AWFS has always attracted many international visitors, what are your expectations for 2019?
We expect our international attendance to be flat to up slightly in 2019. However, we already have made plans to grow our international attendance in 2021 and beyond as we believe that it will once again become a bigger part of our overall attendee growth for future shows.
Please tell our readers about 
the education program and seminars offered at AWFS this year.

The AWFS Fair College of Woodworking Knowledge (CWWK) seminar program includes 50 seminars in six tracks: Business Management; Culture & Workforce; Cabinet, Millwork & Furniture; Techniques & Applications; Software & Technology, and the Teacher Track, for woodworking educators.
The seminars will run Wednesday through Friday. Check out our website for a new "one day seminar package" pricing option. Eight SMART sessions will be offered in exhibitor booths prior to show open in the morning. Seven FREE seminars will be offered on workforce development and other topics of importance.
In addition to CWWK, Woodworking Network presents an expanded offering of their popular full-day symposia on Tuesday, July 16, which will complement the CWWK programming with current topics and an impressive lineup of speakers. The four symposia are: CNC Technology, Finishing, Closets, and the Under 40 Leadership Conference.