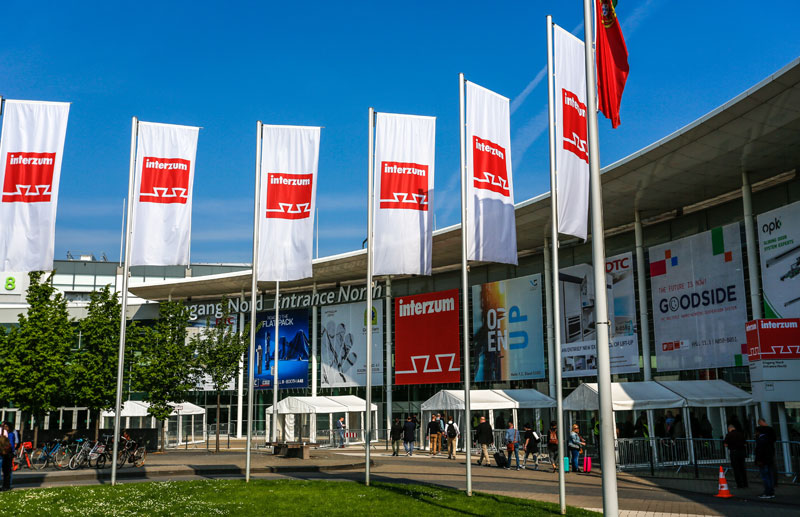 Photo: Woodworking
interzum product highlights
interzum 2019 in Cologne, Germany once again featured an overwhelming selection – from more than 1,800 exhibitors - of the latest designs and products for living spaces and we are highlighting just a handful that will serve to inspire future interiors for the next few years.
Blum presented its SERVO-DRIVE smart concept study as part of its new promise "moving ideas," which puts customers' needs at the centre of its thinking and showed visitors how a motion support system can deliver connectivity to kitchens of tomorrow.
Wall cabinets, pullouts, dishwashers and refrigerators can be powered by voice control in the future.
Using Alexa, Blum designed SERVO-DRIVE to do everything from opening cupboard doors via voice command to deploying its new SPACE STEP plinth solution to move out of the bottom of a cabinet to act as a step for easier access to high cabinets.
GRASS premiered Kinvaro T-Slim: A new dimension of invisibility.
Overhead wall cabinets are still one of the most popular storage solutions in the kitchen and with Kinvaro, the GRASS portfolio offers a range of different flap lift mechanisms. For interzum 2019, the portfolio has been dramatically expanded thanks to Kinvaro T-Slim. Under the motto: Super. Slim. T-Slim. Kinvaro T-Slim is the thinnest, most efficient fitting ever developed by GRASS. It combines purist looks with outstanding durability and the art of perfect movement in a unique way.
The new flap lift mechanism makes the dream of invisible fittings come true – and will therefore provide furniture designers all over the world with inspiration.
REHAU sees a world full of colours. They send messages and they give direction and with colours we create images, associations, influence trends and make ideas come to life.
Polymer specialist REHAU is intensively involved in the latest market trends because individualization fosters desire for variety, diversity and combination options. At interzum, REHAU presented RAUVISIO its comprehensive surface range.
Surfaces are inextricably linked to the international trends in the worlds of colour and decorative design and REHAU wants to position itself as a trendsetter in the sector with its ranges of surfaces.
It uses its 'Passion for Colour' concept to show where the road is leading. For instance, inspired by the expressive colours of the mountains, REHAU is expanding its collection to include three shades of grey, which reflect the magic of the Himalayas, the icy realms of the Antarctic and the volcanoes of Mexico. In the RAUVISIO range, the surface materials offer joiners, the industry, and interior designers and architects almost endless design possibilities.
EGGER presented its latest products, decor, and surface novelties to an international audience at interzum. Visitors gained insight into the company's motto: "MORE+less," which includes themes that at first glance do not seem to work, but do. EGGER showed the highlights of its PerfectSense Gloss and Matt lacquered boards and PP edging in exceptional digital print quality. PerfectSense offers absolute design freedom. In matte or high-gloss variants, MDF lacquered boards are now also available on both sides. This allows you to obtain your high-end solution in furniture and interior design without needing to make compromises. Newly developed textures provide a rustic old wood or brushed metal-inspired surface. Another, Mineral Satin, was developed especially for material reproductions on worktops.
EGGER also earned three Interzum Awards for its latest innovative products.
Salice introduced its Split system of division and storage compartments that allows the freest and most personalized organization of drawer interiors. It is characterized by versatility, user-friendliness and a wide choice of sizes and colours.
And Salice's Excessories earned the Interzum Award 2019 - Best of the Best. Excessories allows users to store, hang, protect, contain and pull out. Excessories is a collection of accessories with the highest aesthetic-functional qualities.
An infinite variety of solutions designed to optimize space and to facilitate the perfect arrangement of wardrobe interior fittings, offering infinite possibilities of exquisite style and convenience. Excessories - Night Collection allows wardrobes and walk-in wardrobes of all styles to accommodate elegant hangers, scarves and tie hangers, bag hangers, cotton garment holder bags, trouser hangers and shoe racks, all elements of singular refinement and efficiency.
Schattdecor didn't just show its latest innovations at interzum 2019, but also some well-known Schattdecor bestsellers such as Jackson Hickory, Ventura Chestnut, Catania Oak, Neapolis and Mercurio.
The colour black is currently extremely popular in the industry, both among furniture manufacturers and consumers in the form of wood decors in black, with a distinctive structure or combined with a metallic effect.
The new Black Glow decor shown at interzum is Schattdecor's response to this trend.
Weathered boards that were deliberately burned served as the basis for Black Glow's special look. In order to give the surface a certain amount of colour, the wood was treated at various points. The result is a very structured, rough surface that makes a bold interior design statement.

Vauth-Sagel premiered Planero, a storage space design for those who love aesthetics. Planero offers a purist design for every cabinet system. Achieving optimum functionality has been a top priority for Vauth-Sagel since its foundation.
The company has strived for perfection in design for years and these efforts are seen in products, which give the furniture interiors a completely new feel with elegant details and convenient functions.
Planero is the first shelf developed by the system manufacturer with a flat steel design, bringing high quality and high value to the spaces behind the front.
Planero is a high-quality tray shelving system, suitable for almost all fitting options. The components and furniture interior are directly impacted by the users' aesthetic appeal and lifestyle. Although the technical components are barely visible, they simultaneously provide a seemingly magical feeling of comfort.
Häfele continues to think ahead in the trend of flap fitting with pioneering new technical developments. The new Free space stay flap fitting was presented at interzum as a world first. It is part of a new family of flap fittings that creates even more space in cabinets and marks 
a quantum leap in design.
The developers at Häfele's FCC plant in Hungary have created a very delicate flap fitting with a technical trick that covers about 80% of all common stay-flap fitting applications.
The innovative fitting creates more storage space in furniture with less volume and more power at the flap.
Free space eliminates the need for large cover caps and, thanks to an internal installation depth of only 63 mm, opens up new room for modern furniture design, even in narrow cabinets. Free space is also a Red Dot and interzum award winner. The Free space flap locks reliably in any position, thanks to a spring force that can be precisely adjusted for the multi-position stop function. The soft closing mechanism ensures soft and quiet closing of the flap thanks to an integrated mechanism tailored to the entire range of application and perfect alignment of the front is very quick and easy with a generously designed 3D adjustment mechanism.