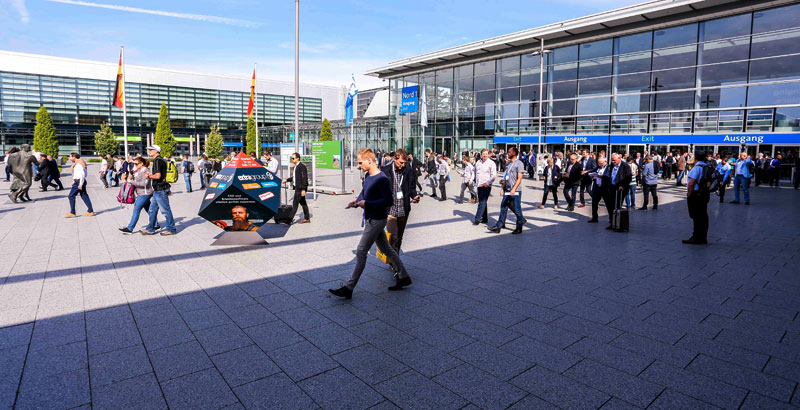 Photo:Woodworking
LIGNA product highlights
Tens of thousands of visitors came from all over the world to see the latest innovations for woodworking and wood processing at LIGNA 2019 in Hannover, Germany.
There was a mind-boggling selection of new products from the more than 1,500 exhibitors, some showed a dozen or more new products and here are just a handful of highlights.
Altendorf Group presented its new corporate image at LIGNA.
Altendorf sliding table saws and Herblock edgebanding machines made their first official joint appearance under the group umbrella at this year's LIGNA where the company presented its accident-avoidance idea - the Altendorf safety assistant - which draws technologically on hand recognition with the help of a 3D camera to prevent false activations and accidents.
BIESSE Group presented its take on the digital factory at LIGNA, calling it a winning alliance between man and robot.
BIESSE demonstrated a total of 49 solutions aimed at all the manufacturing companies, from large-scale with notable production volumes to businesses looking for flexibility and personalization and small firms that can be transformed into real "smart factories."
Automated process solutions covered every aspect of production, from raw materials to the finished products.
There was also BIESSE's ROS (Robotically Operated System) integrated robots for handling panels, and its Ray Force System - the revolutionary new method for applying edgebanding strips to shaped panels thanks to an exclusive technique based on the melting of a reactive layer with the use of infrared lamps.
Another solution on display was the Rover machining centre, always at the top in terms of reliability but now enhanced even further thanks to the new FPS tables that improve speed and productivity.

Felder Group wowed LIGNA visitors with two firsts, its new FORMAT-4 tempora glueBox, which offers PUR edgebanding without glue pot and PCS, a revolutionary innovation in safety equipment for sliding table panel saws.
The revolutionary glueBox for the Format-4 tempora F600 60.06 edgebander makes the processing of PUR glue easier and more effortless than ever before. The usual PUR drawbacks such as complicated processing, dirty and hardened glue pots, annoying cleaning as well as the complex storage are a thing of the past with glueBox.
PCS (Preventive Contact System) from Felder prevents accidents by detecting the risk of an accident and then triggers the lowering of the saw blade under the panel saw table at incredible speed. The entire process takes just a fraction of a second and is absolutely non-destructive.
A safety guard encloses the saw blade and protects it against access from any direction. Following an emergency stop, PCS can be used immediately, and without the need for maintenance or adjustment work by a simple push of a button.

HOMAG once again filled all of Hall 14 with machines, software and technical innovations for wood processing – all live in action. The heart of the HOMAG stand was the InnovationCenter, which this year, offered a journey back in time through the technological milestones in the furniture manufacturing industry as well as a look into the future where HOMAG demonstrated innovative solutions for the machine operation of the future, the intelligent workpiece and new, smart technologies that have the potential to become future milestones.
One key focus at HOMAG this year were solutions for small and medium-sized businesses offering step-by-step solutions on how they can get started with digitalization. Industry 4.0 is a big word and a big effort, but HOMAG showed ways for smaller businesses to find the right building blocks for their own "workshop of the future." There is no need to invest in an entire system; users can instead opt for individual machines, smart hardware, software and digital assistants that communicate with each other and integrate these into their workshop.
From its cabinetCreator (furniture configurator) that allows users to quickly and easily configure furniture on the tablet of computer, to productionManager, produtionAssistgant and many more, HOMAG showed how easy it can be to get started in digital production.
And in its Integrated Cell Concept for medium-sized businesses, HOMAG demonstrated the use of the driverless transport robot in a practical concept example.

IMA Schelling Group showed the customized BIMA Px80 gantry routing machine for the fabrication of desk panels and other components that combines all technically feasible drilling, routing and edge processing operations in one machining centre. It reduces the complexity of manufacturing to a minimum and at the same time offers maximum flexibility for custom production. Special features include a 6-axis robot, the load pick-up device of the robot with integrated part orientation recognition ("vision technology") and a high-power laser unit for producing a perfectly seamless joint.
In addition, IMA Schelling showed ZIMBA, its new IIoT platform (IIoT is a subcategory of IoT) designed to close the data gap between the machine manufacturer and the customer. In times of budget trimming and compressed schedules, the new IIoT and service platform designed by IMA Schelling gives machine users fundamental insight and target-oriented recommendations for efficient operation of the production chain.
Leitz presented "Solutions in new dimensions" at LIGNA. With the LeitzXPert concept Leitz demonstrated the combination of proven technologies and technical applications with new concepts. This resulted in a complete package that makes the digital workflow and thus the possible advantages of Industry 4.0 available to both, industrial customers and customers from small and medium-sized craft businesses. The Leitz App stands for more efficiency and productivity in production and absolute flexibility and transparency of upstream and downstream processes.
LeitzXPert combines existing and new solutions through the creation of a new, uniform, digital service concept that meets the customer's requirements for information and data provision and provides the user with a compact and clear platform.
SCM presented the user-friendly Smart Factory at LIGNA. The 
Smart Factory represents a new interaction between man and machine, combined with the excellence of 
SCM technologies.
There were many new models for each machining stage of wood, as well as new software and digital services to meet the needs of Industry 4.0 and mass customization.
SCM's "Smart & Human Factory," represents the company's vision of the factory of the future for the furniture industry: a system of automated, modular and easily reconfigurable flexible cells, integrated with articulated and collaborative industrial robots and intelligent unmanned shuttles that can be programmed according to the production unit plant, capable of moving and working alongside the operator in complete safety.
And SCM's theme this year, "You will never work alone," refers to the company's strength as a partner for all the companies working in the secondary wood processing industry, over and above being a supplier; an all-round consultant capable of supporting the client along his/her investment and business path, and ensuring they are never on their own.
The WEINIG Group 
presented solutions for solid 
wood and panel processing that share an emphasis on intelligent production, integrated machine concepts and innovative operating concepts – everything from a single source. In addition, there were innovations offering performance levels in the entry segment that even until recently were reserved for high-end solutions. One of 
the highlights was a complex WEINIG production line with 
eight components.
Under the motto THINK WEINIG, the company presented 55 machines and systems in action, including a new, top-of-the-range Powermat series that sets new standards in the high-performance sector in terms of operation, set-up and safety.
The Powermat 3000 has been developed for industrial applications where high quality is key. Another new solution allows for contour milling during throughfeed.
Be it conical, curved or 3D decor, the Powermat 2400 3D can tackle even the most demanding applications with ease. And it can do it with four-sided processing.
And NEXTEC 4.0 offers a complete solution for nesting machining. The NEXTEC nesting machining centers from HOLZ-HER include three lines in various sizes and degrees of automation.