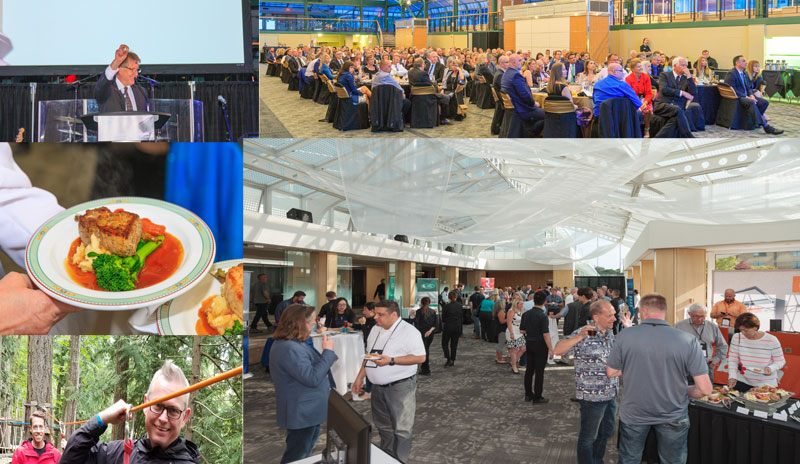 Photo: AWMAC
AWMAC celebrated its 50 anniversary at Victoria, B.C. convnetion.

The 2019 AWMAC Convention was held in the beautiful city of Victoria and members from across Canada and the United States attended the event in British Columbia's beautiful capital city.
For many, this was their first chance to visit Vancouver Island and it was amazing to see the camaraderie among the members, as they were able to bond on a personal and professional level.
AWMAC's National Convention provided many educational opportunities through a varied selection of speakers and educational events that showed another side of how companies have succeeded to grow their businesses and build their market share opportunities.
Many attendees had good things to say about the excellent venues, amazing meals, presentations and the relationships they built and developed with fellow particpants.
The event kicked off with the National Board Meeting on Wednesday and Thursday featured a round of Golf at picturesque Olympic View Golf Club. The convention offered a program with something for everyone, including a tour of the B.C. Legislature, a presentation by Martin Berryman, Architectural Woodwork – Getting what you want, the Welcome Reception and Partners' Showcase, the Annual General Meeting, a Totem and Tulips Mystery Tour, a Wild Play Adventure Team Building Excursion, the President's Gala, Butchart Gardens Tour and Dinner, a presentation entitled Lean Takes Flight, and much, much more. It also provided a great venue to bring together AWMAC's membership and the ability to interact with and learn from other industry professionals and renew old friendships and form new ones.
And frequently it is these personal interactions with other members that offer the greatest benefit. As one participant said: "Every time I go to a convention and speak to someone I take that information back to the business and that pays for attending the Convention."
Next year's AWMAC National Convention will be in Toronto, Ontario June 4-6, at the downtown Hilton.