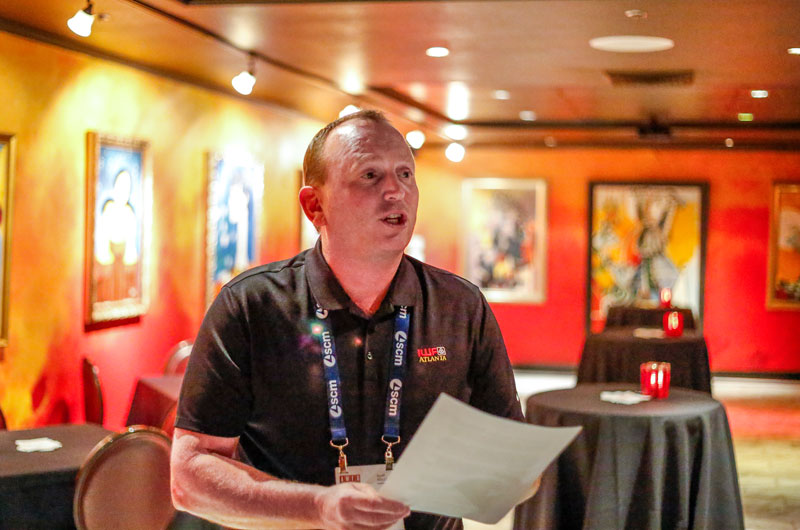 Photo: Woodworking
IWF 2020 Chairman Brian Donahue announces changes for next year's show.

Next year's IWF 2020 in Atlanta, Georgia will occupy three buildings and have the largest footprint in the show's history organizers announced at a special Las Vegas reception.
IWF 2020 Chairman Brian Donahue - who is also president of SafetySpeed – said IWF 2020 will be held in all three buildings at the Georgia World Congress Center for the first time since 2008.
Additionally, the brand-new BC Exhibit Hall expansion will hold even more exhibits, making IWF 2020 the largest footprint in the history of the IWF show. New display regulations are now in place making it easier for exhibitors to use their display structures in more creative ways and allow for the utilization of all exhibit space for showcasing products. Cubic content will now be allowed in all booths and height restrictions have been changed so that they are more in line with European and standard display sizes.
The show schedule has also been changed, from a Wednesday-Saturday pattern to Tuesday-Friday, Aug. 25-28, 2020, to ease staffing and increase the productivity of exhibiting hours.
The show hours will remain at 8:30 a.m. - 5:00 p.m. except for Friday, which will be 8:30 a.m. to 2:00 p.m. Organizers believe this change will help increase show attendance for all four days bringing greater ROI to our exhibitor customers.
And the show's press reception will be held at the show opening with a ribbon-cutting ceremony to start the event.
Donahue said IWF has experienced continued growth over the last eight years.
"We have won industry awards for our unprecedented growth in the net square feet of exhibit space & show attendance which have been growing in double-digit percentages show-over-show. There are no other major industry shows in the United States growing at the rates that IWF has.
"That success is due in part to the continued support of our exhibitors, association partners and friends in the press. But we are not stopping there," he said.
"IWF has plans to grow our presence in the industry even more in the coming years, finding more ways to bring buyers and sellers together, increasing productivity and profitability for exhibitors and attendees alike, leading the way in education and career development and creating exciting new programs for learning, networking and making the most of our great industry."
Another change relates to the registration area, which has been located in the International Blvd. entrance lobby for over 20 years. Starting with next years show, the registration area will be relocated to the exhibit hall floor in Building A, which will help expedite traffic flow directly to the exhibit floor and turn Building A prime exhibit space for the 2020 show.
As all attendee customers will now have their show badge and other credentials printed in the registration areas at the show instead of having them mailed in advance, the traffic flow directly onto the show floor from the registration areas will be like no other prior IWF shows.