Photos: Woodworking
Christopher Mozzone spent about 100 hours designing and building his winning project.

Christopher Mozzone was the winner of Conestoga College's annual Woodworking Students' showcase.
Held at the Doon Campus on Aug. 15, the popular event saw everyone from fellow students, teachers, industry partners, friends and families attend.
The student showcase features projects designed and manufactured by Conestoga College's Woodworking Technology Co-op Students in the second year of their studies.
Mozzone earned first place in the competition for his waterfall table.
Second place went to Daniel Mocan for a hall table and Alex Harrison earned a third place finish for a record cabinet.
Faculty member Richard Bruckeder welcomed everyone and thanked industry partners and event sponsor FS Tool.
The Best in Manufactured Product Award is an opportunity for second-year students to show off their skills and compete for prizes and bragging rights and more than a dozen student projects were judged on a broad range of skills.
Conestoga faculty member Steve Bader announced the winners, thanked attendees and congratulated students on their excellent work and dedication and acknowledged the efforts that went into producing the pieces.
Projects were judged by both current and retired woodworking faculty and based on product design and development, craftsmanship, and product presentation. Most students spent well over 100 hours designing and building their projects.
Students will start their co-op turn after the summer break and return to the college for the final semester in January.
Conestoga's Woodworking Centre of Ontario is a 50,000 square foot facility that began in 1988 and has grown to become one of the largest woodworking training centres in North America.
Its Woodworking Technician program provides students with a solid grounding in the technology and skills involved in the manufacture of furniture, cabinets and architectural millwork as well as training in modern manufacturing techniques.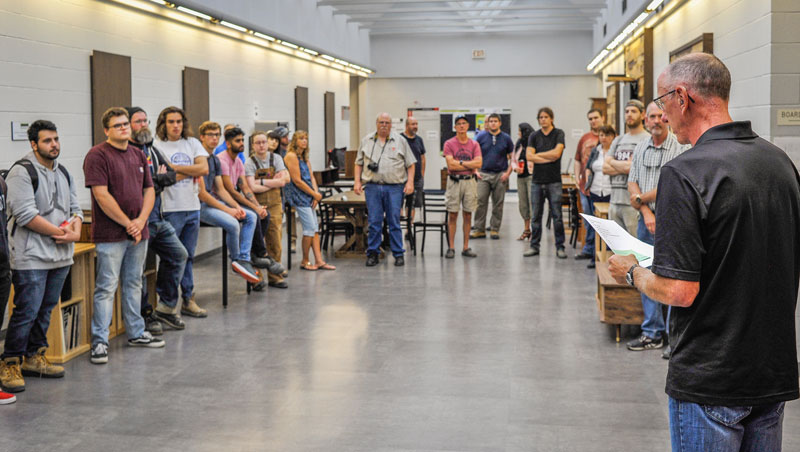 Conestoga faculty member Steve Bader announces the winners.