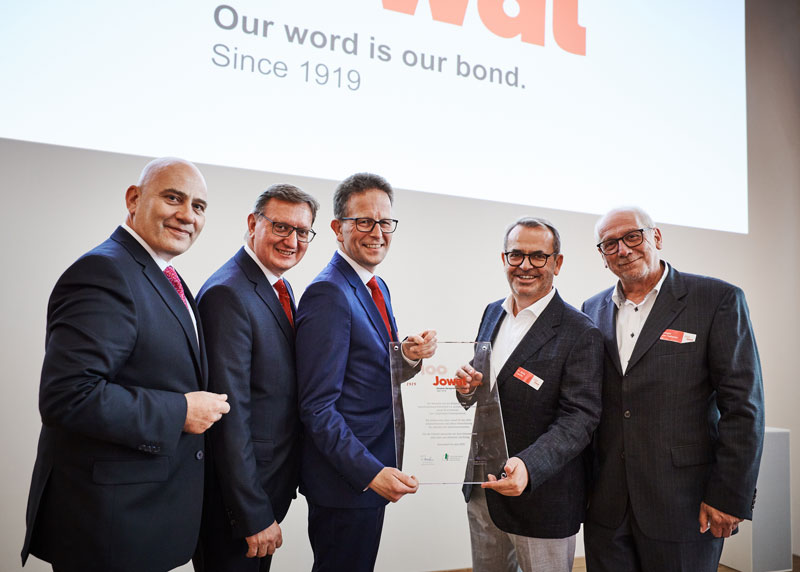 Photo: Contributed
Dr. Boris Tasche and Asgar van Halteren from the German AdhesivesAssociation congratulate the Jowat SE Board of Directors (from left): Klaus Kullmann, Ralf Nitschke, Dr. Christian Terfloth) on the company's 100th anniversary.


Our word is our bond. Since 1919."
That's Jowat's commitment to high product quality and comprehensive services with a wide range of new, powerful adhesives, as the company from Detmold, Germany is celebrating its 100th anniversary.
Founded in the Silesian metropolis of Breslau back in 1919, Jowat has grown steadily and today employs over 1,200 people worldwide and produces more than 90,000 tons of adhesives per year and distributes its products via 23 subsidiaries and a close knit global network of distributors.
The current PUR product portfolio provides consistent proof of Jowat's technological competence and innovative capacity. In addition, Jowat has launched a product family of fully certified 1-component PUR prepolymers for the manufacture of load-bearing glulam, which are part of the Jowapur® range and provide an optimized assembly time-pressing time ratio for industrial production processes with rapid cycle times and throughput speeds.