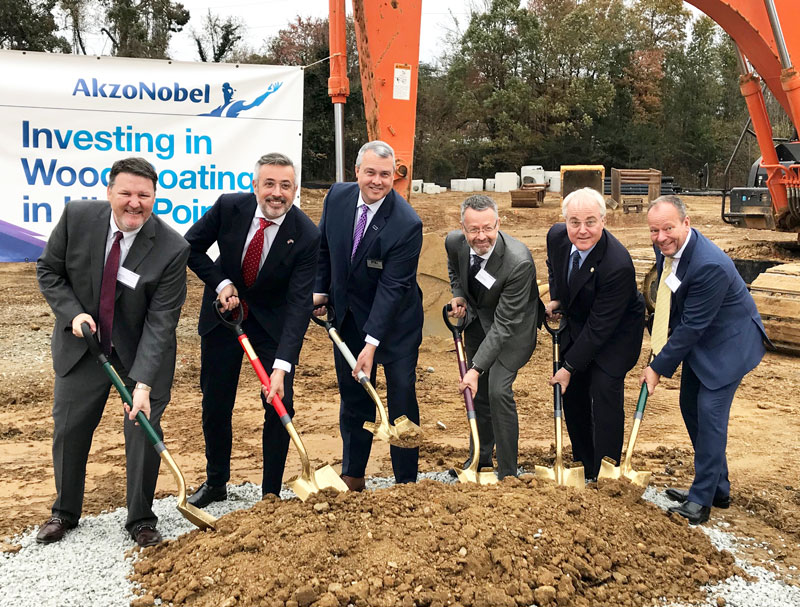 Photo: Contributed
From left: Doug Barbe, AkzoNobel operations director Americas, Industrial Coatings; Ard van der Vorst, consul general of the Netherlands (Atlanta); Jay Wagner, High Point mayor; Thierry Vanlancker, AkzoNobel CEO; Anthony Copeland, North Carolina secretary of commerce; Simon Parker, AkzoNobel industrial coatings business director.
AkzoNobel strengthens its wood coatings position in North America with a $55 million technology and manufacturing efficiency reinvestment in North Carolina.
A new chapter is being written for AkzoNobel's storied High Point, North Carolina, industrial coatings manufacturing site with a capital infusion of $55 million.
The milestone reinvestment aims to transform the site by adding innovative technologies, new infrastructure, and other projects to modernize the manufacturing site.
AkzoNobel celebrated the historic investment at a special groundbreaking event with a big crowd, which included the company's global CEO Thierry Vanlancker, other company executives, state and local dignitaries, more than 200 site employees, and customers.
"Through this reinvestment in our High Point site, we are driving a historic stake into the ground to push forward our wood coatings business in North America and reinforce our leadership and our commitment to customers in this crucial market," says Thierry Vanlancker, AkzoNobel CEO.