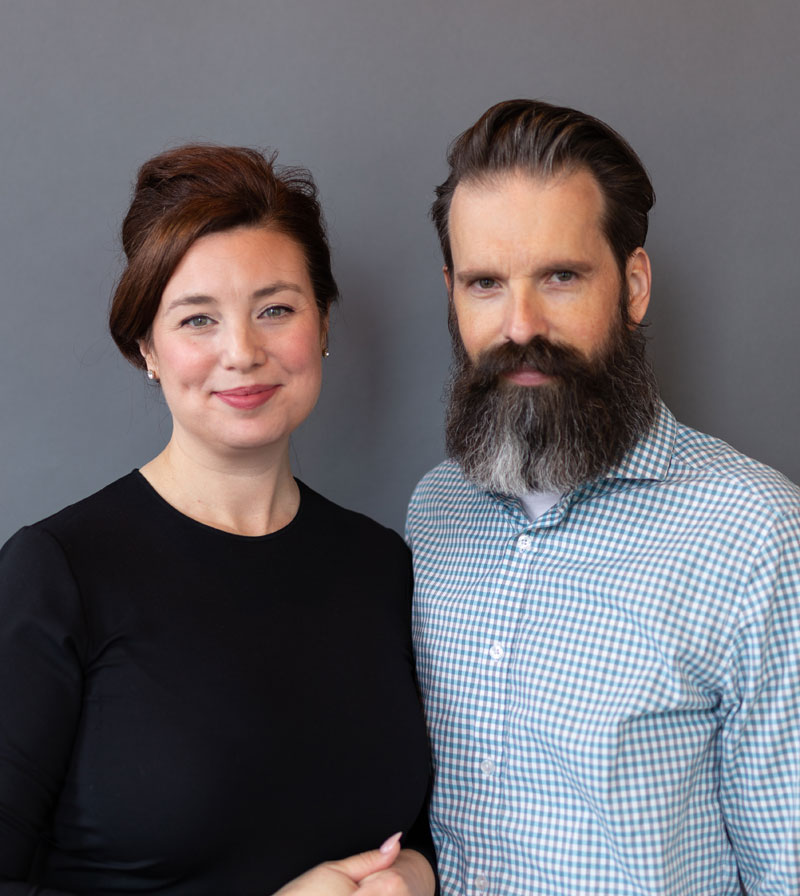 Photos: Jesse Gibb/ Cardinal Fine Cabinetry
Laurie and Paul Bilyea.
Cardinal Fine Cabinetry of London, Ont. manufactures residential and light-industrial cabinetry and furniture, has 44 employees and revenues, in 
2018, between $5 and $10 million and has just been named one of Canada's fastest growing companies by the Globe and Mail's Report on Business.
"We are very proud that Cardinal Fine Cabinetry has just been recognized as one of Canada's 400 Top Growing companies" says company CEO Paul Bilyea who runs the company along with his wife Laurie.
The Globe and Mail's Report on Business has just released its report on Canada's Top Growing Companies and guess what, an Ontario-based cabinet shop has made that auspicious list.
The report, "Meet the next generation: the 400 boldest businesses in the country," ranks Canada's top growing companies.
From the Report on Business: "These 400 businesses operate in such hot sectors as fintech, e-commerce and cannabis, along with long-established industries like manufacturing and transportation. Some are globally known giants, including Shopify (No. 98), Canada Goose (No. 188) and Alimentation Couche-Tard (No. 326); most are less familiar names but worth watching nonetheless.
"Why? Because each company on this list is rising fast: Their average revenue growth was 511% over the past three years. As these businesses expand, they solidify Canada's reputation as an entrepreneurial nation and offer lessons on finding new markets, commercializing great ideas and building teams that can inspire organizations of all sizes. Among this group are likely some of the country's biggest innovations and corporations of the future—the next generation of Canadian business stars."
Cardinal Fine Furniture came in at #354, and Bilyea said it was an honour to even be nominated and they are very happy that they actually made the list.
"What is even more special is the fact that we are the only residential millwork supplier on that list," he says.

The making of a design firm
Since Paul and Laurie Bilyea have taken ownership of Cardinal Fine Cabinetry nearly six years ago, they've "completely turned the company up 
on its head."
"My wife and I have been working together for a number of years, she is 
an interior designer.
"We've both worked at other companies and saw what worked and what didn't, so when we came together on this we compared notes.
"As a cabinetmaker I knew what needed to change in the shop and in the plant, so we started with a manual of standardized parts, we bought two CNC machines and we removed a beam saw. We cut everything on the CNC because we build everything with dowel construction.
We are unique in this way. We do production line cabinets, but we also do custom, which means there is someone at a bench building something. But it was tough finding talent, Bilyea says.
"We didn't want to be just another place that is building boxes. We wanted something a bit more unique.
"And so to do that we went after a small bespoke company called McKaskell Haindl.
"They've been in business for about 25 years. They were only doing one-of-a kind kitchens and furniture pieces and we knew of them and we liked the stuff they were doing. So some three years ago we brought them in house."
Together, Cardinal and McKaskell Haindl represent more than 80 years of organized excellence in the industrial arts. By working together they are able to fashion a much wider range of possibility in the creation of cabinets, furniture, accessories and, of course, a greater breadth in their design vocabulary.
"By working together we are able to provide Whole Home Millwork," Bilyea says.
Whole Home Millwork is an old idea meaning the folks who build your cabinets also provide your countertops, your furniture, your bookcases, shelving, mantelpiece etc. Whole Home Millwork creates a much greater range of possibilities for our customers and a greater connection and continuity to the final product.
"They are now Cardinal employees, but they are a separate entity because their customers want to work with a smaller, boutique shop.
"So we can now go to market and say that yeah, we can build boxes just like everybody else, but we also have this small, creative and unique custom shop."
But that's not all.
Since the beginning of 2019, two additional companies have joined
with Cardinal. 309 Design and The Wood Studio.
309 Design is an interior design firm 
and Farrow&Ball dealer.
The Wood Studio is a custom woodworking partnership shared between two craftsmen - Darío García Cabezas and Elias Polizoes. The Wood Studio designs and builds custom millwork for interior spaces, as well as handcrafted furniture of lasting value. Elias and Darío combine the best of European and North American artistry as they celebrate the natural beauty of wood.
All of this not only enables Cardinal to offer a much broader selection of products and services, but it means "Cardinal can be your one-stop for everything you may want. From unique and beautiful designs, to unusual custom pieces and finishes," Bilyea says.
"So getting back to your question, I would say that we have taken a large, long-standing cabinet shop and made it into a design firm. And that has got a lot of attention."
Bilyea says people who appreciate good design and want it, have taken note of what we are doing and even though it has been at times challenging, especially in London.
"But it is paying off as shown by the fact that we are even talking about it.
"Today, if someone walks into our facility, they'll see beautiful artwork, design magazines and design inspirations. What you won't see are kitchens or furniture.
"We've decided to create a space and an environment that is more welcoming to the process of creation. It helps breed ideas. We're a design house and the thing we show off is our ability to design a space for you. Even if what you see isn't necessarily what you want, coming here you will see that we have the ability to do great things for you."
Looking to expand
Cardinal Fine Cabinetry is doing well. London has experienced quite a bit of growth and development over the past few years because foreign investors were buying up a lot of property in Toronto and driving up prices there.
As a result people were starting to look and buy in Kitchener-Waterloo and then Woodstock and eventually London as well.
The market was really hot and developers were selling everything they built.
Now that has slowed down a bit, but prices haven't really come down.
"We are London, Ontario's largest and longest standing cabinet shop. Other companies have showrooms here, but their manufacturing is outside the city.
"We also have the most employees, 44, and we operate from a 26,000 sq. ft. 
facility, but we are at capacity and looking to expand."
Bilyea, who is a Red Seal cabinetmaker by trade, also studied Industrial Design and he put both of those skills to work at a number of different companies before he and his wife took over Cardinal.
In fact he had worked there before, met his wife at another, and you could say they have both come full circle 
to now work in their dream jobs.
Bilyea, having been given the 
chance to complete his own apprenticeship in the field, says they are 
giving back, if you will, by also 
offering apprenticeships.
"We take pride in taking apprentices here. We have three of them right 
now," he says.
"It's tough when you have someone who is really an asset to the company and then they go away for three months, but that's just how it is."
But Bilyea says it's also a pleasure to have great people with a good attitude and good work ethic, so we are trying to hire the best people, the cream of the crop.
Cardinal Fine Cabinetry has also been involved in the Toronto market for a number of years and Bilyea says they want to grow their exposure there as well.
"But the next challenge is that we need to grow, we are over capacity right now and we really have to expand. I'm having to sub out work right now in order to meet targets and that has to change.
"Our production shop is doing great, we are as automated as we want to be, the slowdown or where we are running out of capacity is in the custom shop and finishing.
We need to grow that and we are looking for more talented individuals that are also a good fit for the company."