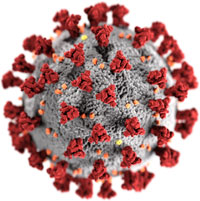 The worldwide coronavirus pandemic is having a serious affect on our industry with many events being cancelled or postponed.
Here is a list of events that have been affected most recently. Please have a look elsewhere on our website for event changes we've reported on previously. Please bear in mind that this situation is rather fluid and please stay tuned for further updates and changes.

AWMAC cancels National Convention
AWMAC has made the difficult decision to cancel the 2020 AWMAC National Convention scheduled for June 4-7, in Toronto, Ontario.
AWMAC will still proceed with the AGM on June 5, but it will be held virtually. Additional information will be released once available.
AWMAC will contact all convention registrants to advise how refunds will be issued. Those who have generously sponsored this event will also be contacted.
AWMAC will continue our partnership with the AWMAC Ontario Chapter to bring you our 2021 AWMAC National Convention. More information regarding the 2020 AGM and 2021 convention will be provided as it becomes available.
"This was not an easy decision, and we are all disappointed that we will not be able to get together and celebrate the industry this year.
The health and safety of our members, partners, and all other stakeholders is our utmost priority.


AWMAC National has issued the following guidance for all chapters:
In light of the latest COVID-19 developments, AWMAC recommends that each Chapter postpone all in-person meetings and events with members and stakeholders until further notice. This includes, but is not limited to, site/shop visits by inspectors, board/member meetings, and lunch-and-learn presentations.
AWMAC Ontario will be following this guidance and suspending all in-person meetings including GIS site and shop visits until further notice.
We are currently working along side AWMAC National and reviewing the plans for the 2020 National AGM and Convention, further updates and details will follow shortly.

CeflaLive and Weinig Holz-Her events postponed
Due to the recent guidance of the CDC and WHO regarding public events, Cefla North America and Weinig Holz-Her North America regret to announce the postponement of CeflaLive 2020 and NEXT LEVEL 2020, respectively scheduled April 22-23 and April 23-24.
This decision is in line with both companies' commitments to the safety and well-being of their staff, customers, and vendors.
The two companies are currently evaluating future dates for both events in the same joint format as previously planned. While obviously disappointed, both teams are looking forward to these events to take place later in the year and expect a very successful time of networking, demonstration, and education.

CKCA National Forum changed
CKCA National Forum, which was originally scheduled for May 28-30, has been changed.
"Due to the current health risks across Canada, we will not be hosting an in-person event in PEI in May," says Sandra Woods, executive director.
"We are currently looking at other formats on-line to ensure our industry remains connected. No member is alone, we are here to support you."

Richelieu postpones Trends Event
Richelieu's Trends Event scheduled for June 11, has been postponed until further notice. A new date will be provided when it is available.
Stay tuned for updates!


BWA postpones upcoming Quarterly Networking Event
To help limit the spread of the COVID-19 virus, B WA is postponing its upcoming event at Humber College on March 26, and is working with guest speakers and community partners to reschedule.
A new date will be announced once there is a better understanding of the duration of this developing situation.