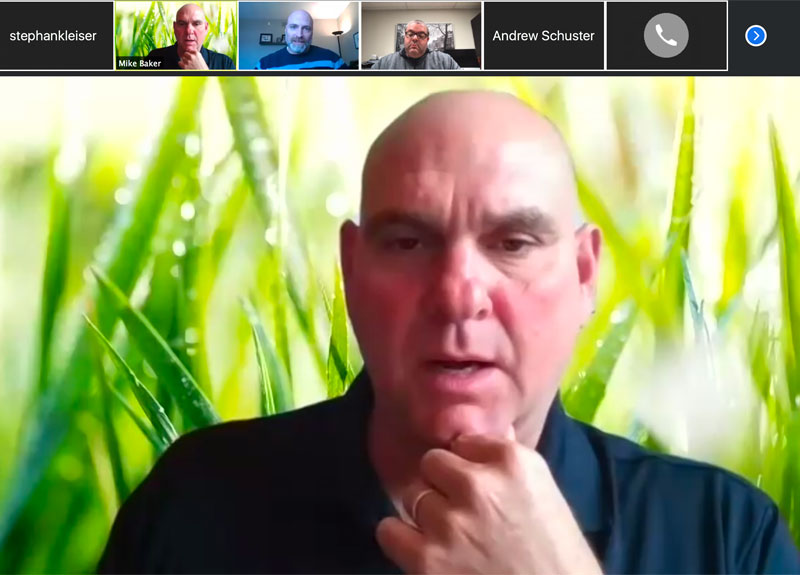 Mike Baker in screen capture from last BWA roundtable event.

The Bluewater Wood Alliance has decided to open up its next online roundtable event to the entire industry.
"We've already had two great meetings and we will be holding another one on Wednesday April 15, our third in just two weeks, and we have decided to open it up to the entire industry," says Mike Baker, BWA's executive director.
"We've been getting amazing feedback and people have told us how much they appreciate the opportunity to talk to other members, get feedback and hear from industry experts."
The upcoming session of the Online Roundtable Event will look at employment law implications with COVID-19 and feature two lawyers who will be talking about what it means to be an essential business and how you can make your case.
Baker says there will also be plenty of opportunities for questions and discussions.
Lucci Mihet from BDC/EDC, who took part in the previous meeting, will return for this one to update participants on changes and additions to the government's financial relief packages available to manufacturers.
And Randy Dignard of Industrial Safety Trainers will also return on Wednesday.
"This is such a difficult time for everyone, so we've decided we should open this up to everyone in our industry and share all available resources, Baker says.
"There is strenght in numbers.
"We also especially want to invite AWMAC and CKCA members to join us, everyone can take part.
"This event is open to all non-BWA members, for an inside look at how we are bringing together wood companies, suppliers, and industry partners to face this health crisis head-on together."
Baker says the event will be building on their first two online roundtable events as BWA members have asked for more clarity on:
- The scope of what constitutes an essential business
- How to prove you are an essential business
- Documents that can support the definition of essential business
- Employment law implications during the crisis
- Q&A with speaker: Sundeep Gokhale LLP, Sherrard Kuzz LLP Employment & Labour Lawyers
- Lucian Mihet of BDC/EDC to provide any new updates on Financial Relief (IMPORTANT NOTE: EDC is now serving for the first time in 75 years, companies that are not exporters)
- Randy Dignard of Industrial Safety Trainers will be available to answer health & safety questions."
Don't miss this opportunity to access advice to help you navigate through these challenging times.
The event is scheduled for 12 p.m. on April 15, and usually runs for about 90 minutes.
To find out more and to register, click here.