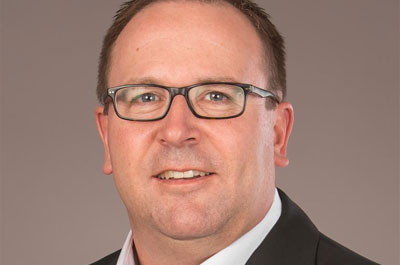 Photo: Contributed
Chris Martin of the Bluewater Woood Alliance


The next Bluewater Wood Alliance Online Roundtable COVID-19 event planned for Wednesday, April 29 will once again be open to the entire industry.
BWA's Mike Baker, executive director, says they've had great meetings and very positive feedback from participants and have decided to once again make the upcoming event open to everyone in the industry.
"If you are working in our industry, we want you to be able to take part in our events and share and learn from others," Baker says.
Wednesday's event (April 29) will update participants on CERB, wage subsidy and employment law with COVID-19 as well as offer an overview of funding programs that are available to wood manufacturers and companies.
"Join us for a recap and review of the legislation and programs currently in place for businesses during the COVID-19 crisis, including Wage Subsidy and Canada Emergency Response Benefit. To help answer your questions, we welcome back lawyers Sun deep Gokhale and Ed Snetsinger of Sherrard Kuzz LLP.
"In the second half, Steve Smith, a business advisor from the Government of Ontario, will review non-COVID-19 related funding programs available. We will also recap COVID-19 funding for wood companies.
"Also, join us as we review the upcoming BWA Industry 4.0 Digital Adoption Project through NRCan IFIT and the BWA Buying Group.
BWA's incoming president, Chris Martin of Horizon Coatings of Elmira, says BWA is really, really pleased with the efforts to have open meetings for everyone in the industry.
"It's a very collaborative effort and it is really nice to see so many people take advantage of it," Martin says.
"This is a great example of a cluster, a province, a country even to come together and come our stronger after this.
"We're all in this together and there is a steep learning curve for everyone, so what better way to get together and share knowledge and resources," he says.
Martin added that, especially for smaller companies, this is a way to find out what everybody else is doing.
"This is about learning and offering solutions," he says.
This event will include:
- Updates to Wage Subsidy and Canada Emergency Response Benefit. Guest speakers Sundeep Gokhale and Ed Snetsinger of Sherrard Kuzz LLP specialize in Employment & Labour law and will return for a third time to share updates to the quickly changing government responses followed by a Q&A.
- Funding Sources: COVID-19 and NON-COVID-19 related funding for wood companies. Stephen Smith, (MEDJCT) Senior Business Advisor of Government of Ontario, will provide an update on funding programs available to businesses followed by a Q&A. We will also recap COVID-19 funding for wood companies. Note: There are video resources from previous discussions available on request and visit us online for more COVID-19 Resources.
- BWA has been working with Natural Resources Canada to develop a framework for digital adoption projects to Industry 4.0. The project can provide funding of 50% for investments in transformational technology. A pilot project is coming along with a call for interest.
- BWA has started the development of a buying group, and we are getting close to the execution of a buying group committee. The buying group will provide members with rebates on specific product groupings from suppliers participating in the group. Rebates can range from 3-10%. This initiative was developed to help wood companies become more competitive and sustainable.
- And finally, an open discussion with all attendees to see how everyone is coping and dealing with the legislation and business challenges.