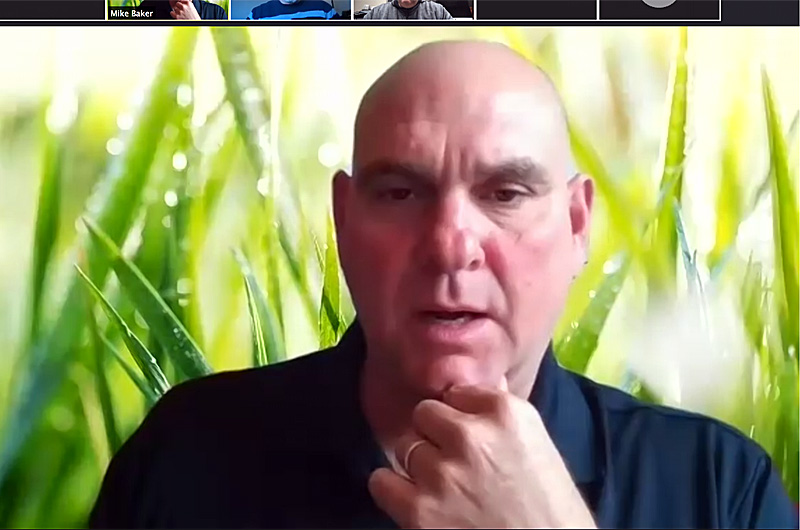 Mike Baker in a screen capture of a previous BWA COVID-19 Online Roundtable.

The Bluewater Wood Alliance will host another one of its popular COVID-19 online roundtable events on Wednesday May 14.
The event is scheduled to run from 12 to 1:30 p.m. and will look at retooling sales in a post COVID world and insurance risk management.
And again, this event will be open to non-members, community partners and members of AWMAC and CKCA.
"The Bluewater Wood Alliance met the shock of Covid-19 by providing an open venue, networking, and expertise for companies to get answers and resources in a fast changing landscape," says Mike Baker, BWA's executive director."
"We felt that it was important to find a new and innovative way of staying in touch with our members," he says, "so we transitioned to an online meeting format almost immediately.
"This included essential business definitions, relief programs, workplace health and safety restrictions, and employment law due diligence that seemed to be changing daily."
BWA ran five virtual events for five straight weeks, with more than 400 registrations. They were open to BWA members, non-members in the wood industry to help everyone in this difficult time.
"The main focus of the upcoming May 14 BWA online roundtable event moves towards getting past the shock," says Baker.
"Industry is telling us that the sales pipeline is of great concern as we move toward a COVID-19 backlash in 4-6 months, and upcoming recovery. This not only includes developing and qualifying sales leads to orders, but also managing sales in a new environment: the virtual one.
"Traditionally, trusting business relationships were solidified in person, lots of dialogue and a handshake.
"With people meeting less face-to-face, it requires sales to be managed effectively remotely, and being able to optimize the various technologies available."
Baker says members also requested some immediate follow-up to this sales topic to help guide them through this transition. The BWA will be holding four weekly consecutive lunch hour sales training events on these themes starting on May 21.
He says these training events will give companies tools and guidance to adopt into their sales processes. It will be offered to both BWA members and non-members for the BWA member rate of $200 for the full four sessions.
The other sub-theme of the May 14 event will address risk management in the COVID-19 environment.
A collaborative presentation by BWA Associate members Woodsure and Cowan Insurance will focus on special considerations for managing other risks during this time. "It's these kinds of events and meetings that make the BWA cluster model so unique," Baker says. "It's getting competitors to collaborate for the betterment of the industry, especially at a time like this."
This event will include:
1. Andrew Wall, President of Sandler Training Milton will present on retooling sales in a post-COVID world. Wall will discuss:
- How comfortable are you with digital prospecting?
- How effective are you selling through Zoom meetings?
- How do we get buyers motivated to buy?
- How do we know the tire kickers from the real prospects"?
As well as Q&A
2. A brief highlight from Alex Bilik of Cowan Insurance & Connie Rowley of Woodsure on ways companies can manage risk and reduce their insurance costs:
- Due diligence for renewing policies in a changing economy.
- Simple changes to their current systems that better align them with today's situations.
- The unrealized risk with buildings on temporary shut down.
- Steps to limit risk when reopening.
- Business interruption coverage.
- Historical indicators from past market shocks and how COVID-19 trend applies to the past.
And an opportunity for Q&A
3. And finally, an open discussion with all attendees to see how everyone is coping and dealing with the legislation and business challenges.
To take part in this industry event, you can register here.