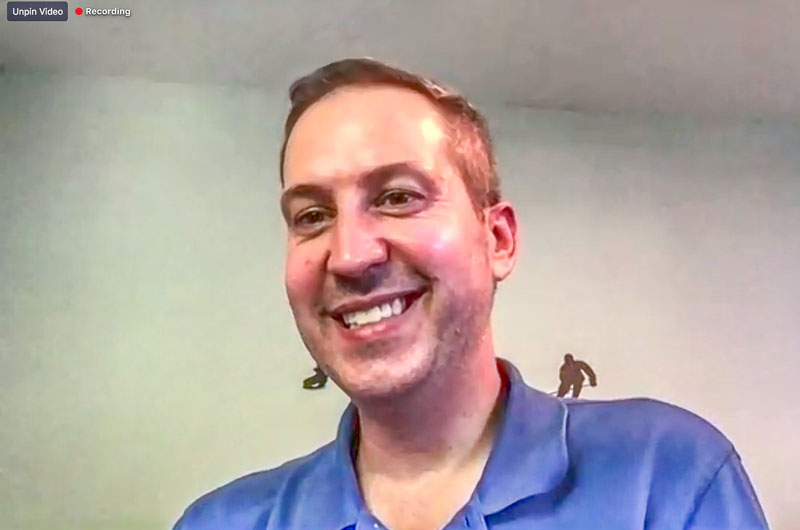 EDC's Deputy Chief Economist Stephen Tapp speaking at BWA online event. (screen grab)

EDC's Deputy Chief Economist Stephen Tapp presented some staggering numbers during his Economic Outlook update that was part of the latest BWA Online Roundtable Event.
Speaking to about 50 participants at the May 27 event, Tapp zeroed in on the devastating impact of the coronavirus pandemic and specifically its impact on the Canadian economy.
With 5.4 million confirmed cases worldwide as of May 25, (actual numbers are thought to be much higher) and thanks to a what amounts to a near shuttering of large portions of the economy through stay-at-home orders, the Canadian economy has seen economic avtivity fall off anywhere between 20 and 30 per cent.
And Tapp said it's also "not obvious to me that we've hit bottom yet, because the data that we look at are usually a little bit delayed. Mathematically, we stopped a bunch of businesses from running (because of the shut down), perhaps one in four or even one in three."
There was also an unprecedented decline in world oil prices late in March and continuing until the end of April. The dramatic drop was brought on by low demand resulting from economic shut downs and exasperated by a price war between Russia and Saudi Arabia.
At one point, Oil prices actually fell into the negative territory. Prices have since recovered, although the price of oil remains low.
Global trade, which according to Tapp, was already shrinking a bit before COVID-19, took a further decline.
The latest WTO forecast for goods trade expects a 13% to 32% drop in 2020.
A graph showing Canada's trade struggles indicates a drop of billions of dollars in both merchandise and service trades.
Consumption: Discretion and Constraint
Tapp demonstrated the impact on the Canadian economy by grouping activities and spending in four larger categories and their percentage of total economic activity.
Staples - 58%
- This includes food, shelter, utilities, communication, education, finance and insurance.
Delayables - 19%
- Cars, clothing, appliances and furniture.
Work related - 5%
- Transportation and parking.
Social interactions – 19%
- Restaurants, recreation and culture, personal services, travel and hotels.

Obviously, moving from top to bottom of that list, Staples have seen the smallest impact from the pandemic, while the bottom has been affected most.
Added up, that means around 40 per cent of the economy has borne the biggest impact from the pandemic.
Another measure saw EDC examine credit card spending which appears to be down (at this point it is only a small sample), about 32 per cent overall.
That impact was also reflected in an examination of "hours worked."
Tapp said overall the economy saw a 28 per cent decline, but the hardest hit sectors - by far – were accommodation and food service at 64%, construction at 42%, information, culture and recreation at 38%, business building and other support services at 30% and manufacturing at 29%.
The sectors weathering the storm the best, are finance and insurance, public administration, health and education, information and professional services, food retailing, utilities and mining.
Tapp also said that larger business, although they too have seen declines, are generally better able to get through a crisis as they have more flexibility and resources to adjust. The hardest hit are small business with little cash on hand as well as those (like restaurants) who had to shut their doors.
As far as a recovery is concerned, Tapp said the EDC had modeled four scenarios for global GDPs (until the end of 2022), with dramatically different timelines depending on what happens next with the pandemic.
Whether there is a second wave, for example, or whether COVID-19 can be controlled by keeping partial restrictions in place.
The baseline calls for a steady recovery curve (back to pre-pandemic levels) that will continue until Q4 in 2022.