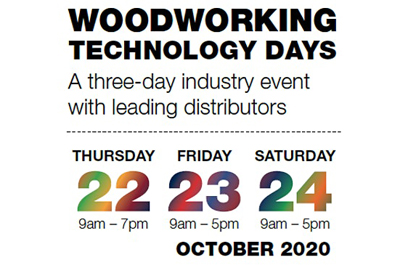 The Canadian Woodworking Machinery Distributors Association has announced that nine of its members are getting together to present Woodworking Technology Days in October.
The three-day event is scheduled for Oct. 22-24, and will feature "more machinery, more live demos and more technology."
It is being described as "your opportunity to have an efficient and significant overview of the latest technology available from the top manufacturers worldwide.
"Combining our extensive showrooms means that you can feel and touch a lot of different machines and see a variety of impressive demos.
"No other show or single event brings you as much."
To register, visit the CWMDA website or click here.
The event will be held at each participating suppliers' showroom from:
9 a.m. to 7 p.m. - Thursday, Oct. 22;
9 a.m. to 5 p.m. - Friday, Oct. 23;
9 a.m. to 5 p.m. - Saturday, Oct. 24.
Participants include:
Akhurst, Mississauga;
Biesse Canada, Mississauga;
Felder Group Canada, Mississauga;
HOMAG Canada, Mississauga;
IMA-Schelling, Mississauga;
Normand, Cambridge;
SCM Group, Mississauga; and
WEINIG-HOLZ-HER/ Taurus Craco, Brampton.
The event is supported by FS Tool, Jowat adhesives, Leitz tooling, Planit Canada software, Royce/Ayr tooling and SIA abrasives.
Additonal information about each company's plans will be available on their respective websites and organizers say participating companies will follow all COVID-19-related health and safety rules as mandated by their local authorities.
Download PDF