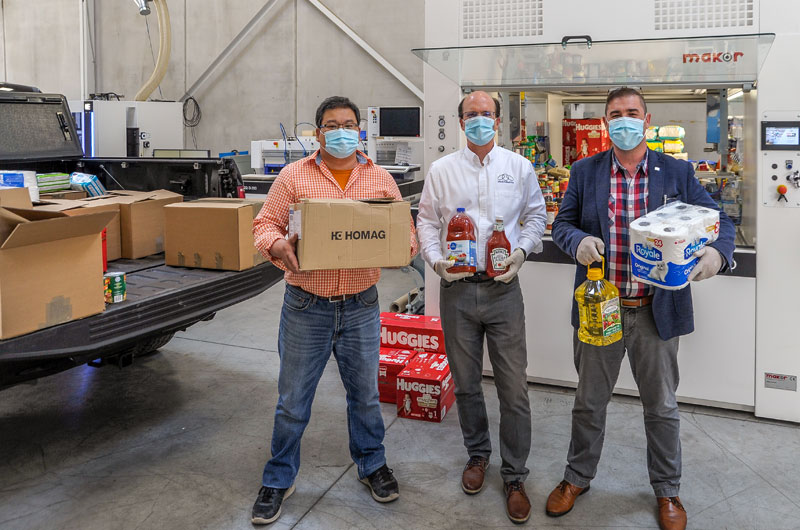 Photo: Woodworking
Loading up the trucks for the first special delivery from HOMAG Canada's Fill-a-Makor Challenge are Paul Truong, HOMAG Canada sales administrator; Markus Raves, RAMS Industries and Marco Fernandes, HOMAG Canada's managing director.

HOMAG Canada's Fill-a-Makor Challenge wrapped up recently and the Mississauga office and showroom loaded up its haul and delivered it to the Orangeville Food Bank.
"Our Fill-a-Makor Challenge has now ended and I would like to congratulate all of the HOMAG Canada employees, our customers and industry partners who participated for a super job well done," said Marco Fernandes, HOMAG Canada's managing director.
"Our HOMAG team filled two Makor finishing machines and as a result many families in the GTA and Montreal area will benefit from this effort.
"Our challenge also inspired others like Stiles Machinery, Makor Italia and Leedwood, to follow our lead, resulting in many other communities benefiting from the combined effort.
"Markus Raves from RAMS Industries also made a generous donation and he connected me with the Orangeville food bank and through his connection we delivered 1,083 pounds of no-perishable food items."
Fernandes added that HOMAG's Montreal team will deliver the food they've collected on Thursday (June 25) to Centre d'Action Bénévole de la Vallée du Richelieu (CABVR)
"I want to personally thank everyone who participated... you have much to be proud of," Fernandes said.
HOMAG Canada's Fill-a-Makor Challenge ran through most of the month of May in an effort to support local communities with the Fill-a-Makor Challenge.
Fernandes said they started the challenge as a way to support their local communities in these difficult times and "decided to use one of our Makor finishing machines and issue a challenge to fill it with non-perishable food items for local food banks."
Thanks to the generosity of everyone who participated, it has turned into a huge success and provided much-needed groceries for families in need.