The COVID-19 crisis has hit many Canadians in not only physical health, but mental health as well.
Feelings of isolation and lack of human interaction due to prolonged lockdowns are stressful situations many in Canada have had to endure.
The COVID-19 crisis has created much stress on many in the woodworking industry.
Despite things opening up recently, mental health associations and professionals have warned that the "new normal" that we are in right now does not mean a return to "normal" for people's overall mental health.
The Canadian Mental Health Association (CMHA) recently warned in a news release that more Canadians had suicidal thoughts during the pandemic than in normal times.
The same news release warned that according to a survey done by the 
CMHA, they found that that suicidal thoughts and feelings during the pandemic were more common for those who had 
an existing mental illness, Indigenous people, those with a disability, those who identify as LGBTQ+, and parents with kids under 18.
Despite the warnings, it is important to note that help is available if you experience COVID-19 related stress.
Shortly after the crisis hit and lockdowns became the new reality, AWMAC National created a dedicated page on its website with many links to both national resources for business and individuals.
Our comprehensive page, which 
you can find at
www.awmac.com/resources/covid-19
contains health links, business help links, and resources links to COVID-19 resources for each province and territory in Canada.
At the local level, AWMAC Chapters have been providing their members with links to COVID-19 related resources that they can use for themselves and pass on to their employees.
One available resource related to mental health is a free program sponsored by the Canadian Mental Health Association of British Columbia titled BounceBack®.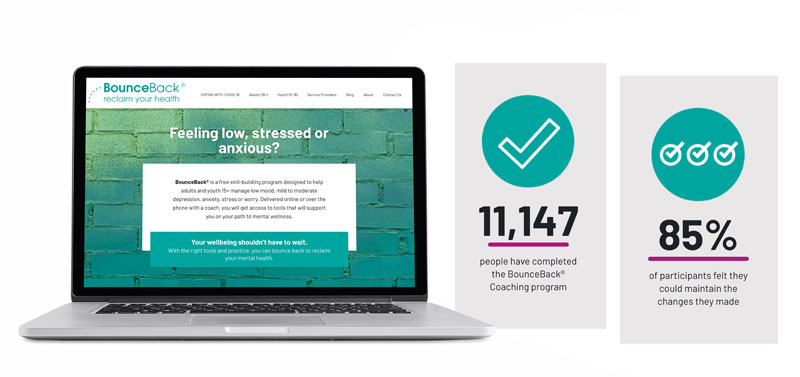 According to the BounceBack® website, it is a free "skill-building program designed to help adults and youth 15+ manage low mood, mild to moderate depression, anxiety, stress or worry."
The program is for B.C., Ontario, and Manitoba residents and can be done online or over the phone with a coach.
Go to
www.bouncebackbc.ca
for more information. For those outside of these provinces, we encourage you to reach out to the Canadian Mental Health Association to find programs within your region.
As the COVID-19 situation continues to evolve in Canada, AWMAC National and our Regional Chapters remain available to assist you should you need any direction on where to find mental health help.