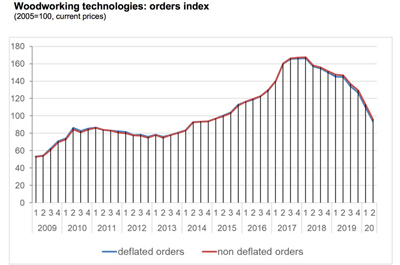 Acimall, the Italian Woodworking Machinery and Tools Manufacturers' Association, has reported a dramatic, 39.2 per cent decline in orders for the current quarter.
The association's April-June results showed another significant drop in orders for woodworking machinery and tools manufacturers, which was in line with results from other segments of mechanical engineering and the economy in general.
Acimall says those results were inevitable, given the lockdown of factories in April and the slow, gradual recovery of manufacturing operations in May.
And although June saw a return to full operations, it wasn't enough to save the third quarter, which was deeply affected by massive layoffs and remote working, which inevitably changed the organization model of most companies.
The quarterly survey – carried out on a statistic sample that represents the entire industry – shows that the Italian industry of woodworking machinery and tools recorded a 39.2 per cent reduction of orders compared to the same period of last year, resulting from a 34.2 per cent reduction in international demand and dramatic, 59.2 per cent collapse in the domestic demand.
And while prices have increased (less than one per cent), revenues have decreased by an average 29.8 per cent.
The Acimall survey also reflects on the expectations of business owners: seven per cent of the interviewees indicate a positive production trend (versus 12 percent in Q1), while 86 per cent reported decreasing production (versus 69 per cent in January-March); the remaining seven per cent indicate a stable situation (versus 19 per cent).
Surprisingly, employment is "holding on." At the end of the first quarter 2020, 69 per cent of companies expected a decrease in employment, now this figure has gone down to 47 per cent, while 53 per cent believe the employment trend will be stable (versus 75 per cent three months ago).